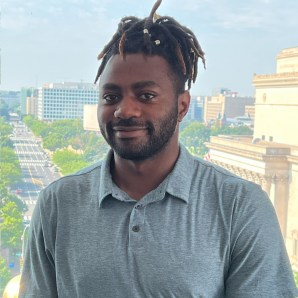 Manager, Organizational Development
Dabreon Darby serves as the Manager, Organizational Development, collaborating across the entire organization to design and implement strategies, research departmental and organizational initiatives, measure and evaluate programs and grantmaking. Projects include supporting the organizational annual planning and researching, identifying, and implementing DEI grantmaking and asset management strategies. He works to ensure the positive development of the organization through researching and supporting programmatic, development, DEI and marketing initiatives. Dabreon's previous position at NEEF included grantmaking where he has created, implemented and completed several grant programs and collaborated with Program Directors to create impact and implement programmatic solutions. He is also a lead teacher for the Anacostia Watershed Society's Saturday Environmental Academy where he teaches environmental science and history to 6th-8th grade students in the DMV area. Dabreon holds a dual degree from Bucknell University in Geology and Environmental Studies and Sciences with a minor in Philosophy. Dabreon worked as the Executive Intern in the Office of the President at Bucknell University and was awarded the Geroge R. Faint Prize, which is given to high performing students.
Dabreon is located in Washington, DC.