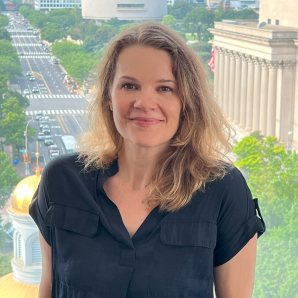 Vice President, Marketing and Communications
Amy is responsible for NEEF's marketing, branding, media and public relations, campaign promotion and marketing-related customer relationship and engagement activities. She began her career as a journalist and freelance writer, moving to graphic design and then marketing. Living in Brazil for 17 years, Amy spent much of her career as a marketing director for local and multinational companies, developing integrated marketing, public relations, and sales strategies for high technology products in international markets. Prior to joining NEEF, she served as marketing director for PM Environmental, a top environmental engineering firm with headquarters in Lansing, Michigan. She built a diverse marketing department from the ground up - establishing processes and metrics, hiring staff, overhauling the company website/social media presence and creating consistent branding in offices across 18 states. This contributed to the company growing 12% year over year and winning the Inc. 5000 "fastest growing companies" award. Amy holds a BA in journalism and art from the University of Wisconsin and an MBA in marketing from IBMEC in Rio de Janeiro, Brazil. She is fluent in Portuguese and spends her free time cooking, playing tennis, and volunteering in hospice and adult literacy programs.
Amy is located in Washington, DC.