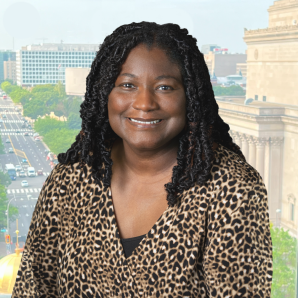 Jada Lewis is Vice President for Programs at NEEF.
Jada works closely with NEEF program directors to design, integrate, execute, and evaluate NEEF programs and pilot initiatives, as well as explore new themes and concepts in environmental education. She works to ensure the credibility, effectiveness, and relevance of NEEF through coordination of evaluation activities, tracking research and emerging trends in environmental education, and identifying and disseminating promising strategies and best practices in lifelong environmental learning. Jada's previous roles include Senior Vice President and Executive Director of City Year Baton Rouge, Assistant Dean for Diversity, Louisiana State University (LSU) College of Engineering, Regional Technical Advisor for the Louisiana Department of Environmental Quality, and Operations Planning Engineer for Shell's Convent Refinery. She also served a four-year term as an elected member to the Louisiana Board of Elementary and Secondary Education (BESE) where she represented District 8 in enacting policies for all students in Louisiana's public schools. Jada holds a BS in chemical engineering from LSU and an MA in government (public Administration/law & public policy) from Regent University. Jada enjoys cooking cajun/creole dishes, baking, traveling, and volunteering in her community. 
Jada is located in Baton Rouge, Louisiana.