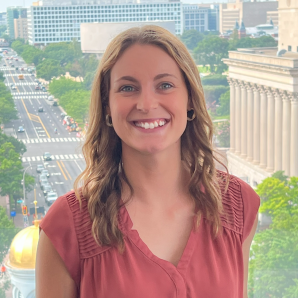 Program Director, Conservation
Kelly Burnett works as the Program Director, Conservation at NEEF. She is responsible for coordinating events like National Public Lands Day and supporting initiatives that give people the opportunity and motivation to connect to nature through environmental stewardship in their communities. Kelly earned her bachelor's degree at Oklahoma State University in Natural Resource Ecology and Management and is currently in the Executive Master's in Public Service and Administration program at Texas A&M University in the nonprofit management track. Kelly has lived in Houston, TX for most of her life and enjoys horseback riding and volunteering with the Student Conservation Association. She has a background in urban park management, volunteer management, event planning, community engagement, and providing opportunities for youth and families to enjoy the outdoors.  
Kelly is located in Houston, Texas.