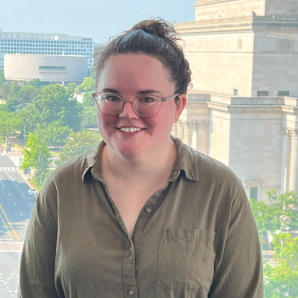 Program Director, Research & Evaluation
Sarah heads evaluation efforts across the organization, working to measure the progress of the programmatic work at NEEF and always on the lookout for new ways to improve. In collaboration with her colleagues, Sarah designs, builds, and manages evaluation and data collection tools to assist in reporting; stewards the organization CRM database; and provides content expertise in the field of environmental science. Sarah has been with the organization since 2014, originally tasked with creating educational materials including graphics, video series, interactive learning modules, and written articles for broadcast meteorologists and the public on topics covering water quality and the environment. Prior coming to NEEF, Sarah received her BS in environmental science from the University of Virginia. In her spare time, Sarah fosters dogs for the Humane Rescue Alliance of Washington, DC. 
Sarah is located in Washington, DC.