Story
NEEF Announces Awardees for 2022-2023 Bureau of Land Management Greening STEM Grant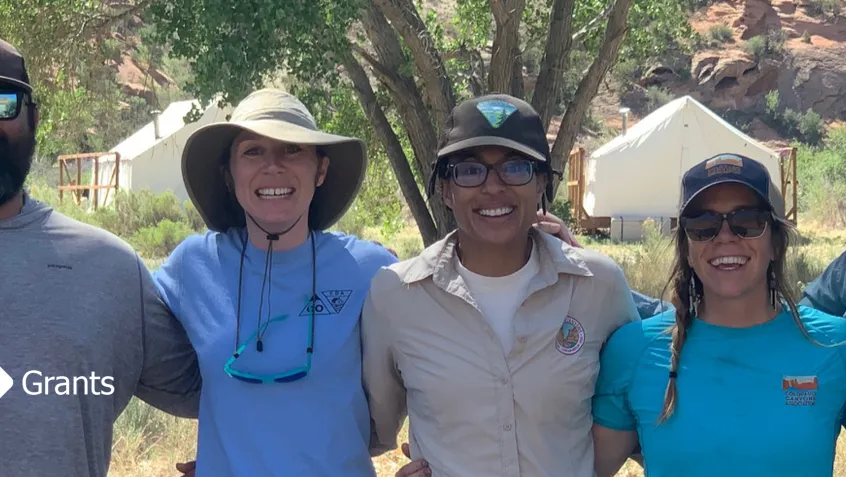 The National Environmental Education Foundation (NEEF) is proud to announce the awardees of the 2022-2023 Bureau of Land Management Greening STEM Grant.
Since 2020, NEEF has collaborated with the Bureau of Land Management (BLM) to fund Greening STEM Demonstration Projects for middle and high school students using components of NEEF's Greening STEM model to design and deliver STEM programming at BLM field sites across the country.
Through the BLM Greening STEM Grant, both organizations seek to advance mutual STEM education goals by providing program participants with access to authentic STEM experiences that use the environment and BLM's unique mission—to sustain the health, diversity, and productivity of public lands for the use and enjoyment of present and future generations—as a context for engagement.
Programs funded by these grants will utilize STEM-focused content and strategies for instruction, training, and collaboration to assist school educators and staff in implementing and enhancing learning in and outside of the classroom, with a primary focus on BLM-related subject matter.
"We are thrilled to be working with our partners at the Bureau of Land Management on this program for the third year in a row," said Robert Sendrey, program director for K-12 environmental education at NEEF. "Their continued investment in environmental education through the Greening STEM model will help prepare students to tackle today's environmental challenges and issues while introducing them to potential career opportunities in the field of STEM."
Following project completion, all resources and related content developed under these grants will be made available via NEEF's Greening STEM Hub. For examples of successful past projects, check out NEEF's collection of project videos and educational resources.
The following six projects have been selected to receive Greening STEM grant funding:
Celebrate Hummingbirds/Celebra los Colibries
Nonprofit Partners: Team Naturaleza, Environment for the Americas
School Partner: Wenatchee School District, Wenatchee, WA
Celebrate Hummingbirds is a citizen science project that gathers valuable information about the symbiotic relationship between hummingbirds and nectar-producing plants while enabling youth to contribute to knowledge about hummingbirds as they migrate and nest. This project will engage Latino middle school students in studies of phenology, climate change, and geography by observing local wildlife on BLM-managed lands near Moses Coulee.
Paleo X Education & Outreach Field Project
Nonprofit Partner: Adventure 360
School Partner: Steelville High School, Steelville, MO
Students from Steelville High School in rural southeastern Missouri will attend the Paleo X Field School in Jordan, Montana, where they will explore the badlands while prospecting for fossils and learning how to map stratigraphy of sites, GPS use and map reading, and the importance of natural resource conservation. Students will return to their school to present their findings, and the fossils they collect will remain on public display.
Schools Investigating Invasives on Public Lands (SIIPL)
School Partner: Freedom High School, Woodbridge, VA
The Bureau of Land Management Lower Potomac Field Station (LPFS) will partner with George Mason University's (GMU) Potomac Environmental Research and Education Center and Freedom High School in Woodbridge, Virginia, to investigate the impacts of storm flow and invasive species on ecological communities at their school and the LPFS site. This project will provide students with extensive, hands-on learning experiences to make them better citizen scientists and increase awareness of human impact on the environment.
Seabird Monitoring STEM project with Trinidad Youth and Trinidad Land Trust
Nonprofit Partner: Trinidad Coastal Land Trust
School Partner: Trinidad Elementary School, Trinidad, CA
The Seabird Community Science Training and Monitoring program is a collaborative project between the Trinidad Coastal Land Trust, the Bureau of Land Management, and the North Coast Seabird Protection Network. For this project, 7th grade students from Trinidad Elementary will accompany a community science member in monitoring efforts on Flat Iron Rock, a California Coastal National Monument (CCNM) site. Students will collect data using a BLM-provided scope and tripod by looking for human vs. natural disturbances in the early part of seabird nesting season (March-June 2023).
Stems for STEM
Nonprofit Partner: Resources for Indian Student Education (RISE)
School Partner: Modoc Joint Unified School District, Modoc County, CA
Stems for STEM is a learner-centered project that will teach students traditional ways to care for public lands through the care of indigenous plants. By combining traditional knowledge, language skills, and botany, students will learn about native plants and habitat restoration. This project builds upon an existing Summer Plant Program between the Bureau of Land Management Applegate Field Office, Resources for Indian Student Education (RISE), and the University of Utah.
Student Raptor Monitoring in the Morley Nelson Snake River Birds of Prey National Conservation Area
Nonprofit Partner: Birds of Prey NCA Partnership
School Partner: Kuna High School, Kuna, ID
The Morley Nelson Snake River Birds of Prey National Conservation Area (NCA) in southwest Idaho is home to the highest density of nesting raptors in North America. Sixteen different species of raptors nest in the NCA, and another eight species use the area during migration. This project will engage students in Kuna High School's ornithology class in raptor monitoring on-site at the NCA. The goal is to connect these students to the NCA in order to garner a sense of place, teach concepts of good land stewardship, learn valuable research skills using real world problems, and fill a need for monitoring in the NCA. 
Topics