News
NEEF Announces 2022 Driving Mobility and Accessibility on Public Lands Grantees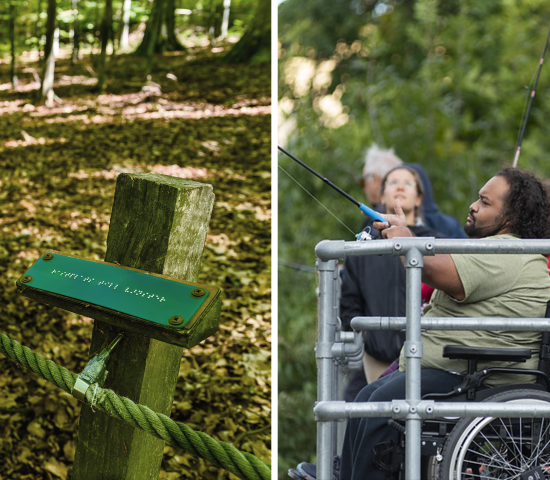 With support from Toyota Motor North America, the National Environmental Education Foundation (NEEF) is pleased to announce the awardees of the 2022 Driving Mobility and Accessibility on Public Lands Grant.
Selected Projects include: 
Young Sound Seekers Lab—Atlantic Center for the Arts, New Smyrna Beach, Florida 
Atlantic Center for the Arts will expand its existing Young Sound Seekers program to produce a summer audio lab for 40-50 blind, partially-sighted, and fully-sighted youths, teaching them to collaborate and share local natural sounds with the world. 
Turf to Surf Mobility: Accessible Beach Chairs at the Metroparks—Huron-Clinton Metropolitan Authority, Brighton, Michigan 
The project will expand mobility and accessibility to five Metroparks' beaches through beach wheelchair assistive technology. Beach chairs most appropriate for widespread use will be selected by the FAIR-Play Coalition (Fun, Accessible, Inclusive Recreation) made up of individuals that are involved with accessibility through their direct personal and professional experiences.
Frenchtown Pond State Park All Abilities Dock and Boat Launch—Montana State Parks Foundation, Missoula, Montana 
This project seeks to develop an ADA-accessible kayak and canoe launch, fishing dock, access trail, and accessible parking at Frenchtown Pond State Park. Though the park has several ADA-accessible amenities (e.g., trails, restrooms, picnic areas, parking), it has only limited access to fishing and no ADA access to boating opportunities on the 18-acre pond. A new all-abilities dock will be dedicated to fishing and safe boat launching.
Equitable Access to DEC Lands: Assessing for Strategic Accessibility Development—Rochester Accessible Adventures, Rochester, New York 
This project will address the need for increased access to amenities within Department of Environmental Conservation (DEC) lands by individuals living with a disability and their families and friends. The project will conduct descriptive accessibility assessments of 25 DEC amenities, increase the capacity of DEC staff to implement accessibility and inclusion enhancements through mentored training and planning, and conduct outreach workshops to connect people with disabilities and their families to accessible recreation opportunities.
The Nature BUGgy: Transportation to the Great Outdoors!—City of Murfreesboro Parks and Recreation Department, Murfreesboro, Tennessee
Murfreesboro Parks and Recreation (MPRD) will use grant funding to purchase a customized cart to provide equitable access to nature, wildlife, and outdoor experiences and programs. The Nature BUGgy, a fun, themed electric motorized wheelchair-accessible shuttle cart, will give individuals of all abilities access to 1,200 acres of outdoor park space and greenway trails managed by the City of Murfreesboro. Youth and adults from community stakeholder groups will participate in a campaign to name the Nature BUGgy and provide design ideas for the visual customization of the cart.
Access to Nature—Bay Area Outreach & Recreation Program, Berkeley, California
Building on the success of the Bay Area Outreach & Recreation Program (BORP)'s website of accessible trails, the Access to Nature project will survey and add 15 access-detailed trail reviews and five camping opportunities in East Bay Parks, enabling people to easily identify trails that best fit their needs. BORP will also lead four trips in ADA-accessible buses to these parks.
Assessing Barriers to Accessibility at Wright Brothers National Memorial— Wright Brothers National Memorial, Manteo, North Carolina
This project will include an accessibility assessment and report of the grounds, buildings, accessibility information (both on-site and on-line), and interpretive opportunities provided at Wright Brothers National Memorial. The park will partner with Indiana University's Eppley Institute for Parks and Public Lands (EPLY) and the Disability community to find tangible ways that the park can create a more welcoming and equitable experience for all visitors to Wright Brothers National Memorial.
Universal Accessibility Study & Website Implementation for Dumbarton Oaks Park, Rock Creek Park—Dumbarton Oaks Park Conservancy, Washington, DC
Dumbarton Oaks Park, managed by Rock Creek Park, is the only extant wild garden designed by Beatrix Farrand, the first female landscape artist in the US. The Institute for Human Centered Design will complete an assessment of the physical park, all materials (digital and printed), and all programs, activities, policies, practices, and procedures developed by Dumbarton Oaks Park Conservancy (DOPC) to provide an implementation plan that supports universal access to all.
Topics