News
New Accessibility Grant Puts Disability Community in the Driver's Seat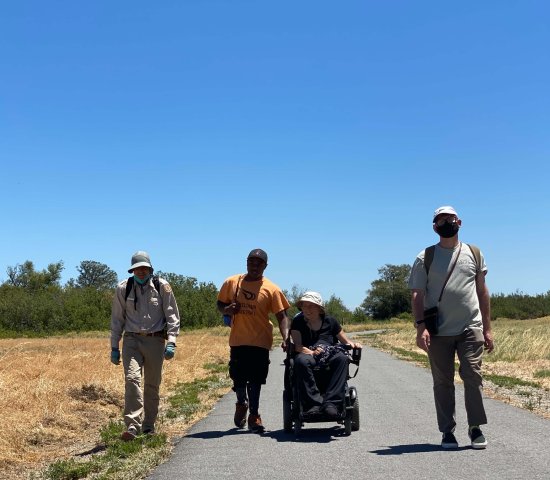 The National Environmental Education Foundation (NEEF) Announces Awardees for 2022 Driving Mobility and Accessibility on Public Lands Grant, Sponsored by Toyota
WASHINGTON, DC—Supporting innovative local projects is an important step on the long road to increasing accessibility on America's public lands.
NEEF selected fourteen projects that use creative approaches to providing access to nature for people of all ages and abilities, such as ranger-led programs using assistive technology, student-led interpretive improvements, and ADA-accessible boat and kayak launches.
To celebrate the launch of the new RAV4 Hybrid Woodland Edition, Toyota Motor North America donated an additional $500,000 to increase accessibility on public lands through the 2022 Driving Mobility and Accessibility on Public Lands Grant.
The grant supports projects that follow the principles of Inclusive Universal Design and go beyond the minimum guidelines of the Americans with Disabilities Act (ADA).
"Connecting people with the environment is at the core of NEEF's mission," said Sara Espinoza, interim president of NEEF. "We see it as fulfilling our organization's commitment to the principles of diversity, equity, and inclusion by making these public spaces welcoming for all."
A Proven Track Record of Supporting Accessibility
This is the second set of grants to fund mobility and accessibility projects on public lands. Last year, eight awardees received approximately $150,000 in grant funding supported by sales of the Toyota Sienna Woodland Edition.
In addition, to kick off this year's National Public Lands Day, Toyota and NEEF awarded $150,000 in funding to the Land Trust of North Alabama to support a new, three-year project that will transform Harvest Square Nature Preserve in Huntsville, Alabama, into a more inclusive and accessible space for visitors of all ages and ability levels. 
"Toyota is committed to advancing mobility for all," said Kevin Butt, Senior Director, Environmental Sustainability, Sustainability & Regulatory Affairs, Toyota Motor North America, Inc. "With the Driving Mobility and Accessibility on Public Lands Grants, we are supporting the great work of organizations throughout the US that are making their local outdoor spaces more welcoming and accessible to all members of the community." 
New projects selected include:
R.A. Apffel Beach Park Mobility and Accessibility Program—Galveston Island Park Board of Trustees, Galveston, Texas
The Park Board of Trustees of the City of Galveston plans to increase accessibility for guests with disabilities at R.A. Apffel Beach Park by adding new accessible parking areas, installing signage to highlight accessibility features, and improving beach access by installing at least 500 linear feet of Mobi-Mat pathways.
Improving Accessibility at Bass Lake on the Blue Ridge Parkway—Blue Ridge Parkway Foundation, Asheville, North Carolina
Grant funds will help convert an eroding and rutted dirt-and-gravel path into a stable concrete pathway connecting the parking lot and comfort station with the 0.9-mile trail around Bass Lake on the Blue Ridge Parkway's Moses Cone Memorial Estate.
Emerald Necklace Santa Fe Computer Science Magnet School Universal Access Nature Path—Amigos de los Rios, Altadena, California
Amigos de los Rios and partner Hearts for Sight will create a universally accessible public nature path in front of the Emerald Necklace Santa Fe Computer Science Magnet Academy, a public middle school in Monrovia, California. Students will help create universal access Braille Trail interpretive elements to demonstrate what public resources for sighted and disabled communities should look like to ensure equitable outdoor spaces.
Ensuring Access and Enjoyment for All Visitors Through Assistive Technology and Inclusive Programs—Great Smoky Mountains National Park, Gatlinburg, Tennessee
NPS ranger-led programs using assistive technology will be developed and offered at Great Smoky Mountains National Park, and two assistive chairs will be purchased and retained in the park for use by the public in each district of Tennessee/North Carolina.
Phinizy Handicap Accessible Parking and Trail—Phinizy Center for Water Sciences and Phinizy Swamp Nature Park, Augusta, Georgia
Grant funding will be used to integrate accessibility into Phinizy Swamp Nature Park's trail system by converting its most popular boardwalk and observation deck into an accessible trail.
No Two Saguaros Are Alike: Improving Digital Access and Information Equity at Saguaro National Park—Saguaro National Park, Tucson, Arizona
Grant funding will be used to install assistive listening devices in the theater, exhibit room, Pollinator Plaza, and Cactus Garden at the Rincon Mountain Visitor Center and to create inclusive content for these devices to include audio and image descriptions for the exhibits and park film. The park will also upgrade all website content to ensure 508 compliance and promote a more informative and inclusive visitor experience both physically and digitally.
Benches on Accessible Trails at Saguaro National Park—Friends of Saguaro National Park, Tucson, Arizona
Grant funds will be used to install five park benches along the popular Mica View Trails, which were built according to the tenets of universal inclusive design—featuring paved parking lots with multiple 8-foot parking spaces, accessible egress from the lot to the hardened surface trails, and universally designed toilets, garbage cans, picnic areas, shade structures, and educational features for self-guided exploration.
Buttermilk Creek Nature Trail Project—City of Montague & Discover Center Great Lakes, Montague, Michigan
Grant funding will be used to build an accessible trail along the ravine in Buttermilk Creek Park, a pristine natural environment along Buttermilk Creek in the downtown area of the city of Montague.
Discovery Pier Improvement Project—Discovery Center & Pier, Traverse City, Michigan
This project will transform Traverse City's old coal dock, currently a gravel lot, into a barrier-free public park with green space, new fishing area railings—40% of which will be at a lower level for people who use wheelchairs—universally accessible shelters and picnic areas, an outdoor classroom and event pavilion. An adaptive kayak launch will also be installed during a subsequent phase of this project.
BORP Kayaking—Bay Area Outreach & Recreation Program, Berkeley, California
The new BORP kayaking program will provide the only adaptive kayaking opportunity in the city of Berkeley, California. This project will establish a regular seasonal program of 10 adaptive kayaking days from May through September 2023 for people with disabilities from the greater Bay Area along with their companions.
Increasing Accessible Spaces at Sugarloaf Ridge State Park—Sonoma Ecology Center, Eldridge, California
The Sonoma Ecology Center (SEC) is working with local advocacy groups to increase accessibility and programs at Sugarloaf Ridge State Park by reviewing trail descriptions throughout the park to better identify and describe accessibility levels as well as making the park's website more accessible. In addition, grant funds will be used to increase access to the park's Community Science Office by building a universally-accessible ramp, modifying the entrance, and adding an adjustable desk/workspace.
Universally Accessible Boat Launch at River Bends Park—Charter Township of Shelby Parks, Recreation, and Maintenance Department, Shelby Township, Michigan
Grant funds will be used to install a universally accessible boat launch at River Bends Park, a publicly funded recreational area. This will involve creating an accessible route from the parking lot to the launch gangway and installing an "EZ Launch" floating boat launch which exceeds ADA compliance.
Helping People with Paralysis Become Mountain Hikers—Trail Access Project, Las Vegas, Nevada
Grant funds will go toward the purchase of a Terrain Hopper all-terrain mobility device for people with disabilities to share on selected trails during Trail Access Project's organized and escorted small group hiking events on rougher terrain, including trails in the Spring Mountains National Recreation Area outside of Las Vegas, Nevada.
Pollard Park Renovation—City of Tyler Parks and Recreation, Tyler, Texas
Grant funds will go toward the purchase and installation of modern and accessibly designed playground equipment and connectivity features, including the Alta Glide Inclusive Glider with an accessible ramp.
Accessible Kayak Launch at Riverlands "Mississippi River Water Trail Association, Saint Charles, Missouri 
This project will create a universally accessible kayak launch within the Riverlands Migratory Bird Sanctuary (RMBS), allowing access and further connectivity for adaptive paddle sports to the Mississippi River Water Trail (MRWTA). In partnership with the US Army Corps of Engineers (USACE) and the Audubon Center at Riverlands (ACR), this project will fund a gangway, dock, and launch to add inclusive opportunities to these organization's combined programs and events. 
Each project will receive up to $20,000 and must be completed within 12 months. For more information about the funding opportunities from NEEF and its partners, please visit the Grants section of NEEF's website. 
Topics