News
Introducing the New NEEFusa.org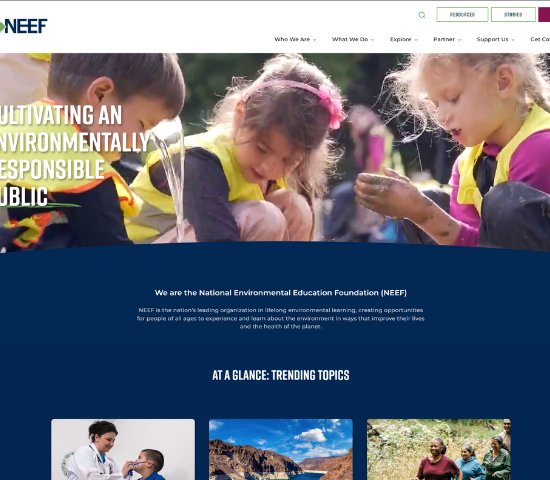 For over 30 years, the National Environmental Education Foundation (NEEF) has worked to cultivate an environmentally conscious and responsible public by providing essential resources and grants in the fields of K-12 education, conservation, and health.
To better connect with and engage our audience, NEEF has recently launched a new website that highlights our work, impact, and resources in an accessible and engaging way. 
Take a 3-Minute Walkthrough of NEEF's New Website!
 
We hope our new website makes it easier for visitors to find the information they need to join us in making the environment more accessible, relatable, relevant, and connected to the daily lives of all Americans.

Interim President Sara Espinoza
The new website features attractive graphics, a more streamlined site navigation, and a dedicated Resources section that uses smart filters to provide access to a comprehensive library of materials for educators, parents, and anyone interested in learning more about environmental topics.
A separate Stories section highlights inspiring experiences of individuals and organizations making a difference in their communities, provides updates on NEEF's latest programs and initiatives, and offers tips and how-to's on bringing environmental activities into your own life or classroom. You'll also find articles from the latest version of the NEEF Connect newsletter at the top of the section.