News
NEEF Announces 2023-2024 Awardees of Bureau of Land Management Greening STEM Grant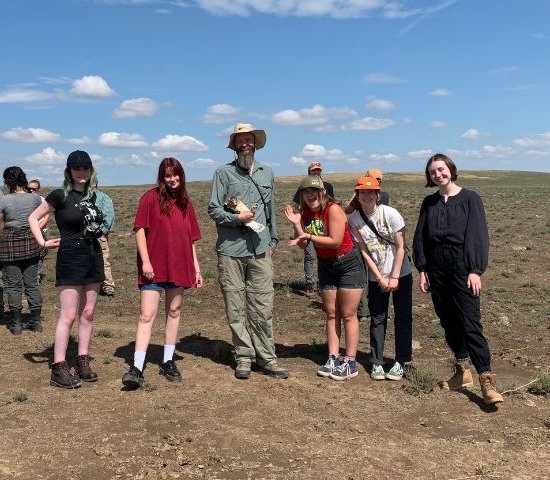 The National Environmental Education Foundation (NEEF) is proud to announce the awardees of the 2023-2024 Bureau of Land Management Greening STEM Grant.
Since 2020, NEEF has collaborated with the Bureau of Land Management (BLM) to fund Greening STEM Demonstration Projects for middle and high school students using components of NEEF's Greening STEM model to design and deliver STEM programming at BLM field sites across the country.
Through the BLM Greening STEM Grant, both organizations seek to advance mutual STEM education goals by providing program participants with access to authentic STEM experiences that use the environment and BLM's unique mission—to sustain the health, diversity, and productivity of public lands for the use and enjoyment of present and future generations—as a context for engagement.
Programs funded by these grants will utilize STEM-focused content and strategies for instruction, training, and collaboration to assist school educators and staff in implementing and enhancing learning in and outside of the classroom, with a primary focus on BLM-related subject matter. Awardees were eligible to receive up to $10,000 for their projects.
"Thank you to our partners at the Bureau of Land Management for sponsoring this program for the fourth year in a row," said Robert Sendrey, program director for K-12 environmental education at NEEF. "Their continued investment in environmental education through the Greening STEM model will help prepare students to tackle today's environmental challenges and issues while introducing them to potential career opportunities in the field of STEM."
Following project completion, all resources and related content developed under these grants will be made available via NEEF's Greening STEM Hub. For examples of successful past projects, check out NEEF's collection of project videos and educational resources.
The following projects have been selected to receive Greening STEM grant funding:
Fort Peck Plant Study
School Partners: Poplar School Districts 9 & 9B 
Location: Poplar, Montana 
The BLM Buffalo Field Office (BFO), the Fort Peck Assiniboine and Sioux Tribes Tribal Historic Preservation Office, and Poplar High School will collaborate on the Fort Peck Plant Study. The goal of this project is to get tribal youth into the field and working in partnership with the BFO Range staff to plant species, then returning home to create a plant identification guide that combines Traditional Ecological Knowledge (TEK) with the scientific knowledge BLM uses to manage the rangeland habitat. At the end of the school year, the students will give a final presentation to Tribal Council and at least one other presentation for an agricultural or educational organization/conference detailing the STEM and TEK data they gathered and what they learned from the project. The BLM will receive TEK that is appropriate to share outside the Fort Peck Tribes, which will be incorporated into future rangeland health monitoring data collection. A display at the BFO in the public room will be created to educate and inform the public about the project, the use of STEM and TEK in BLM land management, the importance of citizen science, and the ties the Fort Peck Tribes have to the area. 
Native Traditional Ecological Knowledge: "Water Protectors" 
Nonprofit Partner: Resources for Indian Student Education 
Location: Alturas, CA 
Resources for Indian Student Education (RISE) will continue their Greening STEM project with BLM to expand on Native youth's interest in riparian restoration. The Greening STEM "Water Protectors" project will be an after-school partnership between RISE, BLM, Modoc High School, and a Pit River Tribe Environmental Protection Officer. Youth teams will monitor BLM-managed and Pit River-held riparian areas for healthy characteristics. The goals of this Native Traditional Ecological Knowledge (NTEK) project are to improve BLM and tribal relations through school and RISE outreach, to advance awareness of balance in the natural world by caring for water, and to partner Native and non-Native youth in traditions around water. 
Grow Youth Program at the Provolt Recreation Site
Nonprofit Partner: Applegate Partnership & Watershed Council 
Location: Jacksonville, OR 
The Grow Youth Program at the Provolt Recreation Site plans to serve three local school groups from three different school districts: Three Rivers School District (Woodland Charter School), Medford School District 549C (The Valley School of Southern Oregon), and Grants Pass School District 7 (Grants Pass High School Terrestrial Ecology). Each school will work directly under BLM and Applegate Partnership & Watershed Council staff to attend one field day per week for the 2023-2024 school year and participate in project-based, service-learning activities at the Provolt Recreation Site. Students will develop a technical report detailing the mitigation strategies implemented for invasive species removal and document all work completed for mock grant reporting purposes, analyze the total amount of invasive species removed and the potential impacts the removal will have on the surrounding ecosystem, and create a guide for Provolt Recreation Site visitors to help them identify invasive species and better understand the restoration efforts taking place.