News
NEEF Announces 2023-2024 Awardees of NPS-21st CCLC Greening STEM Grant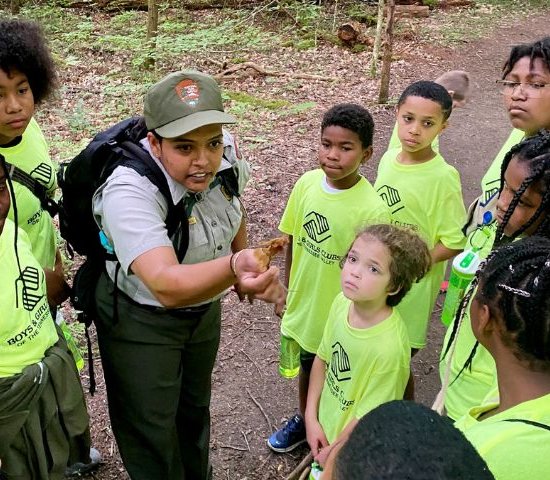 The National Environmental Education Foundation (NEEF) is proud to announce the awardees of this year's NPS-21st Century Community Learning Centers (CCLC) Greening STEM Grant. 
For the past four years, NEEF has partnered with the National Park Service (NPS) and the US Department of Education (ED) to deliver STEM programming that engages youth from underrepresented and/or under-resourced communities in citizen science, environmental monitoring, and other STEM activities at NPS sites across the country. 
Funding from this grant will support place-based after-school education programs for students participating in 21st CCLC programs, which provide academic enrichment opportunities during non-school hours. These programs will utilize components of NEEF's Greening STEM model with a focus on NPS-related subject matter. They will also provide educators with strategies for hands-on, inquiry-based education, as well as opportunities for professional development and collaboration with 21st CCLC center staff.
Following project completion, all resources and related content developed under these grants will be made available via ED's You4Youth professional learning portal. For examples of successful past projects, visit NEEF's Greening STEM in Action page.
"Thanks to the support of our partners at the National Park Service and Department of Education, we have seen a number of returning grantees over the past four years," said Robert Sendrey, program director for K-12 environmental education at NEEF. "This shows the success this grant has had in forging long-lasting relationships between 21st CCLC programs and NPS sites." 
The following projects were selected to receive NPS-21st CCLC Greening STEM Grant funding:
Biscayne National Park and South Florida YMCA 21st CCLC STEM Connections 
Public Land Site: Biscayne National Park
Nonprofit Partner: YMCA of South Florida
Location: Homestead, FL
The goal of the proposed project is to continue to expand and improve STEM programming and field trips at Biscayne National Park in partnership with the YMCA of South Florida. Biscayne National Park has a very active marine debris removal program that focuses on removing potential barriers for loggerhead turtles that nest annually in sites along the Atlantic Coast including Biscayne National Park. Students from five 21st Century Community Learning Center sites will learn about ocean currents, marine vertebrates and invertebrates, and micro debris and micro trash, and apply their understanding of field techniques to conduct small trash transects on Elliott Key. Students will present key findings at a science fair poster display.
Citizen Science at Shenandoah National Park
Public Land Site: Shenandoah National Park
Nonprofit Partner: Shenandoah National Park Association
Location: Luray, VA 
Shenandoah National Park has a well-established Education Program with more than 30 years of experience providing curriculum-based, STEM-based education programs for area schools that correlate with Virginia and national Science Standards of Learning. The partnering 21st Century Community Learning Centers schools have been longtime participants in the Park's education program and have partnered with Shenandoah National Park for the first year of this grant to build an understanding and appreciation of the NPS, the importance of pollinators, and hands-on creation of gardens. This project will continue Shenandoah National Park's first effort to teach students how to use citizen science apps to monitor and report environmental conditions at their pollinator gardens and in their communities. 
Color Outside the Lines with Rocky Mountain National Park 
Public Land Site: Rocky Mountain National Park 
Nonprofit Partner: Rocky Mountain Conservancy 
Location: Estes Park, CO
This project aims to enhance the environmental education programing at the Academy of Arts & Knowledge, a Pre-K to 5th Grade arts-integrated charter school in Fort Collins, Colorado. The school has a robust before, after, and out-of-school-time program committed to advancing equity in education. The goal is to expand the school's capacity to offer high-quality environmental education opportunities that foster creativity, problem-solving, and hands-on learning experiences for all students, particularly those from underrepresented and marginalized backgrounds. Through this partnership, partners will be able to offer at least three onsite field trips to Rocky Mountain National Park for students to participate in ranger-led programming as well as bi-monthly visits from the Rocky Mountain National Park AmeriCorps VISTA members to tie the STEM programs experienced within the park to school programming. Participating students will be invited to host a table presenting what they've learned at Rocky Mountain National Park's annual Earth Day Celebration.
An Eclipse on the Horizon: Exploring the 2024 Total Eclipse in Northeast Ohio 
Public Land Site: Cuyahoga Valley National Park 
Nonprofit Partner: Conservancy for Cuyahoga Valley National Park 
Location: Peninsula, OH
On April 8th, 2024, people living in Northeast Ohio will have the extraordinary opportunity to view a total solar eclipse. This is a once-in-a-lifetime event and the perfect opportunity to provide STEM-based education programming to local students. The goal of this project is to provide meaningful STEM education related to the eclipse for underserved students in the Cleveland metropolitan area who will be in the path of totality during the upcoming solar eclipse. Partnering with Horizon Education Centers, the Conservancy for Cuyahoga Valley National Park and Cuyahoga Valley National Park educators will provide students with scientific programming and activities revolving around the upcoming total solar eclipse, empowering them to enjoy the eclipse in a safe and informed manner.
The Lost Carnivores of the Tucson Mountains: Understanding the Population Decline of Five Local Mammals 
Public Land Site: Saguaro National Park
Nonprofit Partner: Friends of Saguaro National Park 
Location: Tucson, AZ
As a part of broader science-based research within America's national parks, Saguaro National Park brings students to the park as citizen scientists to engage in real, place-based STEM research that is seamless from the classroom to the field. The Lost Carnivores program exposes youth to park management principles and decision-making through using wildlife cameras both in the park and at schools. Students will collect real data to help the park determine if five small desert species, including foxes, skunks, and raccoons, still exist in the park and what might have happened to them. They'll explore questions about what the park might do to remedy the situation and prevent species loss among other animals. This inquiry is based on a real phenomenon in the park that has been identified by park biologists who inventory and monitor the species' populations. Data gathered from the cameras placed by program participants will assist in this valuable study.
Seasonal Change Year 3: Monitoring the NYC Environment for Climate Change
Public Land Site: Gateway National Recreation Area
Nonprofit Partner: Fund for the City of New York (Jamaica Bay-Rockaway Parks Conservancy)
Location: Rockaway Park, NY
The Seasonal Change: Monitoring the NYC Environment for Climate Change project engages students in citizen science through collecting, analyzing, and visualizing phenology data of key plant species in the Jamaica Bay Wildlife Refuge. The Jamaica Bay Unit of Gateway National Recreation Area (GATE), located in Brooklyn and Queens in New York City, contains ecological, cultural, and historical sites as diverse as the city that surrounds it. The Jamaica Bay Wildlife Refuge (JBWR) is the jewel of the unit, with over 12,000 acres of open bay, wetland, pond, and woodland habitat, a vibrant visitor's center and classroom, and miles of easy to access trails. During the 2023-2024 school year, students will engage in monthly learning opportunities with GATE educators including multiple field experiences at the park.
STEM Investigations in the Smokies with BGCTNV & Graham County Schools 
Public Land Site: Great Smoky Mountains National Park
Nonprofit Partner: Friends of Great Smoky Mountains National Park
Location: Kodak, TN
This program at Great Smoky Mountains National Park will provide support to the Boys & Girls Clubs of Tennessee Valley and Graham County Schools to bring students into the park to experience STEM programs. The goal of this project is to increase STEM literacy and connection to public lands for students with limited access to these spaces. NPS educators will work with students during day camp-style programming that will incorporate techniques including environmental stream and soil inventory and monitoring, as well as incorporating traditional Cherokee crafts and technology into STEM activities.