News
2019 NPLD Highlighted Sites: Winners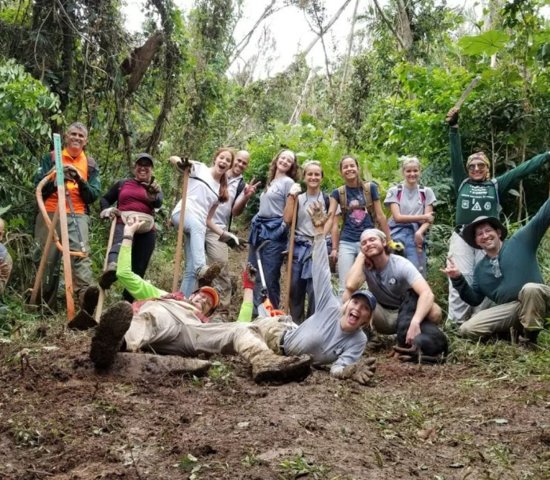 NPLD Highlighted Sites: Sponsorship Opportunity
Thanks to all the Site Managers that took the time to nominate their NPLD event to be a Highlighted Site. We received so many outstanding applications, but unfortunately, had limited spots available for this round of sponsorships. Our Highlighted Sites will receive a sponsorship package that includes banners, tablecloths, promotional items, and a cash stipend for their event - an estimated $1,500 value!
We are pleased to announce this year's winners:
Rock Creek Park - National Public Lands Day 2019 Signature Site
Washington, District of Columbia
Rock Creek Park in Washington, D.C. has been selected to host this year's NPLD Signature Event. Established in 1890 to preserve the natural and historical landscape of the Rock Creek Valley in Washington, D.C., Rock Creek Park stretches over 2,000 acres from the Maryland state line to the National Zoo – a lush oasis amidst the dense urban development of the District.
September 28 is also Rock Creek Park Day, a celebration of the park's 129th anniversary and a fitting tribute for a site with such natural and cultural significance. To mark the occasion, the Rock Creek Conservancy will host volunteers from local communities for a number of conservation projects at sites near the Rock Creek Park Nature Center. Activities will include invasive plant removal, trash clean-up, and native plantings. Visit the Rock Creek Conservancy website for more information and to register for this event.
---
Kiptopeke State Park
Cape Charles, Virginia
Join Virginia State Parks for their annual Outdoor Exploration Day, a celebration of the unique ecosystems, history, and culture of the Chesapeake Bay and Eastern Shore of Virginia. The event is free to the public and visitors will be able to see live animals up-close, participate in crafts, go kayaking, take a wagon ride or hike the trails, as well as many other programs and activities. With over 560 acres of maritime forests, pollinator fields, and beaches to explore, this event will give visitors young and old a new appreciation for the natural wonders of Kiptopeke State Park.
---
Ute Trail, Rocky Mountain National Park
Estes Park,Colorado
Join this gathering of communities from different walks of life to share the beauty and history of Colorado's public lands! Volunteers will come together at the Continental Divide for a traditional Native American site blessing and ranger education on the importance of protecting the Colorado headwaters. Afterwards, groups will partner with the National Park Service and the Rocky Mountain Conservancy for two hours of trail maintenance and trash clean-up, followed by a guided nature hike. Breakfast and light snacks will be provided. Transportation to the site will be available for volunteers without access to a vehicle.
---
Chantry Flat Picnic Area, Angeles National Forest
Arcadia, California
Whether you're an avid hiker or new to the outdoors, this event will have something for you! Volunteers can choose from activities such as trail restoration work, picnic area clean-up, trash pick-up, debris and vegetation removal, facility painting, and more. Lunch, coffee, and raffle prizes will be provided. A free shuttle will be available to take volunteers from REI's Arcadia location to Chantry Flat starting at 7 a.m. In order to participate, you must register at the National Forest Foundation website. All volunteers must register prior to this event.
---
Coldwater Spring, Mississippi National River and Recreation Area
Minneapolis, MN
Help restore areas of the Mississippi National River and Recreation Area affected by urban development and invasive species by clearing brush and planting native plants and trees at Coldwater Spring. This project aims to increase biodiversity and encourage wildlife resettlement by rejuvenating the park's oak savanna, prairie, and wetland habitats. Tools, equipment, and light snacks will be provided. Volunteers must be at least 8 years of age to participate. All volunteers must register prior to this event by visiting the Mississippi Park Connection website.
---
Success Lake and Dam
Porterville, California
Originally built for flood control, water supply, and hydroelectric power generation, Success Lake and Dam offers area residents a host of wildlife viewing and recreational opportunities. This NPLD, join the U.S. Army Corps of Engineers for a day of environmental education and stewardship that will be fun and rewarding for all ages. Volunteer activities include developing the lake's recreation area, sprucing up campsites and playgrounds, and giving area facilities a fresh coat of paint. Complimentary breakfast and lunch will be provided, and all volunteers will receive a free t-shirt as a token of their service.
---
National Park Service Lake Mead National Recreation Area
Boulder City, Nevada
Just a 45-minute drive from the Las Vegas Strip, Lake Mead National Recreation Area is the nation's first national recreation area to become part of the U.S. National Park System. The park spans 1.5 million acres of mountains, canyons, and lakes, including both Lake Mead and Lake Mohave, as well as nine designated wilderness areas.
The Leave No Trace Center for Outdoor Ethics has identified Lake Mohave's Six Mile Cove as a "hot spot" where park visitors have had a negative impact on the area's delicate ecosystem. This NPLD, community members can take action by attending free Leave No Trace Workshops held within the park and by joining the group clean-up of the Six Mile Cove site.
---
Bridger-Teton National Forest
Jackson, Wyoming
Celebrate the first-ever Wyoming Public Lands Day with a free hot breakfast and reception at the BTNF Supervisor's Office in Jackson, WY! Special guest speaker Rep. Andy Schwartz will deliver a keynote address on the importance of environmental stewardship and highlight several local agencies and organizations that care for Wyoming's public lands. Volunteers will then carpool to one of several local public lands projects. These include:
Wild and Scenic River access improvements at Sheep Gulch
Weed removal and trail work on the Wyoming Range National Recreation Trail at Bryan Flats
Improve drainage and course correction of the Continental Divide Trail at Togwotee Pass
And more!
---
Valle de Oro National Wildlife Refuge
Albuquerque, New Mexico
This NPLD is also BYRD – as in Build Your Refuge Day at Valle de Oro National Wildlife Refuge! This annual event is an opportunity for community members to help restore this new wildlife refuge to its native habitat by assisting in planting and seeding native plants on the property. Through service projects, workshops, and activities at partner tables, attendees will learn how they can create a wildlife refuge in their backyards, patio, or community spaces. All necessary training and tools will be provided.
---
Grand Valley National Public Lands Day
Grand Junction, Colorado
For the past few years, the Grand Junction Field Office of the Bureau of Land Management (BLM GJFO) and various local partner groups have held community events to celebrate NPLD on public lands near Grand Junction, Colorado, and adjacent communities in the Grand Valley. This year, organizers have planned several volunteer days across September and October, with activities ranging from trash clean-up to trail construction and maintenance projects for motorized and non-motorized trails. These include:
Maintenance and clean-up of motorized trails in Bangs Canyon
Trash pick-up at the 27 ¼ Road Shooting Range
Maintenance of motorized and non-motorized trails in the Book Cliffs area
Clean-up of Rabbit Valley recreation area within the McInnis Canyons National Conservation Area
Maintenance and clean-up of Devil's Canyon Trailhead within the McInnis Canyons National Conservation Area
Contact the BLM Grand Junction Field Office for more information.
---
Phone D Sutton Recreation Site/Lower Salt River, Tonto National Forest
Mesa, Arizona
This two-day event is geared toward educating the people of the Greater Phoenix Area on how to take advantage of and help preserve nearby public lands. Some of the activities planned for Saturday, September 28th include:
Hands-on demos of mountain bikes, kayaks, and stand-up paddleboards courtesy of REI and local outfitters
Fishing education and opportunities with the American Sportfishing Association
Planting a new butterfly waystation with Friends of the Tonto National Forest
Volunteer fair with local conservation groups showcasing their work and providing education on future volunteer opportunities
And much more!
On Sunday, September 29th, local volunteer and conservation groups will come together for a joint effort to clean up the recreation site and surrounding area. Both of these events are family-friendly and open to the public.
---
Memorial Park
Houston, Texas
Help the Memorial Park Conservancy in their efforts to maintain and improve Houston's best known public land and wilderness space! As a part of the MPC's annual "VolunBeer" event, attendees will participate in projects such as invasive species removal, planting trees and shrubs, distribution of compost and mulch, and other needed tasks. Afterwards, you can relax and enjoy free snacks, swag, and beverages, including beer from local favorite St. Arnold's Brewing Company. Volunteers are advised to wear long pants and closed-toe shoes for this event.
---
Yosemite National Park
Yosemite Village, California
Yosemite is one of America's oldest and most popular public lands, and has played host to millions of visitors since President Abraham Lincoln signed the Yosemite Grant establishing its federal protection in 1864. People come from all over America – and the world – to view the gray granite cliffs, awe-inspiring waterfalls, and take-your-breath away vistas.
The "Yosemite Facelift," by far NPLD's most-attended event, is a park-wide clean-up in the traditional sense, using litter sticks, trash bags, gloves, and good old-fashioned elbow grease. However, there will also be opportunities to beautify the park in non-traditional ways, such as meadow restoration, climber access trail rehabilitation, graffiti removal, monarch habitat restoration, and much more.
---
Barnstable County (Cape Cod) Town Beaches
Barnstable County, Massachusetts
Sustainable Practices, a community environmental action group based in Barnstable County, MA, will host their second annual All-Cape Beach Clean-Up in conjunction with NPLD 2019. Community members across the 15 towns that make up the Cape Cod area will mobilize to clean local beaches of trash that has washed up on shore or was left behind by beachgoers. All waste will be recorded, weighed, and sorted as a part of the organization's efforts to educate the public on environmental preservation and stewardship tactics. Interested volunteers should contact Sustainable Practices through their website.
---
H.V. Eastman Lake
Madera County, California
After recovering from a long battle with an invasive aquatic plant infestation, H.V. Eastman Lake is once again open to the public! Nestled in the Sierra Nevada foothills, Eastman Lake is an important natural and cultural resource for residents of California's Central Valley. This NPLD, volunteers can get reacquainted with the lake and surrounding area by lending a hand with rehabbing playground surfaces, painting park facilities, picking up trash, and planting drought-resistant native plants. Tools, equipment, and free NPLD t-shirts will be provided.
---
Fire Island National Seashore
Fire Island, New York
More than an ecological marvel, Fire Island National Seashore is a monument to the power of communities to protect the environment. Established in 1964 thanks to a grassroots effort, the 32-mile barrier island shields Long Island from tropical storms and hurricanes, and is a major stop for migratory birds along the Atlantic Flyway.
In honor of NPLD, the Fire Island community will host their Fourth Annual Patchogue River Clean-Up, calling on volunteers of all ages and skill levels to pitch in and pick up trash and other debris along this important waterway. Participants with personal watercraft are encouraged to bring their kayaks, canoes, and paddleboards to collect waste floating in Patchogue Bay. After the event, volunteers will gather at a local restaurant to learn more about the seashore from park rangers and celebrate their hard work with a Mac-N-Cheese contest.
---
Mount Rainier National Park
Ashford, Washington
Last year, over 2.25 million people visited Mount Rainier, with a whopping 75 percent of those visits occurring during "peak season" between Memorial Day and Labor Day. And even though over 2,500 volunteers work hard each year building trails, patrolling the backcountry, helping with operations, and restoring meadows, NPLD is a much-needed opportunity to spruce up the Mountain before winter arrives. Join this community of passionate volunteers by helping out with trail work, maintenance projects, revegetation and meadow planting, and other projects as needed. For more information about this event, contact Mount Rainier Park Information.
---
San Diego River Mouth, Ocean Beach
San Diego, California
Help save and restore one of the last remaining coastal dune and wetland habitats in San Diego! The San Diego River Mouth is home to many endangered birds, fish, and mammals, and it needs your help to remain a viable habitat area for years to come. Volunteer activities include:
Invasive plant removal
Native plant rescue
Watering and care of recent plantings
Trail maintenance
Litter removal
Educational nature walk
All tools and supplies are provided. All volunteers must register prior to this event by visiting the San Diego River Park Foundation website.
---
Terminus Dam, Lake Kaweah
Tulare County, California
Beautiful Lake Kaweah is situated west of the Sierra Nevada Mountains in California and provides visitors with numerous recreational opportunities such as fishing, boating, kayaking, running, biking, and a nature walk. Each year, NPLD events help recreation area staff enhance and maintain this beloved lake after the busy summer season. Volunteers will assist with facility painting and graffiti removal, native tree and flower planting, trash pick-up, and maintenance of the well-traveled campground trail. Community members of all ages and skill levels are welcome! Light refreshments will be provided.
---
Lower Herring Run Park
Baltimore, Maryland
Learn more about a little-known urban oasis and a historic local community while volunteering in Baltimore this NPLD! Once used as a city landfill in the 1940s and '50s, Lower Herring Run spans over 43 acres of meadows and forest and is a major tributary of the Chesapeake Bay.
During this "Big Time Clean-Up" event, Site Captains will lead volunteer groups on guided hikes through meadows, forests, and streambeds while sharing some of the area's history and providing opportunities to pick up trash and other debris along the way. This event will showcase the wild beauty and recreational potential of this underfunded and underappreciated section of Baltimore's "One Park" greenway.
---
White Point Nature Preserve
San Pedro, California
Celebrate 7 years of NPLD events at White Point Nature Preserve by joining the Palos Verdes Peninsula Land Conservancy for their annual day of habitat restoration! Volunteers will remove hundreds of pounds of invasive species, repair trails, mulch and water recently planted host plants, and process seeds for native plant nursery propagation. These efforts will help the nature preserve's demonstration garden and surrounding habitat become a beautiful and critical educational resource for school groups, as well as a peaceful haven for the surrounding community in an area dominated by urbanization. Other activities include a nature-inspired art project, an educational nature tour, and a plant sale for volunteers and members of the public.
---
Meissner-Corron Forest Preserve
St. Charles, Illinois
The Forest Preserve District of Kane County invites volunteers in the Plato and Campton Township communities to pitch in this NPLD and help beautify the wet prairie and sedge meadows that make up the Meissner-Corron Forest Preserve. Organizers have several activities planned for volunteers, including invasive species removal, painting, seed harvesting, and fence removal. This event will help improve the historic Corron Farm and natural wetland complex within the preserve for future generations to enjoy. Safety gear and other equipment will be provided.
---
Tombigbee State Park
Tupelo, Mississippi
Just six miles southeast of Tupelo, MS, Tombigbee State Park was one of the first state parks built in Mississippi by the Civilian Conservation Corps in the early 1930s. The highlight of this pristine park is 90-acre Lake Lee, which offers visitors plenty of space for fishing, paddling, and camping. Local volunteers will have the opportunity to give back to the Tupelo community this NPLD by cleaning up trash and debris from the park's entrance, public areas, and roadsides. As a token of their appreciation, event organizers will host a barbecue lunch for attendees.
---
Quiet Waters Park
Deerfield Beach, FL
Give back this National Public Lands Day by helping Broward County Parks & Recreation restore 431.4-acre Quiet Waters Park, a popular recreation area for boating, fishing, camping and hiking. Stewardship projects will focus on invasive plant removal and installation of native plants. Volunteers must bring a completed and signed Broward County Workday Volunteer Application for each participant. Children under the age of 13 must be accompanied by an adult. Court-ordered volunteers are NOT permitted for this project.
---
Argo Canoe Livery
Ann Arbor, Michigan
Argo Nature Area provides hikers in Ann Arbor with wonderful views of the Huron River and the changing fall colors along its banks. This NPLD, volunteers can give back by helping the City of Ann Arbor's Natural Area Preservation (NAP) group with removing non-native shrubs that have invaded the area. Participants will meet in the parking lot north of the Argo Canoe Livery near the Argo Nature Center. Wearing long pants and closed-toe shoes is strongly encouraged. Prior to the event, all participants must complete a release form and all minors must be accompanied by a guardian. Tools and snacks will be provided.
---
Joppa Park
Dallas, Texas
Joppa Park, also known as South Central Park, is a 3.1-acre neighborhood park in south Dallas. Even though it is a relatively small park, it is heavily used by the local community. Volunteers will join Dallas Parks and Recreation and For Oak Cliff this NPLD to help community members take an active role in beautifying their local park. Activities include trash clean-up, facilities painting, and picnic area maintenance. Volunteers must sign up online for a specific activity prior to attending this event.
---
Fish Trap Lake Park
Dallas, Texas
Just west of downtown Dallas, this urban oasis is a beautiful setting for birdwatching, picnicking, fishing, and generally enjoying the outdoors. Park amenities include a small lake and a 1.4 mi hiking trail used by the local community for walking, biking, and inline skating. This NPLD, volunteers will partner with members of the Dallas Housing Authority, Pinkston High School, and the Texas B.A.S.S. Nation to spruce up the lake and pavilion areas. Activities include trash pick-up, native tree planting, and general facility maintenance tasks. There will also be youth activities for local families such as arts and crafts and fishing lessons.
---
Russell Creek Park
Plano, Texas
This large community park provides the communities of the Plano and greater Dallas metro areas with dedicated athletic fields for soccer and baseball, as well as hiking and biking trails and a small lake for fishing. For NPLD 2019, volunteers will be working alongside several local conservation groups, including the Texas Trees Foundation, Blackland Prairie Raptor Center, Texas B.A.S.S. Nation, and the Girl Scouts of Northeast Texas. Activities will focus on environmental education for local community members, such as "Leave No Trace" strategies, local ecology, and how to fish. Lunch will be provided.
---
Applewhite Picnic Area
Lytle Creek, California
Each NPLD, the Angeles National Forest offers a variety of fun and meaningful volunteer opportunities across the forest to encourage community participation on public lands. This year's events include a trash clean-up and brush trimming/removal project at the Applewhite Picnic Area, as well as creek clean-up of various portions of nearby Lytle Creek.
---
Quebrada Grande Recreational Area and El Toro Trail, El Yunque National Forest
Río Grande, Puerto Rico
While the El Yunque National Forest may be one of the smallest national forests, it is also one of the most biologically diverse, and is the only tropical rain forest in the U.S. national forest system. This NPLD, local volunteers will have the opportunity to learn more about the importance of public lands and to reconnect with the El Yunque National Forest, particularly after Hurricanes Irma in María affected Puerto Rico in 2017. Volunteers will have two projects to choose from:
Help with continued efforts to rehabilitate and maintain the El Toro Trail within the El Yunque wilderness
Site clean-up and painting of facilities at Quebrada Grande Recreational Area
In addition, Forest Service personnel will offer educational talks related to El Yunque National Forest, and Corazón Latino will lead a hands-on "forest bathing" therapeutic exercise.
---
Topics