News
Registration Now Open for National Public Lands Day Volunteer Events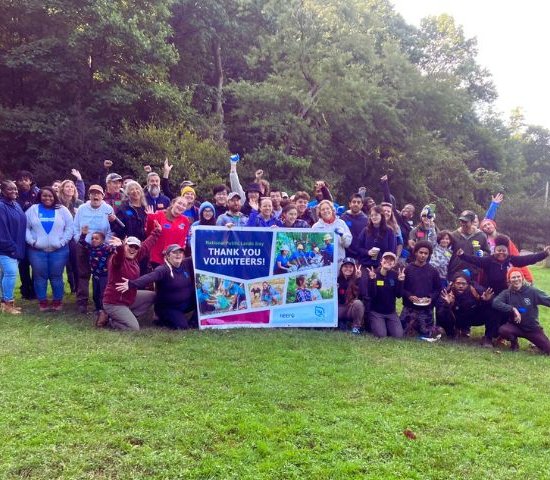 The National Environmental Education Foundation (NEEF) is thrilled to announce that registration is officially open for the 30th annual National Public Lands Day (NPLD), set to take place on Saturday, September 23, 2023.
As the largest single-day volunteer effort for America's public lands, NPLD brings together individuals, families, and community groups to help restore, improve, and enjoy our country's treasured outdoor spaces. Over the last decade, over one million volunteers have donated nearly 5 million hours of their time for public lands on NPLD, worth an estimated $133 million.
NEEF invites those interested in hosting volunteer events to register their activities on the official NPLD event map and become part of the NPLD 2023 nationwide celebration.
NPLD: 30 Years of Care and Community
The theme for this year's NPLD is "30 Years of Care and Community." To honor and celebrate the rich history of environmental stewardship on NPLD, NEEF is planning a social media and storytelling campaign to showcase the unwavering commitment of long-time event organizers, site managers, and volunteers. The "Champions of Public Lands: Care and Commitment" series will debut on NEEF's social media channels in July.
"NPLD is an integral part of NEEF's mission to make the environment more accessible, relatable, relevant, and connected to people's daily lives. It provides an opportunity for people of all ages and abilities to collaborate towards a shared objective, connect with new communities, and use public lands for education, recreation, and overall well-being," said Sara Espinoza, president and CEO of NEEF. "We are excited to see how NPLD has grown over the past three decades, welcoming more people and a diverse range of activities."
A History of Impact and Partnership
The first National Public Lands Day included just one federal agency, two public land sites, and 700 volunteers. This year, more than 70,000 participants are expected to join in trail maintenance projects, park and river clean ups, tree planting activities, invasive species removal projects, as well as hikes and other fun outdoor activities at hundreds of locations across the country, from state and local parks to land managed by federal agencies such as the Bureau of Land Management, National Park Service, and USDA Forest Service.
"NEEF's resources provide support to BLM personnel in planning and executing successful events," said Derrick Baldwin, Volunteer Program Manager, Bureau of Land Management. "Through National Public Lands Day, we harness the collective power of volunteers and community members to help BLM sustain and restore the health, diversity, and productivity of the public lands."
Engaging Employees on America's Public Lands
NPLD has also historically been a popular event for local, regional, and national organizations looking to increase employee engagement by providing volunteer opportunities in the communities where they live and work. Participating companies have included International Paper, Canon, and Toyota Motor North America, the national corporate NPLD sponsor.
"For over 20 years, Toyota has partnered with NEEF to encourage the public to give back to the lands they cherish," said Kevin Butt, senior director, environmental sustainability, sustainability & regulatory affairs at Toyota Motor North America, Inc. "Toyota team members have enthusiastically devoted their time to NPLD events that have enhanced and enriched our local communities."
For more information on NPLD 2023 and to register your volunteer event, visit National Public Lands Day.