National Public Lands Day
National public lands day 2023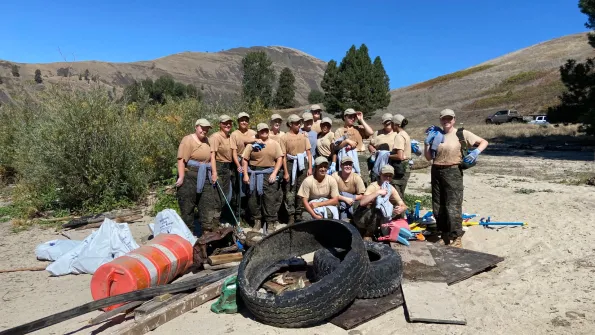 NPLD 2023 Impact
Explore the highlights of the 30th annual National Public Lands Day, where 40,000 volunteers across 600 events made a lasting impact on America's public lands, from a natural history lesson at Boston Harbor Islands to a coastal clean-up in Monterey Bay.
Thanks to all who were part of the 30th annual National Public Lands Day (NPLD) celebrations on September 23, 2023!
Across the country, we celebrated NPLD's 30 Years of Care and Community for our public lands. From humble beginnings with one federal agency, two sites, and 700 volunteers, NPLD has grown into the largest single-day volunteer event for public lands.
As a signature event of the National Environmental Education Foundation (NEEF), NPLD fosters a strong connection between people and the environment, educating and cultivating environmental stewards. It's also a "Fee-Free Day" where entrance fees are waived at national parks and public lands. With support from federal and state agencies, corporate sponsors, and nonprofits, NPLD ensures resilient natural spaces for generations to come, encouraging volunteering and environmental engagement.
Image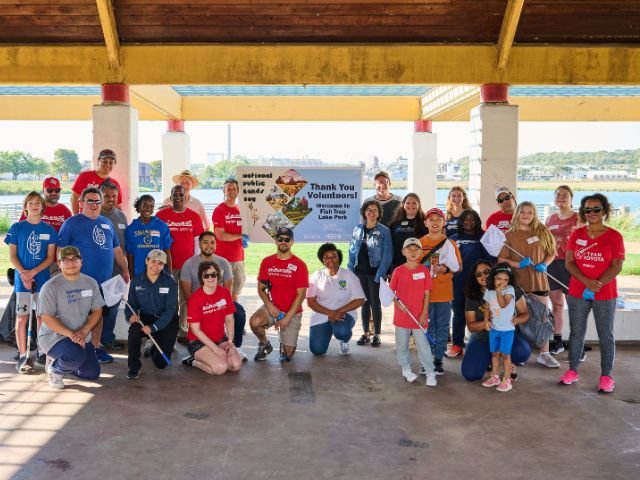 NPLD history & impact in the last decade
5,000,000
Volunteer Hours
$
133,000,000
Value of Volunteer Service
MOre Resources to Promote and Welcome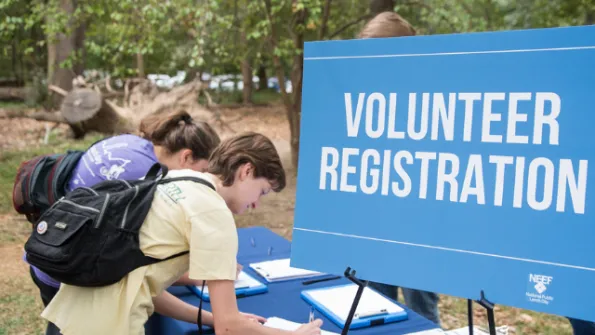 Webinar Recording
Recruiting and Engaging Volunteers for National Public Lands Day Events: Strategies for Success
Our experts from Texas A&M University, BLM, and Saguaro Park discuss effective strategies for recruiting and engaging volunteers for National Public Lands Day events.
From majestic mountains to sprawling forests, public lands provide a chance for us to connect with nature, explore our country's rich history, and enjoy endless recreational and educational opportunities. By hosting an NPLD volunteer event, you'll be joining a nationwide effort to preserve and protect our natural spaces ensuring that they remain a vital part of our communities.
National Public Lands Day 2022
EE and Mental Health on Public Lands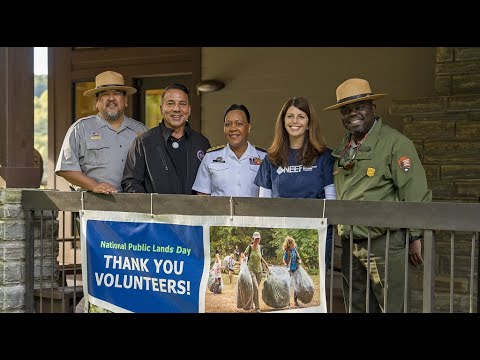 On Saturday, September 24, 2022, over 50,000 volunteers participated in community events to help restore and improve public lands across the country as part of the 29th annual National Public Lands Day (NPLD).
National Public Lands Day 2022
Partners in Conservation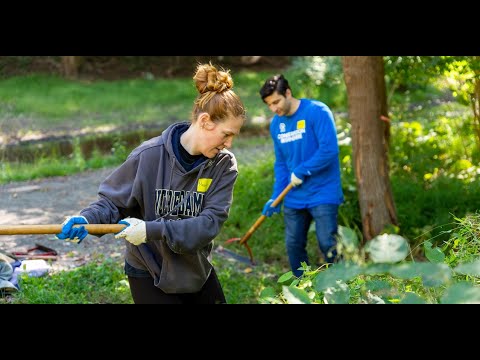 The Student Conservation Association (SCA) and Riverview Park teamed up for a Day of Service in honor of National Public Lands Day (NPLD) and the SCA alumni event.
impact on national Public Lands Day
Established in 1994 and held annually on the fourth Saturday in September, this celebration brings out thousands of volunteers to help restore and improve public lands around the country.
In addition to providing support to NPLD event organizers, NEEF conducts surveys and compiles post-event data, resulting in valuable metrics and nationwide impact figures that demonstrate the positive results of NPLD.
NPLD 2023 Impact
This year marked the 30th annual NPLD and organizers made the most of it. Volunteers participated in almost 600 events across the country, featuring some of America's most memorable and unique locations—a natural history lesson at Boston Harbor Islands National and State Park, a coastal clean-up in Monterrey Bay, the removal of invasive species at Grand Staircase Escalante National Monument.
NPLD 2022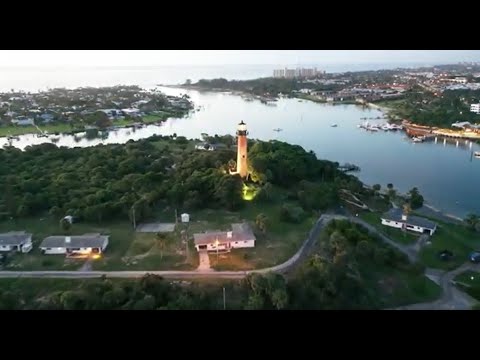 Get to Know NPLD
National Public Lands Day
Who participates in NPLD? What do volunteers do? These questions and more are answered.
National Public Lands Federal Partners
National Park Service
Image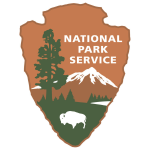 US Department of Interior Bureau of Reclaimation
Image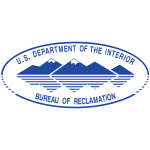 Toyota
Image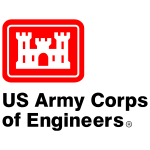 US Fish and Wildlife Service
Image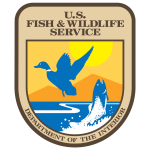 USDA Forest Service
Image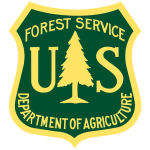 NOAA logo
Image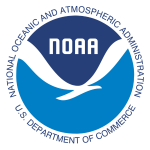 Bureau of Land Management
Image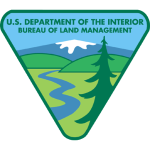 National Public Lands Day Corporate Sponsors
Image

Image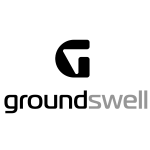 SUPPORT NPLD
Thank you for considering sponsoring National Public Lands Day! Join us in making a difference and showcase your commitment to environmental and community impact.
Become an Employee Engagement Sponsor
Energize your workforce and give back to the community with our Employee Engagement Sponsorship, which includes a special "day of service" activity tailored to your CSR goals. 
Become an NPLD Sponsor 
Make a meaningful impact and inspire others to get involved by sponsoring National Public Lands Day. Your support will help us make this exciting event a success!
Resources
In this webinar, you'll get tips on how to incorporate other stewardship activities into your NPLD event -...
We've gathered some tips on how to make your NPLD event more inclusive.
Friends of Herring Run Parks shares ten tips to help organizations host a successful National Public Lands Day...
NPLD Stories
When most people think of a wedding reception they think of crystal glasses, speeches, and catered food. Beth...
See how creative virtual volunteering boosted attendance for this non-profit's NPLD event.
For the past 26 years, hundreds of thousands of volunteers across the US have donated their time to help...
Stay Updated
Sign up for our email alerts to stay up to date on National Public Lands Day deadlines and be the first to know about new resources