News
NEEF & Nickelodeon Kick Off 2017 Partnership at Pacific Marine Mammal Center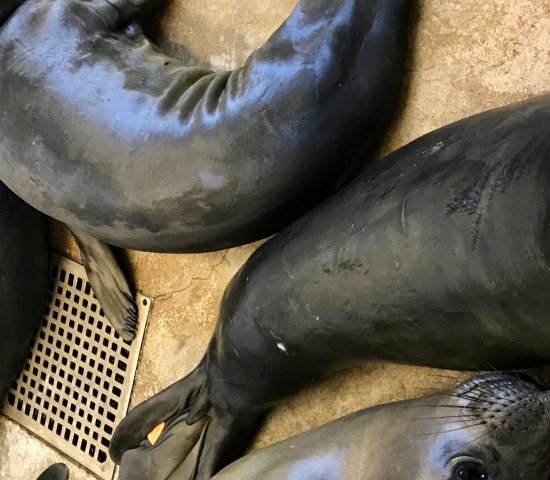 Organizations Join Forces to Encourage Kids to be Environmental Ambassadors and Promote Environmental Stewardship in Communities Across the U.S.
LAGUNA BEACH, CA – Today, NEEF (National Environmental Education Foundation) and Nickelodeon's "Get Dirty!" environmental initiative, kicked off its partnership with an Earth Day activation featuring  Nickelodeon's Game Shakers cast (Cree Cicchino, Madisyn Shipman, Benjamin Flores Jr. and Thomas Kuc) who lent a hand at the Pacific Marine Mammal Center (PMMC) as "Get Dirty!" ambassadors for the day.
"Nickelodeon and the National Environmental Education Foundation have been longstanding partners to give kids ways to act on their desire to help the environment," said Jean Margaret Smith, Senior Vice President of Public Affairs, Nickelodeon Group. "This latest effort, Nickelodeon's "Get Dirty!" will collaborate with NEEF to not only connect kids to playful expeditions in local communities, but also empower them to lead others."
Nickelodeon's annual "Get Dirty!" Earth Day initiative is a call-to-action that supports kids and their projects to help protect the planet. "Get Dirty!" provides kids and their families with information on top-of-mind issues, offers fun ways they can improve the environment and connects them to green activities.   
NEEF is partnering with Nickelodeon's "Get Dirty!" environmental initiative to encourage kids across the country (ages eight to 15 years-old) to be ambassadors of the environment in their own communities. Additional on-the-ground activations to promote environmental stewardship among young people will follow later this year.
"The mammals we rescue depend on all of us to keep the oceans a clean and safe place for them. What we do on land directly impacts what goes into waterways, leading to the ocean," said Krysta Higuchi, events and public relations coordinator for PMMC.
Today, the Nickelodeon stars learned more about PMMC's mission to rescue, rehabilitate and release marine mammals and inspire ocean stewardship through research, education and collaboration.  They also participated in cleaning the facility and helped to prepare food for the mammals. NEEF engaged the cast in protecting the health of our oceans from pollution, such as plastics. 
"Young people care about the environment, but are often unsure what they can do to make a difference," said NEEF President Diane Wood. "This partnership with Nickelodeon gives youth real life experiences out in the environment, thereby activating the next generation of environmental stewards and leaders." 
For more information on the NEEF/Nickelodeon Get Dirty partnership, including upcoming announcements about the next expedition and opportunities to apply to become a "Get Dirty!" ambassador, visit NEEFusa.org.  
# # #
About NEEF
NEEF was chartered by Congress in 1990 to partner with the EPA to advance environmental literacy nationwide. NEEF offers science-based, unbiased information through its own communications platforms, as well as a network of trusted professionals and affinity communities that, with their relationships and credibility, amplify environmental messages to national audiences. NEEF also implements environmental education investments in areas that best connect with everyday life: health, weather + climate, and nature where we live, learn, work, and play. Learn more at NEEFusa.org – or follow NEEF on Facebook & Twitter.
About Nickelodeon 
Nickelodeon, now in its 38th year, is the number-one entertainment brand for kids. It has built a diverse, global business by putting kids first in everything it does. The company includes television programming and production in the United States and around the world, plus consumer products, online, recreation, books and feature films. Nickelodeon's U.S. television network is seen in almost 100 million households and has been the number-one-rated kids' basic cable network for 22 consecutive years. For more information or artwork, visit http://www.nickpress.com.  Nickelodeon and all related titles, characters and logos are trademarks of Viacom Inc. (NASDAQ: VIA, VIA.B).
About PMMC
The Pacific Marine Mammal Center rescues, rehabilitates, and releases marine mammals and inspires ocean stewardship through research, education, and collaboration. Since 2015 PMMC has rescued almost 1,000 animals that have been sick, malnourished, or entangled; a historical amount from the Orange County area. Pacific Marine Mammal Center is a non-profit 501(c)(3) organization. Our Tax-ID number is: 95-3680896. 20612 Laguna Canyon Road | Laguna Beach, California, 92651 | (949) 494-3050
CONTACT
Thamar Romero
Director, Corporate Communications
Nickelodeon Group
212-846-7491
thamar.romero@nick.com
Topics