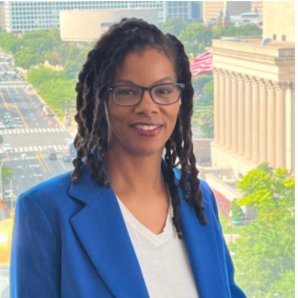 Vice President, HR and Culture
Victoria Collins-Hughes oversees the administration and evaluation of NEEF's human resources functions and diversity, equity, and inclusion (DE&I) efforts. She works to develop and implement programs and processes designed to attract, retain, and motivate a highly skilled and broadly diverse workforce, and helps foster a work environment that values differences, offers fair access to opportunities, and creates a space where staff are heard and supported. Before joining NEEF, Victoria spent close to 20 years in the nonprofit sector, where she demonstrated a commitment to creating equitable and inclusive work environments that balanced accountability with compassion. In various roles, she has provided leadership for administration and operations staff, oversight of project implementation, strategic planning, monitoring, evaluation, training, employee and leadership coaching, and client relations. Victoria received both a bachelor's degree in sociology and master's degree in social work administration from the University of Michigan, and is a certified professional in human resources, organizational development, and diversity, equity, and inclusion. She enjoys exercise, quiet time, and spending time with family. In addition to her husband and four children, she has three fur babies.
Victoria is located in Columbus, Ohio.