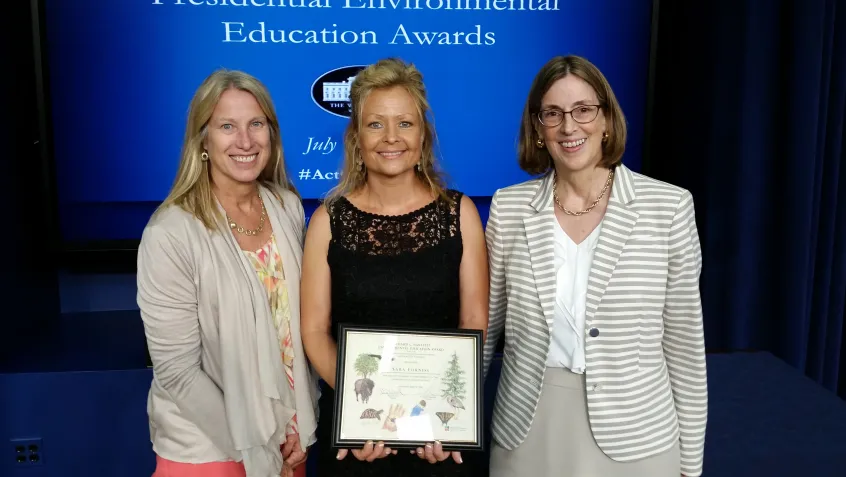 The Richard C. Bartlett Award
The Richard C. Bartlett Award was established by the National Environmental Education Foundation (NEEF) in 2007 to distinguish teachers who best represent Richard C. Bartlett's passion for and leadership in environmental education. Richard Bartlett (1935-2011) believed that the role of teachers in integrating environmental education is critical to preserving the natural world for future generations. His commitment to conservation and environmental education spanned over four decades and inspired environmental educators nationwide.
Bartlett Award winners were selected by a distinguished national panel of NEEF judges based on the following criteria:
Demonstrating creative, replicable approaches to environmental education
Adopting an interdisciplinary or systems thinking approach to integrating environmental education across subject areas
Engaging others, such as fellow teachers, administrators, and community members in their environmental education efforts
Increasing student achievement within and beyond the classroom
Please see below for descriptions of our winners and some of the great things that they have done in their community.
2015 Bartlett Award Winner
Sara Forness (West Fargo High School, West Fargo, ND)
Sara Forness takes an experiential learning approach to science lessons in her High School Field Biology and Environmental Science classes, showing all students the relevance of what they are learning in order to make it real and meaningful to their lives outside of school. Projects have included local water quality monitoring, forestry labs, soil sampling, insect ecology, bird identification, and many other topics. Many of these programs lead up to community involvement and education such as presentations of students' urban forestry work to a panel of natural resource professionals, production of public service announcements about invasive species awareness, creation of unused pharmaceutical drug drop-boxes to keep harmful chemicals out of the water supply, a recycling float in the annual fall parade and other successful community-based applications of student learning. The lasting impact of these lessons is undeniable, as students have continued on to internships and extra-curricular pursuits related to lessons from her class, and have even returned after graduating to help teach current students and stay involved with the programs. Although Sara is the catalyst for many of these quality environmental education programs, she has found ways to involve many other teachers and students at the school, including enlisting the wood shop class to help build two stream tables for studying river morphology, working with the engineering teacher around solar bike-a-thons, inviting the STEM program to join in the water quality testing and plans for many more collaborations.
Merit Winners
Sarah Lord (Billings Senior High School, Billings, MT)
Sarah Lord's leadership of Billings Senior High's environmental science class has helped develop the program into a pivotal tool for connecting students with no prior background or interest in science to hands-on learning opportunities that let them experience first-hand how school lessons relate the world around them. Phenology and water quality studies of local parks and waterways take familiar spaces for many of the students and turn them into places of scientific exploration and understanding, solidifying a base of scientific knowledge and instilling a new appreciation for the place and for science. Sarah has worked with her students to address local food disparities by partnering with the Salvation Army to develop ecological understandings about sustainable agriculture methods and the benefits of locally sourced food. Students then shared this knowledge with the community through the creation of a community garden, murals, volunteerism efforts, public events, in-school presentations and more. This effort was recognized as a model program by the Montana Education Partnership for best practices in service learning. It has evolved to inspire similar projects around environmental assessments of riverfront land usage and migratory bird habitat revitalization. Beyond collaborations with other science classes at the school, Sarah has also been able to work with colleagues to successfully integrate environmental education into English, art, math and even culinary curriculum. She finds ties to history lessons by facilitating presentations by local tribal members to better understand Native American perspectives on the environment.
Ross McCurdy (Ponaganset High School, Scituate, RI)
Ross McCurdy has supercharged his science classes with more than just fuel cell technology, giving lessons a boost of fun and intrigue that captures students' attention and drives their interest in renewable energy far beyond the end of the school year. What started as a small scale lab investigating fuel cell technology in the classroom quickly expanded into many more complex renewable energy undertakings such as the world's first fuel cell-powered band, electric bicycle fabrication, solar shed construction, a hydrogen fuel cell-powered hot rod, a biodiesel-powered 3,000 mile coast to coast road trip, a biodiesel equipped airplane flight and more. In each of these projects, Ross uses the potential of the subject matter to capture students' attention and allows them to decide how it will be put into practice, thereby instilling a sense of investment in the project, and consequently, in their own learning. Graduates of his class have continued on to internships and careers in renewable energy fields, crediting classes they took with Ross as the reason for taking interest in such career paths. He has designed many of his lessons to be a combination of academic-based research and analysis and more technical skills like carpentry or electrical work, so that each student is able to excel at some part of the project and feel good about their contributions, no matter what their skills are or how they learn best. By working on projects in groups and collaborating with other classes, students have a chance to share what they have learned while learning from each other. Through festivals, fairs and other events where students have been able to exhibit their work, they also get a chance to share what they've learned and accomplished with the broader community, improving their understanding of the content and sharpening their communications skills. Ross' passion for renewable energy extends beyond his work with students and has led to successful integration of sustainable design features in both the school and his home.