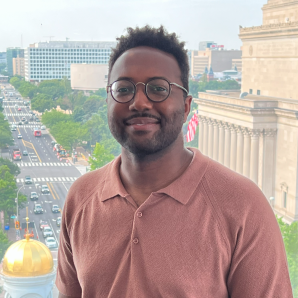 Coordinator, Marketing & Communications
Layton Ross works as the Marketing & Communications Coordinator at NEEF. He helps NEEF's Marketing Department promote the organization and its programs via integrated marketing campaigns that include newsletters, social media marketing, website content, brand collaborations, and more.
 
Prior to joining NEEF, Layton thrived in the dynamic startup scene of Los Angeles, developing brands, designing marketing strategies, and delivering captivating content. Recently, Layton contributed his talents to the University of Pennsylvania's Heart & Vascular Surgery line, launching national marketing and communications efforts. His expertise in brand development and content strategy created compelling experiences for a diverse audience. Bringing a unique perspective to NEEF, Layton leverages his deep understanding of marketing and communications to analyze digital impact, generate informative content, and craft engaging stories. By connecting with audiences and delivering powerful messages, he helps NEEF drive its mission of environmental education and awareness.
Layton is located in Philadelphia, Pennsylvania.