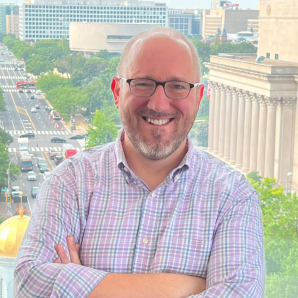 Vice President, Organizational Development
Patrick Deavy works across the organization to implement projects, tools, and strategies that impact every department and are designed to improve operational efficiency, staff performance and support growth. Patrick oversees annual goal setting, work planning, legal issues and facilitates strategic discussions.  He has been responsible for overseeing NEEF's strategic planning, managing the creation of national benchmark surveys, and designing NEEF's philanthropic grantmaking systems. 
Before NEEF, Patrick worked in the theatre arts and fundraising at the Ensemble Theatre Cincinnati. Patrick has his BFA from Northern Kentucky University and his MBA from the University of Cincinnati along with a graduate certificate in Leadership and Management. He lives in the Cincinnati area, working remotely for NEEF, and serves on the board of the Young Professionals Choral Collective. He is also a graduate of the Cincinnati USA Regional Chamber's Leadership Action program.
Patrick loves puzzles, food, the outdoors, and the arts.  He can be found hiking with his wife and two sons, discovering new local restaurants, or spending an evening at the symphony.   
Patrick is located in Cincinnati, Ohio.