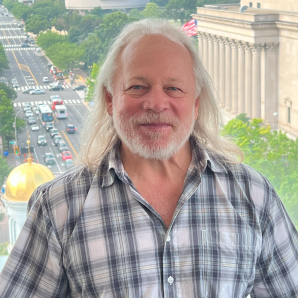 Program Director, Environmental Education
Robert Sendrey oversees NEEF's portfolio of K-12 education initiatives and programs for formal and nonformal educators including Greening STEM and Climate Superstars. His career as an educator began as a non-traditional student at Antioch College earning a BA in Education, followed by an internship at the Caltech Precollege Science Initiative. He taught middle school science and math for nearly a decade before trading the four walls of the classroom for the four points of a compass, working as an itinerant naturalist throughout California for several seasons. Those outdoor education trips led him to Outward Bound Adventures in Los Angeles where he was program director. He also spent time in the Puget Sound region of Washington State, where he led an environmental nonprofit working to restore ESA-listed stocks of salmon through habitat restoration projects and environmental education programs. An amateur musician, Robert enjoys the performing arts and cultural opportunities that living in the DMV provides.
Robert is located in Washington, DC.