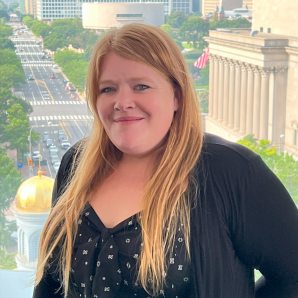 Coordinator, Finance & Administration
Whitney Shuttleworth is an environmental and administrative professional with over two decades of experience. She holds a Bachelor of Philosophy in Environmental Studies with a focus in Sustainable Agriculture from Miami University of Ohio and a Master of Public Administration from Kent State University, as well as a Certified Administrative Professional designation from the International Association of Administrative Professionals. She also holds a Permaculture Design Certificate from Midwest Permaculture. She began her career as an organic farmer working at an "'educational green space" in NE Ohio called Crown Point Ecology Center. She then spent several years honing her agricultural specializations is in organic vegetable production, small fruits, flowers, as well as agricultural environmental education in Ohio, Kentucky, and Tennessee. Whitney has years of experience working in public finance and administration through multiple state and county agencies. Her professional areas of interest focus on the potential of collaborative efforts between governmental, nonprofit, and private industries to promote positive environmental awareness and change as well as strengthening local food systems. In her free time, she is working to turn her half acre yard into a profitable and productive "mini farm," that hosts native/pollinator friendly flowers, heirloom fruits and vegetables, and small livestock.
Whitney is located in Clinton, Ohio.