Story
Increasing Accessibility in STEM Learning for Visually Impaired Students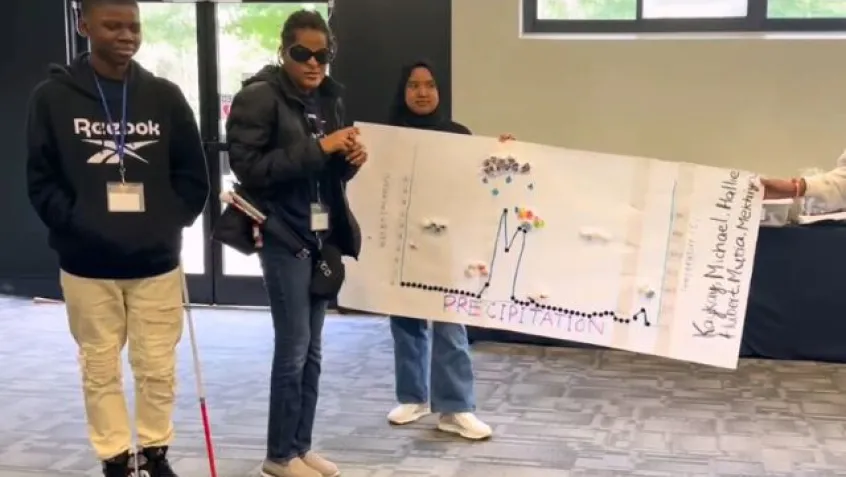 Students of all backgrounds and abilities are exploring the nexus of hydrologic sciences, visual arts, and music through the Water Cycle Visualization Project ("WaterViz").
This digital tool translates real-time data from the Hubbard Brook Experimental Forest's watershed in New Hampshire into a variety of creative mediums. Funded in part by a Greening STEM grant presented by NEEF and the USDA Forest Service, the project helps middle school students explore the water cycle in a way that is most accessible to them.
More than 1,000 miles away from the watershed, Mary Robbins, PhD, teaches at the South Carolina School for the Deaf and the Blind. She recently incorporated the WaterViz curriculum into a week-long session of a summer camp for legally blind teenagers and young adults hosted by the South Carolina Commission for the Blind (SCCB). Because the program presents data in so many different ways, students with visual impairments can easily engage with the lessons.
While at the SCCB camp, students had opportunities to:
Learn how artists, musicians, and scientists collaborated on the multidisciplinary WaterViz project
Analyze, interpret, and build 3-D scale models based on real scientific data
Design and construct their own creative data representations
Learn about climate trends
Present their work at a "Water Showcase" finale event
"Programs like WaterViz give students a way to engage in science and math that builds their confidence," said Robbins. "We break down the data in a way that helps students make new discoveries and play to their strengths."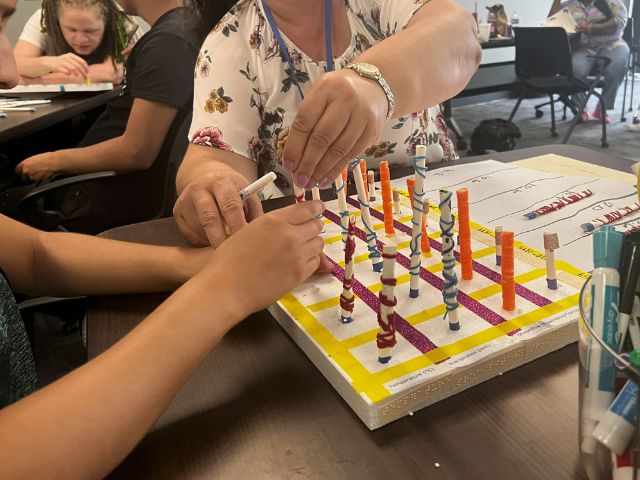 Helping Students Visualize a Future in STEM
When teachers feel unprepared or unable to address the needs of students with disabilities in the classroom, it can be difficult for those students to connect with the material. Unable to access information in the ways they need to learn, they often get frustrated and shut down.
"For example, math and science are often taught visually, which can be hard for blind students to connect with. If they can't participate to the fullest extent, they often struggle and decide they 'don't like' these subjects," said Robbins.
WaterViz flips this narrative by giving students options in how they can engage with science curriculum. At the end of the SCCB summer camp, students had the opportunity to choose how to present their findings to the group. There were many clever ideas: some students created 3-D models, and others played musical instruments. One example that particularly stuck with Robbins was a teen girl who wrote a short story about the water data. While nervous, she read her story aloud to the group, who responded with overwhelming applause—building her confidence.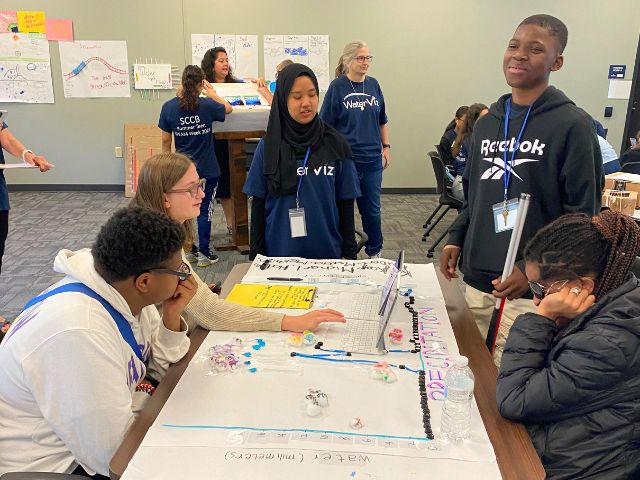 "This project shows that people with all sorts of backgrounds have something to contribute," said Robbins. She explained that experiences like these can ultimately help students conceive of a future for themselves in science, technology, engineering, and mathematics (STEM). 
STEM is for Everyone
Because WaterViz was created with accessibility in mind, there is no need for the program to be retrofitted to meet the needs of students with visual impairments. The curriculum follows best practices for font legibility, incorporates alt-text descriptions for all graphics, and provides accessibility options such as large print, compatibility with screen readers, and braille code.
"We really didn't have to make any changes for our low-vision or blind students because we started with a Universal Design for Learning perspective. We made the lessons as accessible as possible from the beginning, but we are also constantly refining," said Robbins.
Universal Design for Learning is a framework used to design learning environments that are accessible to all. The goal is to change the design of the environment to reduce barriers rather than change the learner. NEEF and Toyota Motor North America have previously sponsored projects that follow the principles of Universal Design, including a similar project for visually impaired students at Canaveral National Seashore in Florida.
Another important part of the SCCB summer camp was the opportunity for students to participate in discussion panels with professionals working in STEM fields. They were introduced to career paths they may not have even known were options.
Identifying mentors and role models is important to help students with disabilities and other underrepresented groups in STEM build a sense of community at the start of their higher education and professional journeys.
Teaching Tools to Make STEM More Accessible
Six WaterViz lesson plans for grades 6-8 are available online for educators to download. This includes a folder of digital lessons that may be printed, accessed electronically, downloaded as an accessible PDF, or translated to Braille.
Learn more about the WaterViz lesson with this video from IfThenSheCan.
In Fall 2023, Robbins will be teaming up with Dr. Tina Herzberg of Project INSPIRE (Increasing the STEM Potential of Individuals Who Read Braille) to offer the WaterViz camp virtually. Project INSPIRE offers many free resources for teachers of students with visual impairments, including virtual sessions for middle and high school students and STEM-centered braille reading competitions.
How to Support Inclusivity in Your Classroom
Are you an educator with a student with visual impairments or other disability in your classroom? Robbins says that while it can feel intimidating at first, ensuring your classroom is inclusive of all learning styles will ultimately make you a better teacher. 
"You will need to be more attentive and provide more details, which will ultimately benefit all of your students," said Robbins.
She also stresses that it's important to remember that students with disabilities are just as capable as any other student. "Maintain high expectations for both the student and yourself," said Robbins.
In addition to the online WaterViz curriculum, Robbins recommends the following resources for teachers working with students with low or no vision.
Paths to Literacy: a collaboration between Perkins School for the Blind and Texas School for the Blind and Visually Impaired that provides teaching strategies, resources, and research to teach literacy foundations for children and youth with visual impairments.
Paths to Technology: an online resource designed to assist educators and families in learning and staying current on ever-changing technology for students with visual impairments and blindness.
American Printing House for the Blind: offers a variety of free online courses for educators to increase their ability to respond to the needs of students with visual impairments.
In the end, Robbins says the relationship you forge with your students will have the greatest impact on their success. "Perhaps more important than any specific resource is the relationship and dialogue that a teacher has with the student to understand how to reach them and figure out what is best for them," she said.
Topics