Story
Michigan Middle School Science Class Wins Environmental Education Challenge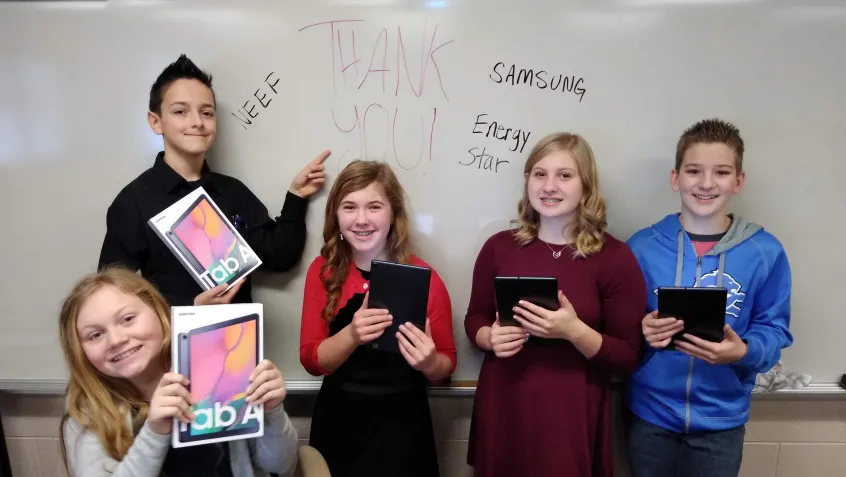 Last month, the National Environmental Education Foundation (NEEF) partnered with Samsung and the EPA's ENERGY STAR® program to present the 2019 Climate Superstars Challenge, an online environmental education contest for US middle school students (grades 6-9).
From October 21 to 31, 2019, middle school classrooms across America completed daily tasks designed to raise awareness of energy consumption and provide strategies for being more energy-efficient and environmentally conscious. Classrooms that completed at least seven tasks, including taking the ENERGY STAR® Pledge, were automatically entered into a drawing to win five Samsung Galaxy Tablets with ENERGY STAR® Certification.
James Maki, a seventh-grade teacher from Aspen Ridge Middle School in Ishpeming, Michigan, was among the winners and talked to NEEF about what drew him to the Climate Superstars Challenge.  
A Legacy of Environmental Engagement
Maki was referred to the contest by a colleague from the Clear Lake Educational Center, an outdoor science education campus located in the Hiawatha National Forest of Michigan's Upper Peninsula. He coordinates the annual seventh grade class trip to Clear Lake each September, where students spend a few days engaging in STEM-based learning and recreational activities in the great outdoors.
"I teach Earth Science to seventh graders, and I am always looking for interesting ways to stress environmental awareness and energy conservation," said Maki.
Maki has plenty of experience with getting his students involved both inside and outside of the classroom. In 2017, Maki organized a roadside clean-up with his seventh-grade students. Together, they collected more than 300 pounds of trash and debris along a quarter-mile stretch of U.S. Highway 41 in honor of Earth Day.
When Maki caught wind of the challenge, he knew it would be a good fit for his science classroom.
"The students were very excited to participate [in the Climate Superstars Challenge]," said Maki. "At first, it was the prospect of winning tablets for our classroom that motivated them. However, I'd say that by the time we completed the tasks, the students were truly motivated to make a difference in their environment."
Climate Challenge a Hit with Students
Maki was able to incorporate the tasks into his existing lesson plans by dedicating a few minutes each day to work on them as a class. He felt they were a good use of class time as they didn't take too long to complete and students seemed to enjoy them, especially the more creative tasks like designing an electric car of the future.
"We got some real interesting designs for the electric cars," said Maki. "My students love to draw."
As Maki's seventh-grade class worked their way through the Climate Superstars Challenge and learned more about energy efficiency, he could sense their increasing curiosity and excitement about the topic. They weren't satisfied with the general scope of the challenge and wanted to apply this newfound knowledge to their everyday lives. With their teacher's guidance, the seventh-graders began to formulate a plan to address some inefficiencies they had noticed within the school itself.
"They identified paper towel waste in our middle school restrooms, researched solutions to the problem, and presented a proposal to the school board to have energy-efficient hand dryers installed in the restrooms," said Maki. "The board agreed and has scheduled the installation of the hand dryers over the coming holiday break!"
Students' Dedication Pays Off
The Climate Superstars Challenge contest drawing was held on November 4, and a total of 20 classes—including Maki's seventh-grade earth science class—were selected to receive free tablets courtesy of Samsung.
While the prize was certainly a welcome reward for his students' hard work, Maki appreciated the opportunity to provide them with valuable environmental education in a unique, engaging way.
"I would certainly encourage educators to sign up for Climate Superstars," said Maki. "My students gained a deep understanding of energy and resource conservation. They even went so far as to act on this new appreciation for the environment by seeking to conserve resources at their school. I couldn't be more proud of them!"
Topics