Story
Native American Students in Montana Among Winners of Climate Superstars Challenge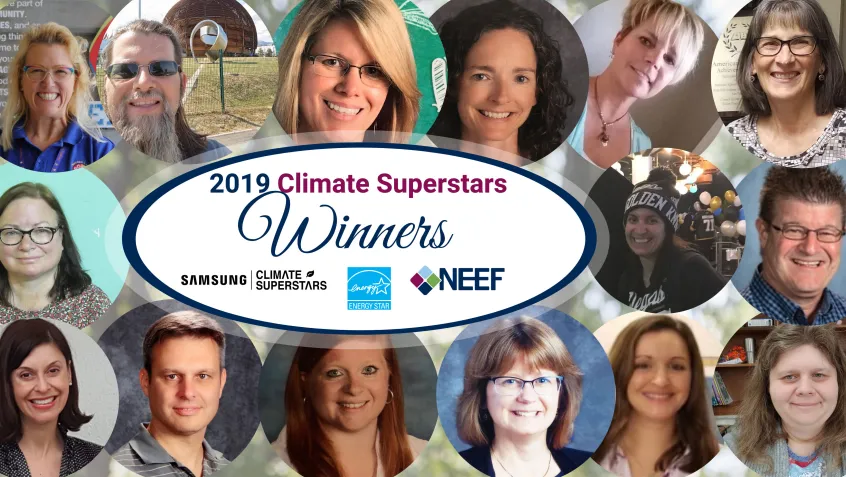 The National Environmental Education Foundation (NEEF) recently partnered with Samsung and the EPA's ENERGY STAR® program to present the 2019 Climate Superstars Challenge, an online environmental education contest for US middle school students.
From October 21 to 31, 2019, middle school classrooms across America completed daily tasks designed to raise awareness of energy consumption and provide strategies for being more energy-efficient and environmentally conscious. Classrooms that completed at least seven tasks, including taking the ENERGY STAR Pledge, were automatically entered into a drawing to win five Samsung Galaxy Tablets with ENERGY STAR® Certification.
NEEF spoke with one of the winners: Connie Michael, a teacher at Crow Agency Public School in Crow Agency, Montana.
A Culture of Conservation
Five years ago, Michael moved to Montana to teach at Crow Agency Public School, about an hour's drive east of Billings on the Crow Indian Reservation in southeast Montana. Almost 8,000 members of the Crow tribe live on this 2.2 million-acre reservation, with the town of Crow Agency serving as the location of their tribal headquarters. The Public School is part of the larger Hardin School District located 14 miles away.
"Our school population is 100 percent Native American, not necessarily all Crow," said Michael. "We're also close to the Cheyenne reservation, so we have a few Cheyenne kids and kids from other nations as well."
Now in her 29th year as an educator, Michael says Crow Agency Public School is a perfect fit for her teaching style, which focuses on engaging students in environmental education with hands-on activities and interactive lesson plans.
"Culturally, my students are very into the land, and we talk a lot about conservation stewardship," said Michael. "We have coal mines out here; we also have a dam. We talk about those different types of energy and how to use that energy so you're not wasting it."
Adapting Energy Education to Meet Students' Needs
Michael first heard of the Climate Superstars Challenge through one of the many STEM-focused Facebook groups she follows. The timing of the challenge could not have been more perfect, as she had just attended the National Energy Education Development (NEED) Project's 39th Annual Youth Energy Conference earlier this summer in Washington, DC, to accept the Bob Thompson Excellence in Energy Award for her contributions to energy education.
Because the Climate Superstars Challenge was designed to cover basic environmental topics, Michael used the program as a jumping-off point for larger discussions with her students about energy—where it comes from, how it's used, and the impact that use has on the environment.
"It's something that until you point out to them, they just take for granted and don't really notice," said Michael. "Their whole life they've had the ability to turn lights on or plug something in and have it turn on."
Instead of spending the bare minimum amount of time on each daily task, Michael dedicated large portions of class to giving her students proper background knowledge and information about energy efficiency to help them understand the core concept. This included watching videos, searching for information online, and conducting thorough briefings and debriefings for each task.
Michael said her students had an overwhelmingly positive response to the Climate Superstars Challenge, particularly when it came to hunting for "energy vampires"—sources of wasted energy—around their school.
"The culture of the kids I have is, they're very hands-on," Michael said. "They were very excited to not just sit and say, 'OK, this is what's sucking your power,' but to actually get up and move and look for it."
Unexpected Barriers to Energy Education
That's not to say that every task was smooth sailing. Certain tasks that would seem simple to students in other parts of the country, such as counting energy-efficient appliances at home, proved to be more challenging than Michael and her classroom had anticipated.
"Some of the tasks were harder because we are from a more rural poverty area. [Most kids] don't have the newer energy-efficient items in their household, if they have them at all. Some of my kids, they don't have heat sometimes and they don't have electricity sometimes just depending on the state of affairs in their home."
Despite these challenges, Michael believes it was important to provide this context to her students.
"If they do have the opportunity to buy something, oftentimes it's not going to be the more expensive, energy-efficient [model]. But you can show them in the long run, it's actually going to save you money in a different way than buying something that's not as energy-efficient."
Students No Longer Taking Energy for Granted
Though their community may be small, Michael's students are proud of their heritage. Earlier this year, they recorded a podcast about growing up on the Crow Reservation for NPR's Student Podcast Challenge that received uniform praise. And Michael is proud of her students for beginning to think critically about their energy use.
"They were just so enthusiastic about [Climate Superstars]. And still are, because now they scream 'There's a light on!' whenever they see one."
Ultimately, Michael believes the Climate Superstars Challenge was a good use of class time, both as a fun diversion and an organic opportunity to cover related environmental science topics.
"I thought [Climate Superstars] was great, with a lot of information at a level my students could understand," said Michael. "There are a variety of students out there who come from different backgrounds. It's important to make sure they all have access to information about energy efficiency, even if they can't afford it or don't have exposure to it."
Topics