Story
Give a Gift to the Planet by Reducing Holiday Waste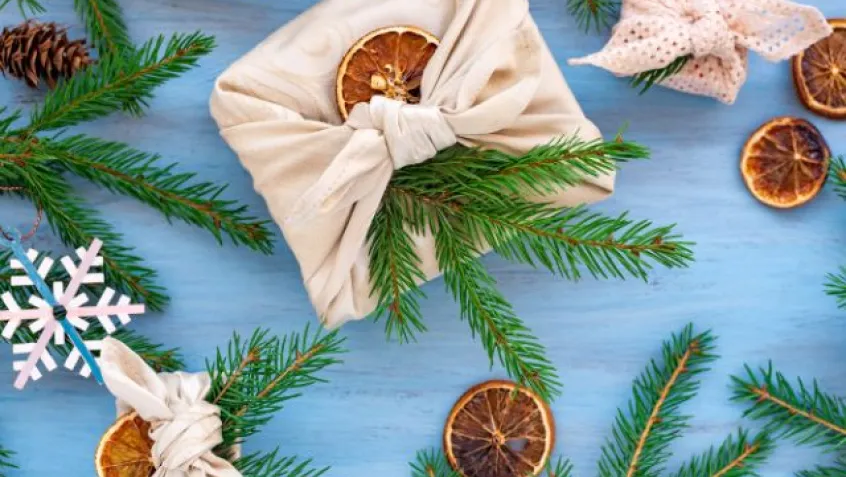 'Tis the Season...To Take out the Trash?
This holiday season of giving, receiving, feasting, and decorating can come with some additional baggage—trash baggage, that is! 
When holiday material is discarded, it can head to landfills where—far from making things merry and bright—it undergoes bacterial decomposition, producing a mixture of predominantly greenhouse gases including methane, carbon dioxide, and water vapor. The methane in particular makes landfill gas stand out—landfills are the third-largest source of human-related methane emissions in the United States.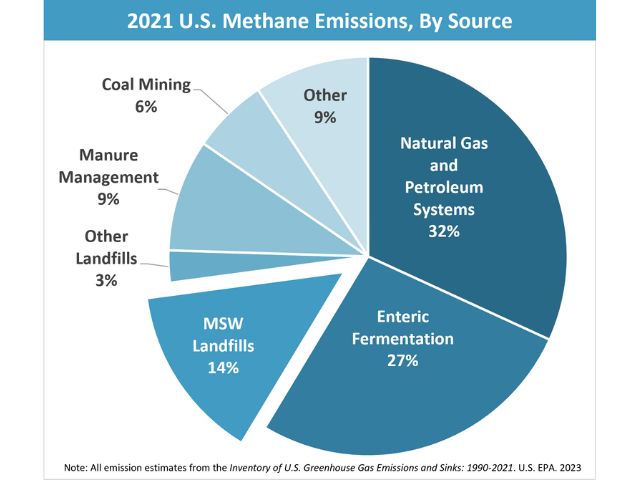 Methane, a greenhouse gas with an impact on climate change more than 25 times greater than that of carbon dioxide, is the second-most prevalent greenhouse gas emitted in the United States from human activity. Carbon dioxide, the other major ingredient in landfill gas, is the first.
Tips for Reducing Holiday Waste
The good news is that there are easy steps you can take to make your holiday season less wasteful. Read on to learn about the environmental impacts of common holiday items and activities and how you can reduce your footprint while still feeling festive.
Online Shopping
Online shopping surged during the COVID-19 pandemic and continues to grow in popularity, especially during the holiday gift buying season. In 2022, more than 87 million people shopped online during Black Friday, and 77 million on Cyber Monday—two historically popular retail holidays in the US.
A higher percentage of online purchases are ultimately returned when compared with products purchased at brick-and-mortar stores. Americans returned $816 billion in products in 2022. The shipping process for returns is responsible for about 16 million metric tons of carbon dioxide each year, according to analysis by the Environmental Capital Group and shipping logistics company Optoro in 2020. 
You might be surprised to learn that many returns, especially clothing, ultimately end up in a landfill rather than mailed to another customer, because it can cost more to process, inspect, repack, and ship out a return instead of just tossing it. An Arizona State University professor estimated that more than 80% of returns are disposed of this way.
Packaging, Decorations, and Wrapping
Online shopping generates 4.8 times more packaging waste than in-store purchases. The good news? In 2022, more than 93% of all cardboard boxes and nearly 68% of paper consumed in the US were recovered for recycling. But all those cardboard boxes, envelopes, and packing peanuts used during the shipping process are only the first step in the gift-giving process. 
Before being exchanged, holiday gifts are often adorned in wrapping paper, gift bags, boxes, and bows that can take an environmental toll as well. Additionally, each year, more than one billion Thanksgiving and Christmas cards are sold in the US. 
The manufacturing process for foil and plastic-embossed paper used for wrapping and greeting cards is more resource-intensive than plain paper. Unfortunately, most commercial wrapping paper and gift bags are not recyclable because they are often coated in plastic or glitter.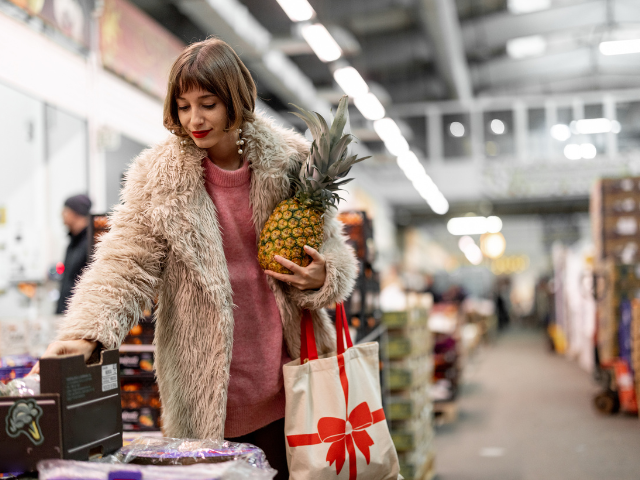 Food 
The US Department of Agriculture estimates that 30-40% of our food supply is ultimately wasted. Billions of pounds of food waste reach US landfills every year, contributing to methane emissions and wasting resources throughout the supply chain. The excess and indulgence associated with holiday meals often results in an uptick in leftovers that ultimately don't get eaten.
In 2022, food loss-focused nonprofit REFED estimated that 305 million pounds of food—valued at more than $400 million—would go to waste from Thanksgiving meals across the US. Production of this food generates greenhouse gas emissions, including methane, equivalent to driving 169,000 cars for one full year. This number is especially staggering when you consider it also comes at a time when 13.5 million American households are experiencing food insecurity.
Christmas Trees and Lights
Up to 30 million live Christmas trees are sold in the US every year. However, about 45% of Americans prefer an artificial tree. While artificial Christmas trees can be reused, the materials used to make them also have environmental impacts. For example, the chemical compounds used to make a plastic tree will likely take thousands of years to break down after it is ultimately disposed of in a landfill. To maximize the sustainability of an artificial tree, experts say you need to keep it for at least 20 years. 
For many people, the holiday season isn't complete without decorative lights atop both the tree and twinkling outside their house. According to satellite data collected in 2012-2014 by NASA, American cities appear 20-50% brighter from space during the weeks between Thanksgiving and New Year's than they do the rest of the year. 
A 2008 study by the US Energy Department found that seasonal lights accounted for 6.6 billion kilowatt hours of electricity consumption. That added up to just 0.2% of total electricity usage in the US—however, it was more than the national electricity consumption of several countries, including El Salvador, Ethiopia, Tanzania, Nepal, and Cambodia.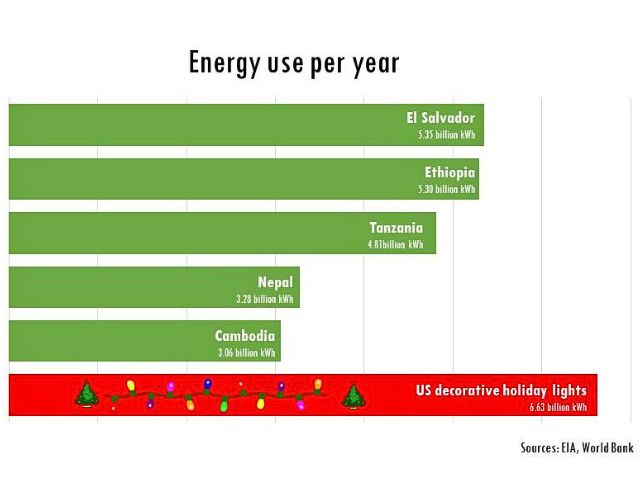 Travel
Transportation is a top source of carbon dioxide emissions during the holidays. Long-distance travel spikes significantly during the weeks between Thanksgiving, Christmas, and New Year's. More than half of the US population planned to travel during the 2022 holiday season, an increase from pre-pandemic times. 
Flying has the largest carbon footprint, followed by driving, and then bus and train travel.  In 2022, AAA estimated 112.7 million people would travel more than 50 miles for the winter holidays, with 90.4% people driving, 6.4% flying, and 3.2% taking another mode of transportation.
How to Have an Environmentally Friendly Holiday Season
This year, consider trying out a new way of celebrating the season to help reduce your holiday waste:
Give a gift that needs no packaging—an experience! Offer to take friends or family on a trip to your local public lands, or offer to pay the entrance fee for a national, state, or local park you know they would enjoy.
Instead of a traditional holiday card, consider an e-card or a phone call to friends and family.
When shopping for holiday foods, decorations, and gifts, use reusable shopping bags. These can be stronger than traditional single-use bags, protecting your purchases and reducing the amount of paper and plastic distributed by vendors.
For an eye-catching gift tag, cut off the front of any holiday cards you received in the previous year. The card's decorative front will spruce up your gift, and you can write the recipient's name on the blank side.
Save on gift wrap by reusing intact pieces from the previous year, or by opting for a more durable material that you can use again and again, such as a cloth bag.
Reduce the impact of food waste by creating and sticking to shopping lists, freezing extra food, and composting uneaten food. Use reusable dishware, utensils, and napkins.
If you have extra canned goods, consider donating them to a local food bank to help people in need.
If you are traveling during the holidays, consider taking public transportation or car pooling with friends or relatives. "Stack" your visits to make the miles spent on the road as efficient as possible.
Use LED lights to save energy when decorating your home. Put lights on a timer so they are on only when they need to be.
Once it's time to pack up the decorations, set aside your Christmas tree for recycling. Many areas collect trees in the first few weeks after Christmas to be mulched and used for water conservation and weed control.
Interested in learning more simple, eco-friendly tips to improve your environmental impact? Sign up for the NEEF Connect, our monthly email newsletter!
Topics