News
2023 Biodiversity Conservation Grantees Nurture Pollinators and Empower Communities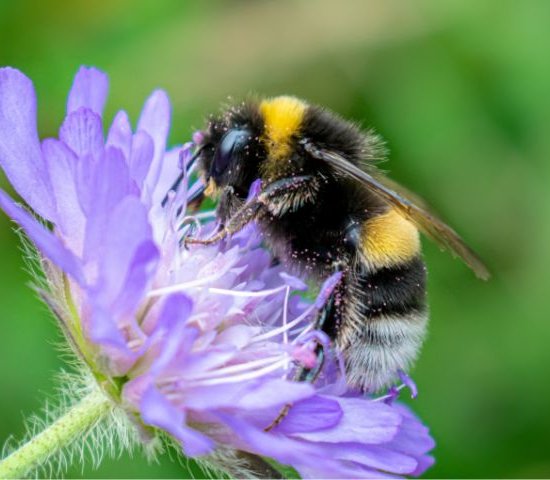 The National Environmental Education Foundation (NEEF) is pleased to announce the awardees for the 2023 Biodiversity Conservation Grant: Enhancing Pollinator Habitats on America's Public Lands. With major support from Toyota Motor North America, NEEF is providing $200,000 in grant funding toward the creation, restoration, and protection of habitat for important pollinator species such as butterflies, bees, bats, and more. 
According to the nonprofit Pollinator Partnership, between 75% and 95% of all flowering plants—over 180,000 different plant species and more than 1,200 crops—require pollinators to grow and reproduce. Pollinators also contribute to the health of ecosystems that provide clean air, stable soil, protection from severe weather, and habitat for other wildlife. 
"Partnering with NEEF for the third year of the Biodiversity Conservation Grant will help Toyota meet its goal to enhance 26,000 acres of pollinator habitat in North America by 2025," said Becky Martin, manager of Environmental Sustainability at Toyota. 
The grant-funded pollinator projects will be completed in the summer of 2024. Funding will be applied to projects covering nearly 5,000 acres, with a focus on directly improving pollinator habitat on over half of that acreage. Additionally, each project will also allocate funds to implement community outreach and engagement initiatives aimed at educating the public and empowering them to create and safeguard local pollinator habitats. 
"Pollinators play a crucial role in the health of public lands," said Sara Espinoza, president and CEO of NEEF. "There are many great organizations out there working to increase environmental and community support for native pollinators, and funding from initiatives like the Biodiversity Conservation Grant can be a big help."  
List of Grantees Awarded 
Urban Prairies Project (Butterfly Pavilion, Westminster, Colorado) 
The Urban Prairies Project (UPP) is a collaborative partnership that engages local communities to improve the quality, quantity, and connectivity of pollinator habitat on public open spaces. During the 2023-2024 project season, UPP will engage over 150 volunteers to plant native species including milkweed, reseed restoration areas, remove noxious weeds, and collect native plant seed for propagation on public lands in the Denver metro area, impacting over 150 different pollinator species across more than 3,000 acres. 
UPP will offer several public outreach events—including three seasonal BioBlitz events—that will raise awareness about pollinators, help families connect with nature, and be inspired to become environmental stewards. UPP will also be installing three demonstration gardens that will become learning spaces where guests can discover how to increase habitat at home and observe pollinators in action. 
Enhancing Pollinator Habitats in Louisville's Urban Core (Louisville Olmsted Parks Conservancy, Louisville, Kentucky) 
Olmsted Parks Conservancy works to combat invasive species, human impact, encroachment, and other challenges that jeopardize vital habitats within the city, with a particular focus on historically disinvested neighborhoods.  
Funding from the 2023 Biodiversity Conservation Grant will enhance and preserve more than 1,000 habitat acres across the Louisville parks system, including Chickasaw Park, where volunteers will install a "Butterfly and Bee" pollinator meadow to honor the park's most famous user: Muhammad Ali, who trained there in his youth. 
A network of specially trained park stewards, as well as hundreds of local students, corporate volunteers, and park neighbors, will host several community engagement activities, including guided hikes, educational tours, two BioBlitz events, and community science data collection with Kentucky State University and the University of Louisville. 
Parkway Pollinator Corridor Project (San Joaquin River Parkway & Conservation Trust, Inc., Fresno, California) 
The San Joaquin River Parkway and Conservation Trust, Inc., protects and expands riparian habitats to create a wildlife corridor in California's Central Valley. This project will augment funds for the River Parkway Trust's larger-scale habitat enhancement projects to support understory plantings and seeding at closely connected San Joaquin River Parkway properties, where woody shrubs can provide protection and nectar sources for Monarch butterflies and other pollinators.  
The River Parkway Trust will hold at least three Parkway Pollinator Corridor Project volunteer workdays at each of the three largest and publicly accessible properties with habitat enhancement projects: Jensen River Ranch, Fresno River West, and Sycamore Island. The seeding and planting volunteer events will be held monthly in the fall and early winter of 2023 to align with the region's optimal seeding and planting timeline. Each volunteer will receive a seed ball party favor to encourage the community to act independently to support pollinators in the Central Valley.