News
National Public Lands Day Signature Event Takes Viewers on a Virtual, Musical Tour of Select National Parks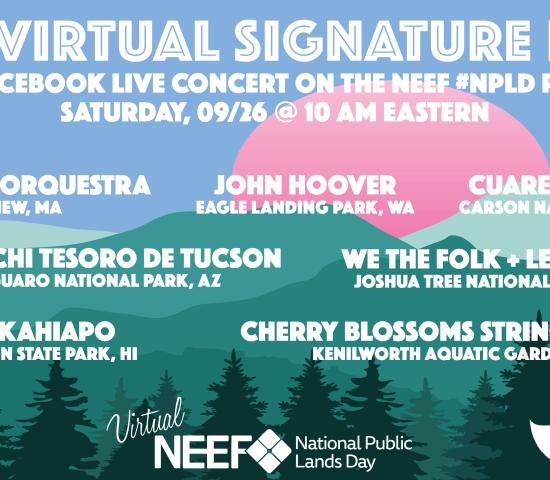 For the past 26 years, hundreds of thousands of volunteers across the US have donated their time to help restore and improve America's public lands on National Public Lands Day (NPLD)—the nation's largest single-day volunteer event for public lands. And while NPLD may look a bit different this year due to COVID-19 guidelines, nature lovers will still have a chance to celebrate public lands in new and exciting ways.
With this in mind, the National Environmental Education Foundation (NEEF), Toyota, and Corazón Latino invite the public to join them at the NPLD Virtual Signature Event on Saturday, September 26 at 10 a.m. EDT, for a virtual, musical tour through select public lands sites across the country, as well as educational events and other online activities.
"Typically, the NPLD Signature Event serves as a kick-off for a day of environmental education and conservation work at public lands sites all across the country," said Meri-Margaret Deoudes, president and CEO of NEEF, the national coordinator of NPLD. "Due to COVID challenges on social gatherings, we will not hold our signature event in person this year. Instead, we have collaborated with our friends at Corazón Latino to create a virtual event exploring multiple public lands across the country while honoring the conservation and cultural contributions to our communities."
The NPLD 2020 Virtual Signature Event will feature a number of guest speakers, including Deoudes, Kevin Butt, senior manager of Environmental Sustainability at Toyota, and Scott Foss, Senior Paleontologist with the US Department of the Interior, Bureau of Land Management (BLM).
In addition, this online event will showcase a "virtual road trip," presented by Corazón Latino, with musical performances from local artists at some of America's most scenic public lands sites, including Joshua Tree National Park, Carson National Forest, Waimea Canyon State Park, and Kenilworth Aquatic Gardens in Washington, DC.
"The American people are as diverse as our Nation's majestic public lands," said Felipe Benitez, executive director of Corazón Latino. "It was an honor partnering with NEEF to create an event that showcases a wide variety of musical talent from across the country."
After the show, sites featured in the Signature Event will host virtual environmental education and conservation events covering topics such as health and wellness, career opportunities in conservation, and diversity and inclusion in the outdoors. More information and access these events will be available on NEEF's website.
"These challenging times have required a shift in thinking on how we can continue to support America's public lands," said Butt. "NEEF's focus on virtual volunteer events like this one give us a new perspective on the lands we love and reaffirm our dedication to come back next year stronger than ever."
The NPLD 2020 Virtual Signature Event will be live broadcast on NEEF's NPLD Facebook page at 10 a.m. EDT on Saturday, September 26. Performances will be in both English and Spanish. The event is free and open to the public.
The full list of musical performances for the 45-minute virtual event is as follows:
We the Folk and Lele Rose, Joshua Tree National Park, California
Cuarenta y Cinco, Carson National Forest, New Mexico
Salsa Train Orquestra, Notchview, Massachusetts
Cherry Blossom String Quartet, Kenilworth Aquatic Gardens, Washington, DC
Mariachi Tesoro de Tucson, Saguaro National Park, Arizona
Kawika Kahiapo, Waimea Canyon State Park, Hawaii
John Hoover, Eagle Landing Park, Washington
Event Details:
Name: NPLD 2020 Virtual Signature Event
When: Saturday, September 26 at 10 a.m. EDT
Where: LIVE broadcast on NEEF's NPLD Facebook page
More Information: https://www.neefusa.org/npld
Cost:  Free
Topics