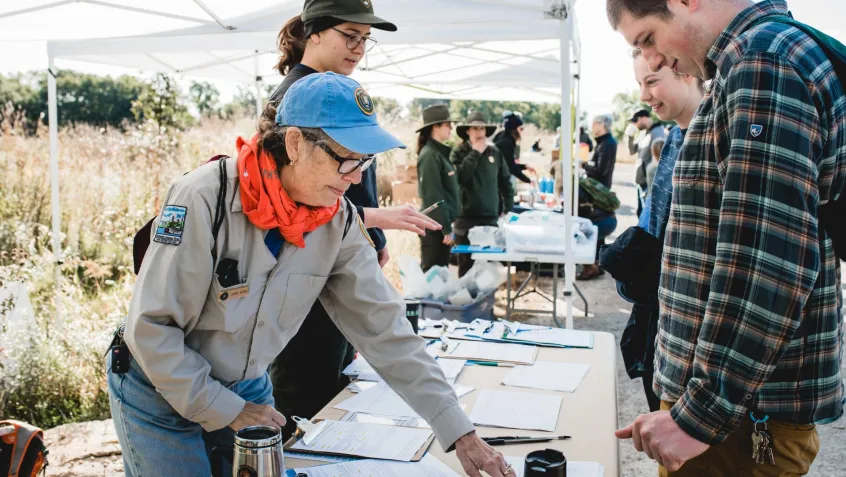 NPLD Site Manager Guide: Promoting
Spreading The Word And Recruiting Volunteers
Recruiting Volunteers
Veteran Site Managers have many recommendations for how to run a successful National Public Lands Day event, but one of the most important is to plan for volunteer recruitment early. There are many things to think about:
How many volunteers can your site accommodate?
Based on the number of projects planned, what is the ideal number of volunteers?
How will volunteers sign-up for your event? (phone, website, email, bulletin boards)
Will you accept walk-ins on the day of the event?
Should you target groups or businesses? (such as scout troops or corporate volunteer programs)
Most sites have found that pre-registration of volunteers prevents having too many people show up on the day of the event with nothing to do. Pre-registration also allows you to collect names and emails of volunteers before the event, making day-of registration easier. It is also helpful to send orientation emails to volunteers prior to your event.
Volunteer.gov
Federal, state, and local government agencies can post their public land volunteer opportunities at volunteer.gov. The website is free to use and post events and is maintained by federal agencies supporting natural and cultural volunteerism around the country. If your government agency is not already a partner, visit volunteer.gov/gov/join.cfm to sign up and post your NPLD event.
Other Groups that Provide Volunteers for National Public Lands Day May Include:
Civic Groups
Schools and universities
High school environmental or science clubs
Local religious groups
Staffs of elected officials
Local conservation and fishing/ hunting organizations
Local businesses such as hotels or utility companies (some employers emphasize volunteer activities and will help recruit volunteers)
VOLUNTEER WEBSITES
NPLD PROMOTIONAL TOOLKITS
NPLD Promotional Toolkit for Site Managers
Once you have registered your NPLD event with NEEF, it is time to start promoting your event and recruiting volunteers! The NPLD Promotional Toolkit for Site Managers contains materials, tools, and resources to help spread the word, recruit community volunteers, and engage local media.
NPLD Promotional Toolkit for Site Managers contains the following:
NPLD Logos
Downloadable versions of the official NPLD logo to help promote volunteer efforts. The NPLD logo is available in multiple formats and colors.
Social Media Tools
Sample language for promoting NPLD events through social media channels such as Facebook, Twitter, and Instagram.
Stay Connected
List of official NPLD social media channels to provide up-to-date information about all things related to NPLD.
Media Outreach Tools
Tools and resources to assist you with contacting local media outlets about your event.
NPLD Promotional Toolkit for Volunteers
Create opportunities for volunteers to share their experience at your NPLD events by giving them the tools to do so—this includes social media hashtags (#NPLD), on-site signage, and photo opportunities.
By encouraging social media participation through these methods, NPLD volunteers are more likely to engage with each other during the event and to encourage further online interactions sparked by follows, likes, shares, and reposting. This will also help NPLD volunteers connect with fellow event participants, while simultaneously increasing your online presence!
NPLD Promotional Toolkit for Volunteers contains the following:
Stay Connected
List of official NPLD social media channels to help keep you up-to-date about all things related to NPLD.
Promotional Tools
Fun and interactive tools to help volunteers share their NPLD experience through social media channels.
Proclaim the Day
Tools to help participants secure mayoral and gubernatorial proclamations designated support for NPLD in their city or state.
NPLD Volunteer Fee-Free Coupons
Participating federal land management agencies (Bureau of Land Management, National Park Service, US Fish & Wildlife Service, US Forest Service, US Army Corps of Engineers, and Department of Defense), in conjunction with the National Environmental Education Foundation, will present "fee-free coupons" to NPLD volunteers in recognition of their invaluable service to our nation's public lands. Each coupon will entitle the recipient and their family or vehicle companions to one "fee-free" day at any participating federal recreation or visitor site within one calendar year (9/23/2023 – 9/28/2024).
Image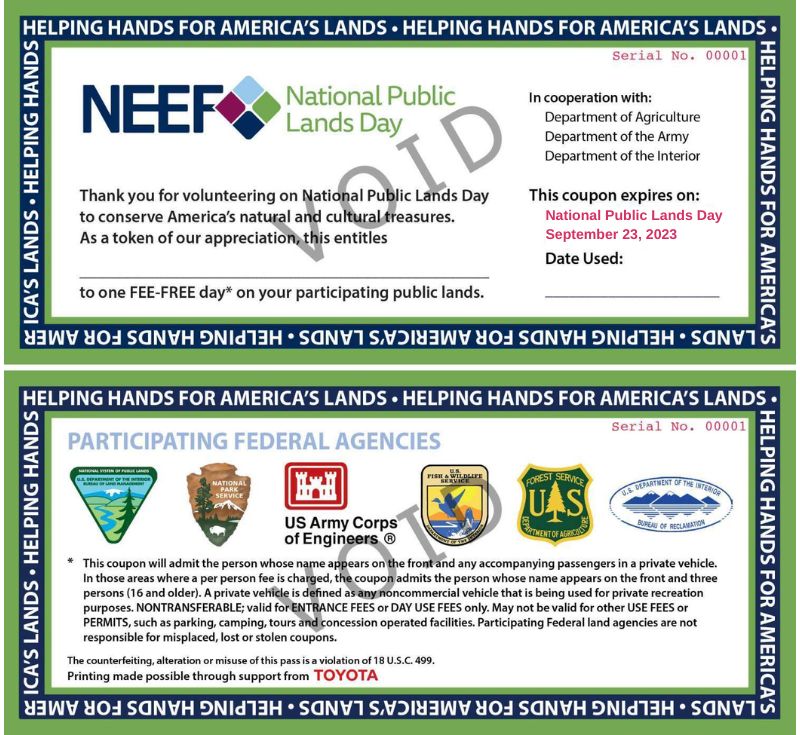 Coupons will be issued to volunteers 16 years of age or older participating in a registered NPLD event. Federal Site Managers should print the volunteer's name on the coupon and inform them that the coupon is valid for use at any of the participating agencies' recreation fee sites. If the volunteer intends to use the coupon at an unstaffed US Forest Service recreation fee site (e.g., trailhead, day-use site), the volunteer should use the coupon as one would cash, and exchange it for a daily pass using the established self-registration process at the site. If there is no alternative, the volunteer may fill in the date and place the coupon on the dashboard of their vehicle. The coupons are non-transferable and, if lost, will not be replaced. 
Coupon Distribution and Presentation
Coupons will be distributed directly to federal Site Managers by NEEF. Site Managers should note in their records the number of coupons received, as well as the number distributed to NPLD volunteers.
The coupon supply must be requested and managed by a federal NPLD Site Manager or their designee, as non-monetary recognition items must be accurately accounted for and secured. After completion of an NPLD event, any surplus fee-free coupons should be shredded and disposed of properly.
Coupon Redemption
At the time of redemption, the holder of the coupon must surrender it to the appropriate recreation or visitor site staff member, who must then record it as "one coupon redeemed."
Note: This opportunity is ONLY available to NPLD Site Managers hosting service events on participating federal public lands.
QUESTIONS?
For questions regarding the NPLD volunteer coupons please contact our team at npld@neefusa.org.
Want to Learn More about NPLD Event Promotion?
In this webinar hear from our expert partners from the American Hiking Society, National Park Service, and Riveter Communications. Our panel shares tips and best practices to understand the most effective promotional channels, attract a diverse audience, and drive your NPLD event registration.