Story
For Toyota's Chicago Region, National Public Lands Day is a True Team Effort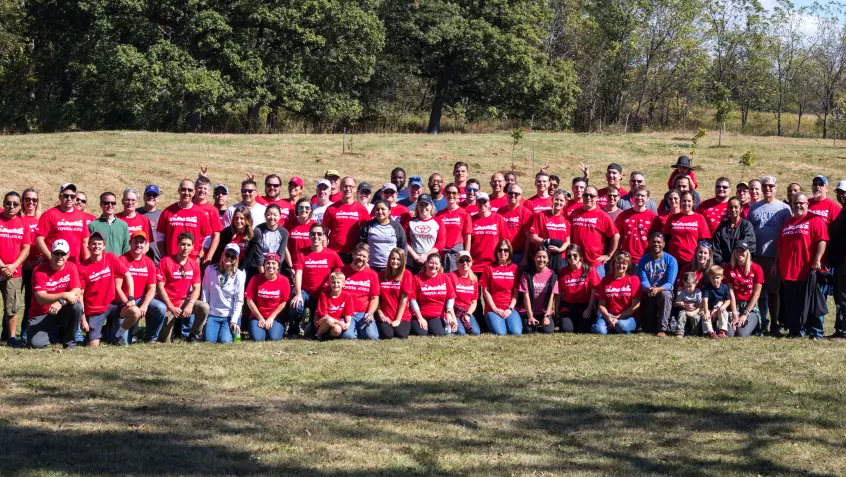 Rick Vernon, Technical Service and Training Manager for Toyota's Chicago region, has a permanent marker on his calendar. Come September, he'll get set to gather his colleagues and head out to a Forest Preserve of Kane County site where the group will spend the day restoring the area and making it even stronger for future use. As the National Public Lands Day volunteer coordinator for Toyota's Chicago Region, Vernon has headed up NPLD efforts for his division every year since 2005.
"That was the year Toyota asked all of its managers to pick up an extra project," explains Vernon, who started out with Toyota in Torrance, California, in 1986. He transferred to the Chicago office in 1987, and has been there ever since. "I knew Toyota partnered with NEEF on National Public Lands Day, and that National Public Lands Day was a big deal to the company, so I grabbed that one and have been growing the program ever since."
And he's already making plans for this year's 25th annual National Public Lands Day celebration. Each year, Vernon connects with the Forest Preserve of Kane County to determine what is needed and where the volunteers can offer the most added value. Over the years, Vernon and his colleagues have helped reseed prairie lands to create a natural habitat for area wildlife, cleaned up rivers and trails, cleared invasive species, and planted more than 1,000 oak trees. He estimates the reseeding work alone is worth $10,000 of labor each year. The intensive process involves carefully selecting native prairie plants and removing the seeds for replanting. The Forest Preserve provides staff to educate the Toyota volunteer team about which seeds work best for creating a habitat suitable to native animals and birds.
"One of the biggest challenges is that the group keeps getting bigger," explains Vernon, who started out with a group of 15 to 20 co-workers and now expects more than 80 Toyota volunteers to turn out for this year's NPLD event. "But the folks at the Forest Preserve have come to count on us and now they set aside big projects that they know we'll be able to accomplish."
Headquartered in Plano, Texas, Toyota has been the national corporate sponsor of National Public Lands Day since 1999. The company supports Vernon's efforts by sending work gloves and T-shirts for the volunteers as well as funds to purchase safety googles and other supplies as needed. Since Vernon organizes the event each year, he is able to save many of the tools and repurpose them from one year to the next.
"The biggest takeaway from this event by far is the togetherness of the group and the satisfaction we get from taking care of the environment," explains Vernon. "Last year, we painted a schoolhouse from the 1800s that the Forest Preserve recently acquired. It is nice to drive by it and know we helped restore the site."
National Public Lands Day offers a variety of opportunities for employee engagement. Workers spend the day connecting with each other and with the natural world—and they gain the satisfaction of knowing they have contributed to their community by restoring important area landscapes.
Thinking of hosting an NPLD event for your company? Vernon offers these tips to help get you started.
Partner with a local public land manager. The Forest Preserve District of Kane County owns and operates forest preserves and trails totaling more than 20,000 acres around the Chicago region.
Reach beyond your division. For National Public Lands Day, Vernon invites Toyota employees from all different departments, including financial services, the parts distribution center, and even the local Lexus office, to get involved, making it the one time each year associates from all these different divisions interact. Vernon views this as an opportunity to bring together all aspects of the Toyota family.
Make it easy for colleagues to get involved. Vernon secured buy-in from management long ago to make National Public Lands Day part of the work week. The Toyota Chicago NPLD event takes place each year on the Friday before National Public Lands Day. The Toyota team spends half the work day working outside refurbishing public lands.
Get the date out early—and often. Vernon sends a "save the date" to all area Toyota offices in early March. In August, he follows up with an official invitation that includes information about when and where to meet and details about the specific volunteer activities the group will tackle. He sends one more reminder the week before the big day. 
Make it fun and rewarding. Toyota Chicago's NPLD event always starts with a group breakfast, which gives everyone an opportunity to say hello and get to know each other. Since most of the employees live nearby, they get the satisfaction of working on projects that ultimately improve their community.
To learn more about National Public Lands Day, or to register your National Public Lands Day event, visit NEEFUSA.org/NPLD.
Topics