Story
Encouraging Teen-Driven Learning in STEM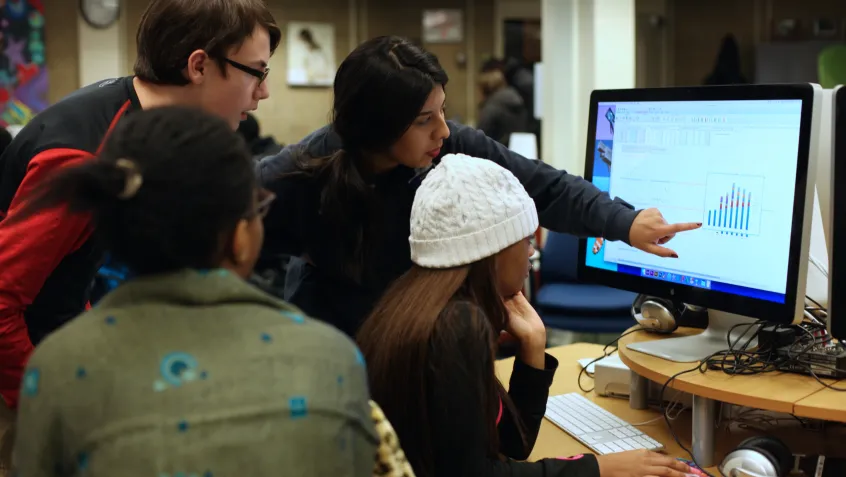 For teenagers in the 21st century, learning happens everywhere: in school, online, and across a variety of communities. Throughout these learning environments, teens have access to tools and technologies built specifically to help them customize their experiences, such as Duolingo, Khan Academy, Instructables, Lynda.com, Code.org, and even YouTube. All of these are designed with one key principle in mind: learner choice.
Today's teens demand tailored learning opportunities, and it's important for educators to create them. In keeping with this trend, educators at Shedd Aquarium researched and designed learning spaces that provide mentoring and resources for kids interested in environmental science. With this focus on learner choice, Shedd educators remodeled a space and initiated a pilot program for teens designed to encourage learning.  
What is the Teen Learning Lab?
Known as the Teen Learning Lab (Teen Lab), the space serves as an incubator designed to motivate teens to create their own projects using resources available across Shedd, their schools, and communities. To support this work, Teen Lab staff carefully curated a variety of resources for teens to explore, including:
Laboratory equipment
High-end video cameras
Podcasting mixers
Upcycled materials and art supplies
Arduinos and electronic board kits for building digital devices 
These resources work best when they're provided along with mentors to help focus and guide the kids in their pursuits, creating a truly collaborative learning environment. At the lab, teens work with Shedd mentors who provide them with avenues for feedback, career inquiries, and connections to STEM content. This means our mentors connect teens to our vast animal collection as well as to the global community of professionals interested in environmental science.
Mentors in a customizable learning space must be comfortable adapting to the evolving needs of teen learners. With the right guidance, teens can often direct their own projects and become peer mentors themselves. For example, one Teen Lab participant spent a summer working on an international business competition that proposed a solution to the Asian carp problem threatening the Great Lakes. With support from mentors, she now leads her own workshops and has become a peer mentor about Asian carp invasive species issues. As she continues to work on this project, she researches new ones, continually taking ownership of her learning opportunities at Shedd.
To encourage teens to take control of their learning by becoming decision makers, educators today must design learning experiences that are flexible and adaptable. Educators at Shedd Aquarium support this trend in customized learning with activities and mentors that empower students to make a difference and take ownership of their career path. Teens have responded by growing their own projects and by taking them into communities beyond Shedd Aquarium. 
As teens continue to take a lead, the Teen Lab and all learning spaces will need to evolve, providing the tailored opportunities teens need to accomplish their goals.
To learn more about Shedd Aquarium's Teen Learning Lab, visit their website.
Topics