Story
Environmental Education through Art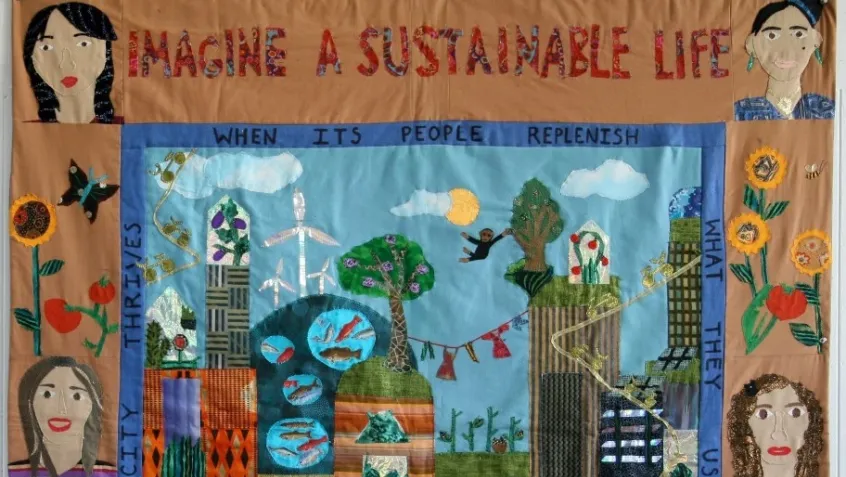 Jane Goodall's Roots & Shoots is a student-driven, experiential service learning program that empowers young people to make the world a better place for the environment, for people, and for animals, starting with their home communities. In the process, they develop identities as positive change-makers with a sense of agency and real-world experience that they can lead, collaborate, and innovate to meet both local and global challenges facing our world.
Roots & Shoots' goal is to grow globally engaged young leaders who identify themselves as environmental stewards of our planet. One thing we have learned in our 20+ year history is that when young people are empowered and given the tools and support to be aware about what they see as environmental needs around them, they are creative, they become more engaged, and they take action in ways that are meaningful to them. Meet one impressive young person who is exploring environmental education through art.
I became passionate about environmentalism in 4th grade after watching the award-winning film "An Inconvenient Truth." The film portrays the graveness of the climate crisis. After viewing it, I became active in environmental issues through a local Roots & Shoots group consisting of five girls in my Cambridge, Massachusetts hometown. Roots & Shoots is a youth-focused leadership and service program and is part of the Jane Goodall Institute.
By high school, my friends and I felt ready to broaden our role in the environmental community. We had spent years learning about climate change and working on projects to mitigate it. We believed it was time to teach others. We wanted our work to reach a wider audience, to include people, to educate.
After meeting Clara Wainwright, a local quiltmaker and strong female role model, we decided to pursue an environmental education project through art. We spent the spring working with Clara to create a quilt that depicted our youth vision of a sustainable city. 
The quilt is titled "Imagine A Sustainable Life," and includes self portraits of its creators (including myself!) as well our environmental heroes: Bill McKibben, Jane Goodall, and Wangari Maathai. Along its blue border, the quilt reads: "A city thrives when its people replenish what they use."
We donated the quilt to our city in order to ensure that it is easily accessible and free to the public. It currently travels around local city buildings, such as the library, city hall, and the water treatment plant. It is our hope that the quilt will bring inspiration, color, and critical thought to the lives of those who view it.
Our quilt reached a wide audience. We even got to present it at an NPR event with Bill McKibben, and I brought it with me to speak at the United Nations for the International Day of Peace with Jane Goodall.
It is awesome that our quilt reached such a wide audience, and even cooler to think about the impact it potentially created. Often, people don't want to study the environment because they think that learning will be filled with boring, monotonous jargon. This is sometimes true. When I take classes about the environment at school, I mostly learn through data, graphs, readings, and notes. These tools are all important, but using art to educate makes the environment more accessible to all people—especially kids—rather than over-intellectualizing the subject.
Our quilt was a creative way of getting people to think about what sustainability and environmental action look like. If you are interested in using art (or any other passion!) as a tool for environmental education, Roots & Shoots has an awesome four-step formula for completing projects: getting engaged, mapping it, taking action, and celebrating. Environmental education is pivotal in this rapidly changing 21st-century climate, and art is a powerful way to get the community engaged in meaningful learning.
To learn more about Jane Goodall's Roots & Shoots, please explore rootsandshoots.org.
Topics