Story
Greening STEM Grants Connect Native American Youth with Opportunities in STEM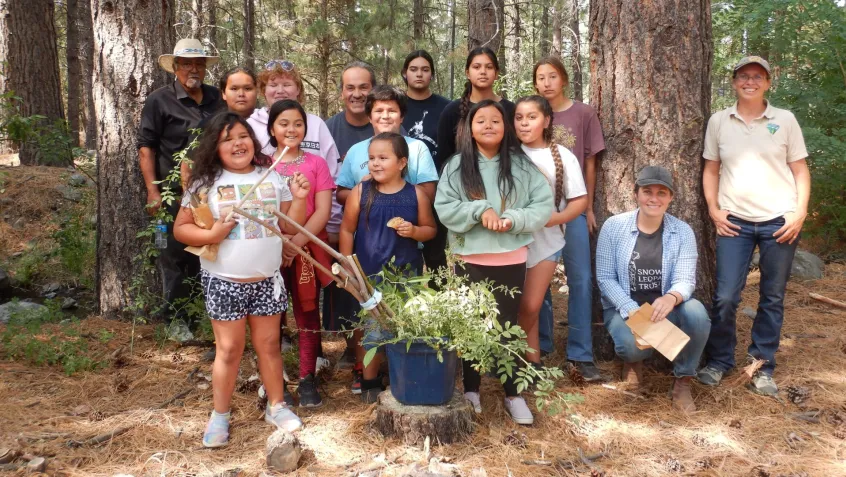 November is National Native American Heritage Month. While Indigenous communities have a long legacy of innovation, today, more than half of all Native American students lack access to math and science classes that would prepare them for a future in science, technology, engineering, and math (STEM). This problem has a long term impact. According to 2018 data, only 0.5% of US college students studying STEM and 0.4% of engineers identify as Indigenous. 
Bridging the Indigenous STEM Gap
Organizations like Resources for Indian Student Education (RISE) are helping to address this gap. One of 23 American Indian Education Centers located throughout California, RISE has been working to help Native American youth achieve academically while building cultural awareness in rural Modoc County since 1995. The organization currently serves more than 125 students from the Pit River, Paiute, and other local tribes.  
RISE is a two-time recipient of NEEF's Bureau of Land Management (BLM) Greening STEM Grant. NEEF collaborates with BLM to fund Greening STEM Demonstration Projects for middle and high school students using components of the Greening STEM model to design and deliver STEM programming at BLM field sites across the country. These grants provide students with access to authentic STEM experiences that support BLM's mission to sustain the health, diversity, and productivity of public lands for the use and enjoyment of present and future generations.
"Interacting with BLM's Applegate Station is exposing our students to rich experiences," said Dr. April Lea Go Forth, RISE Executive Director. "Youth are learning that they can go away to pursue STEM education and come back and help manage these lands that their people have historically lived on."
Youth are learning that they can go away to pursue STEM education and come back and help manage these lands that their people have historically lived on.

Dr. April Go Forth
Stems for STEM
RISE's "Stems for STEM" program received a 2022 BLM Greening STEM Grant for $10,000. Students selected and propagated Indigenous plants such as elderberry, wild plum, and willow to learn about their ongoing cultural significance. They also identified and learned about invasive species such as juniper and hemlock that have an impact on Indigenous plants on BLM lands today.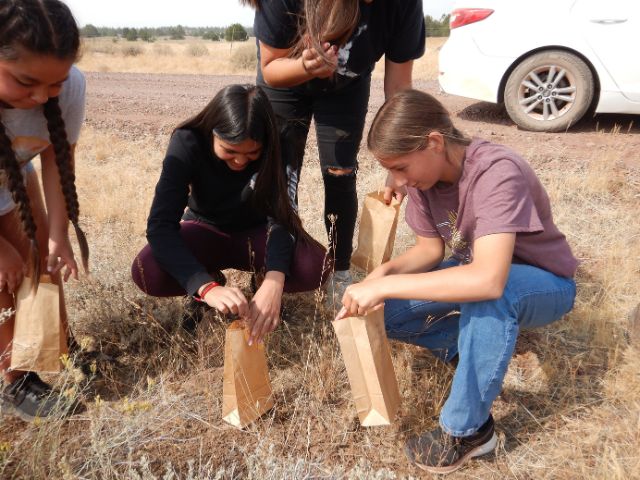 During the project, 32 Native American K-12 students met weekly for classroom instruction, field trips to BLM sites, greenhouse activities, and teaching from respected local tribe Elder Ruben Martinez. 
"An 'Elder' is an individual who carries the traditions and helps preserve the knowledge of the culture and shares it," said Dr. Go Forth. "Within our communities, as more time passes we lose Elders, a problem that was exacerbated during the time that local tribes' language and traditional ways were prevented from being practiced."
Elder Martinez collaborated with Jen Rovanpera at BLM's Applegate Field Office to help students understand plant biology, the hydrologic cycle, geology, and how wildfire impacts ecosystems. The multi-dimensional program integrated Traditional Ecological Knowledge, critical thinking, teamwork, and community service. RISE ultimately completed three phases of research, plant propagation, and data reporting with assistance from the University of Colorado Denver. 
"Stems for STEM" also directly connected students with difficult but important local history. Local tribes struggled with farming during Modoc County's short, 90-day growing season after being forcibly moved and prevented from using traditional subsistence methods in the late 1800s. During RISE's project, some of the propagated plants did not grow due to freezing temperatures, underscoring the need to invest in a greenhouse in the future.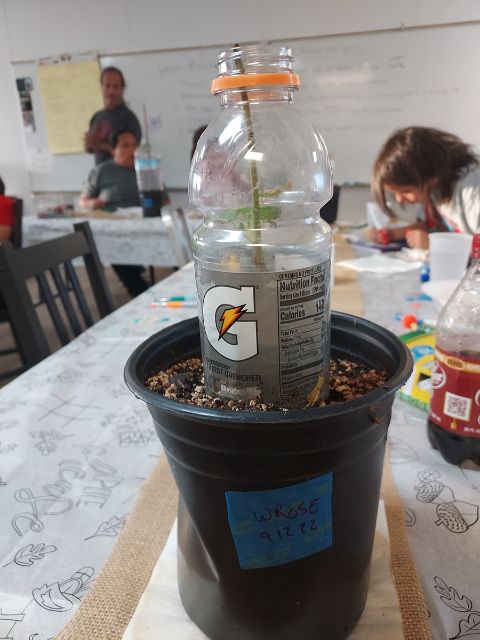 "We want our youth to understand that their heritage is not of laziness or ignorance or failure, but what was forced upon the people," said Dr. Go Forth. "This project's emphasis on responsible stewardship is a reminder of how to exist with respect on our land."
Water Protectors
After experiencing firsthand how plants rely on water for life and noticing the effects of erosion in the local ecosystem, "Stems for STEM" inspired RISE students to learn more about riparian restoration. The organization was awarded a second $10,000 BLM Greening STEM Grant in 2023 to build awareness of the importance of water stewardship, including through traditional cultural practices. 
The after-school "Water Protectors" program aims to provide students with a learner-centered approach to data collection and problem-solving focused on ensuring the long-term sustainability of water resources in Modoc County.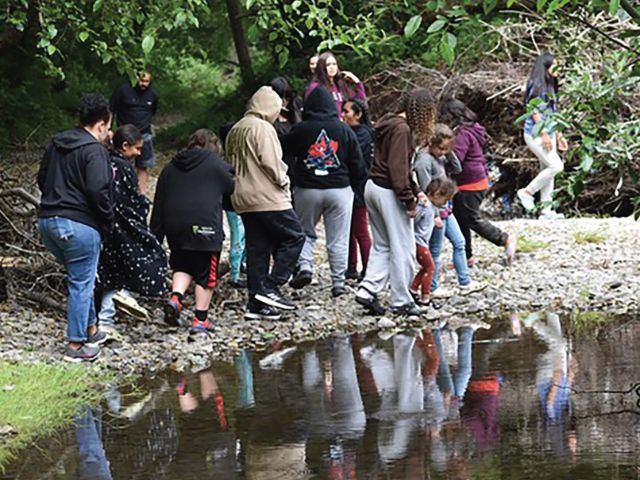 "It is important for youth to understand that we each have a role. Everyone can do something," said Dr. Go Forth.
With this new program, RISE is again partnering with Rovanpera and Elder Martinez to connect BLM rangeland management practices with cultural history that shows how traditional customs also help protect the landscape. By providing students with an opportunity to observe and gather local water data for analysis, this project provides much-needed citizen science and hands-on STEM activities for high school students who are beginning to explore their future career options.
In August 2023, participating students hosted a community water festival to showcase what they learned. They also continue to look for opportunities to expand their horizons. A group of RISE youth traveled and presented their findings at events held far beyond Modoc County, including the Great Basin Anthropological Association's annual conference in Bend, Oregon in October 2023. 
They also had the chance to visit to learn about coastal water ecosystems—marking the first time that many had seen the ocean firsthand.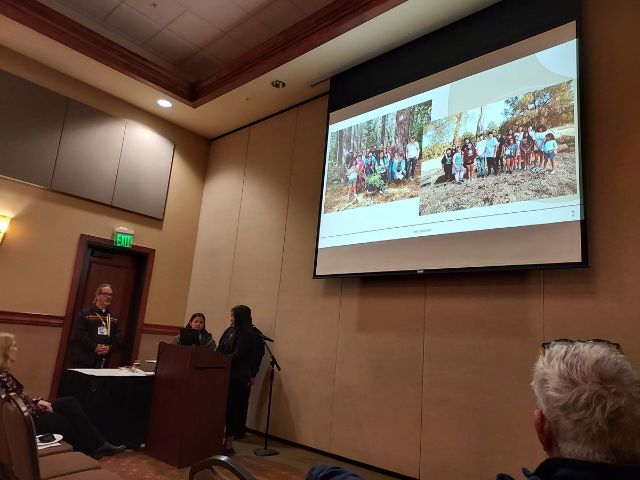 Building Cultural Connections Through STEM
While the STEM workforce became more diverse between 2011 and 2021, there is still a long way to go to achieve equal representation. Hispanic, Black, American Indian, and Alaskan Native people made up 24% of the STEM workforce in 2021. Students are more likely to pursue additional education and careers in STEM when they see themselves represented in what they are learning about. 
Programs like "Stem for STEM" and "Water Protectors" are showing Native American students that they can have a future in natural resource conservation or out in the field with organizations like the Bureau of Land Management. Both projects also emphasize connecting youth with their heritage, providing an important layer of cultural interpretation to help RISE students gain a more complete understanding of STEM topics.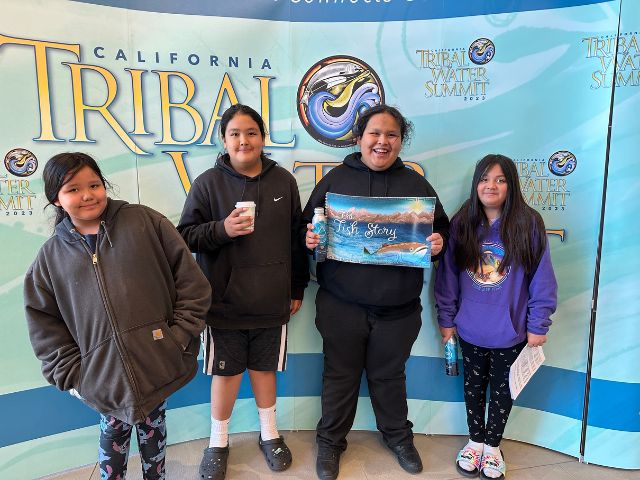 RISE will celebrate its 30th year in 2024, an important milestone marking a long history of successfully serving Native American students in rural northeastern California.
"We are often asked: 'How do you get your youth involved?' The most important thing is authenticity," said Dr. Go Forth. "Recognize them for the difference they are making in the community. Give them a chance to be a part of something that serves and benefits others."
Interested in learning more about NEEF's Greening STEM program? Visit our For more information about our grant opportunities, including how to apply, visit our Grants page.
Topics