Story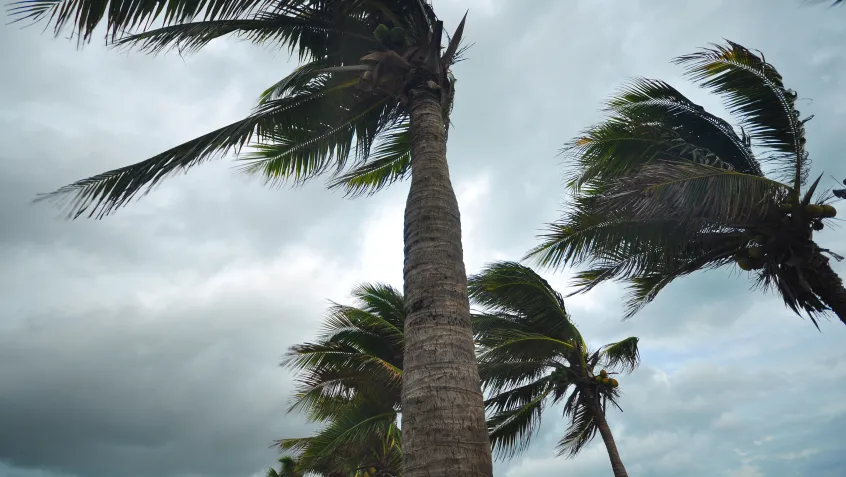 While earning her bachelor's of science degree in meteorology with a minor in math and a concentration in Hispanic marketing communications from Florida State University, Irene Sans worked as a deputy state meteorologist for the Florida Division of Emergency Management, where she briefed state officials on weather conditions threatening the state—and became the state's very first's bilingual meteorologist to hold the position.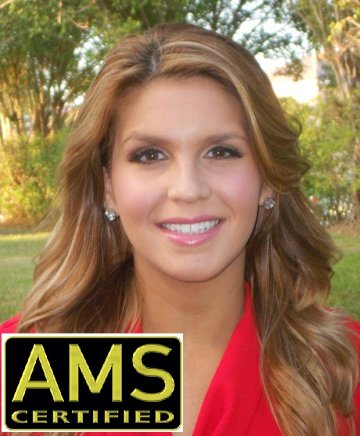 After graduation, Sans went on to work as a bilingual meteorologist for multiple international weather services, forecasting and presenting weather segments for both English and Spanish audiences in the US and abroad. Domestically, Sans has served as Chief Meteorologist for Telemundo, Houston, as well as a meteorologist for Telemundo Dallas and Miami, where she covered extreme weather events including Tropical Storm Isaac and the annual hurricane season. In addition to her current role as digital meteorologist and weather producer at WFTV, Sans also serves on the board of the American Meteorological Society's Broadcast Committee.
How would you describe your work in a few words?
Irene Sans: In January 2015 I fully transitioned to the general market, meaning an English-speaking station. I am currently working at WFTV Channel 9 ABC in Orlando, Florida. It is a newly (and very exciting) created position of Digital Meteorologist/ Weather Producer. I am very lucky to work with an excellent team of five meteorologists. I was drawn to this position because it involves weather producing with a primary focus on digital platforms. I am learning more about the digital world each day and how it is evolving and changing the way we communicate weather and science to the public. This is a field that grows exponentially and although we might not know how it will evolve we do know it is changing how we do TV and we must learn how to evolve with it. I love to spread the crucial weather information via the web and social platforms. In today's age, people are still able to get crucial weather information via their phones when their power goes out and hopefully take the right safety precautions.
What kinds of math, science, engineering, or technology classes did you need to take in school to prepare for your current career?
IS: As a student meteorologist at Florida State University (FSU), I took all mathematics classes from Algebra to Engineering Mathematics (Yes, and this includes passing all three calculus classes!). The first two years consisted of math and physics classes, just as any engineering major, and a couple of chemistry classes. The last two years were focused on atmospheric physics, atmospheric dynamics, weather analysis, Synoptic lectures their corresponding laboratories and math classes applied to the atmosphere/meteorology. I also took a computer science/programming class which was focused in meteorology.
How are weather forecasts created?
IS: Locally, it is crucial to understand the common local trends and seasonal patterns. I start in the synoptic scale, looking [at] approaching or departing systems, moving to smaller scales, then to the local area looking at wind direction, speed, dew point temperatures, temperatures fluctuations, etc.
When determining a weather forecast, what kinds of data are needed?
IS: All current observations and data, such as temperature, dew points, wind, etc. Available satellites, radars and models.
How do computers factor into creating these forecasts? How would these forecasts be created prior to today's more sophisticated technology?
IS: Adding the first weather satellite in the early '60s gave meteorologists a whole new vision of storms, such as hurricanes, way before arriving, also seeing them evolve!
Much prior to today's technology, a forecast was created by observing animal behavior (yes, animals change their behavior once they sense upcoming weather changes) also, sky conditions were observed. Big advancements came once tools were created, such as the thermometer, barometer, etc. Then records began, giving meteorologists a better understanding of climatology and other regional trends, helping in the forecast.
Computers make millions of calculations in a time that humans simply would not be able to do. Today, we can find all the information we need to create our forecast in the web. I am very lucky to be from the computer generation, where I can find all weather data on the web, I can just imagine the record keeping, and researching and time spent creating a forecast in the past!
Technology has provided us with great advancements in science and it continues [to] advance! This helps us increase our knowledge about the atmosphere's behavior so we can forecast better and more accurately.  We have definitely seen decreases in deaths due to severe weather thanks to the technology advancements, unfortunately, there are still too many fatalities due to hazardous weather.
Is there a specific breakthrough or event in your field's history that stands out to you as a milestone? Why would you say it is so important?
IS: Every breakthrough and invention is very important in this field. I can just imagine how astonished scientists were when they saw the first satellite images. That must have been awesome! They probably felt like they had discovered a whole new world.
In my professional career, the upgrade to dual polarization of radar in 2011 was amazing. This helped us clearly distinguish between rain, hail, snow, or even other flying objects, like birds! Most importantly, it gave us the opportunity to identify airborne tornado debris, confirming a tornado touchdown and giving more lead time to communities that could be in the path of the tornado. This upgrade has saved many lives.
What made you want to enter this field?
IS: I always knew I wanted to be a scientist, in fact I wanted to be an astronaut, but that meant going to school for more than 4 years! (And when you are young, that's a lifetime!) I always enjoyed math and science classes, I often chose them as electives. My parents were great guidance and always supported my sister and me to continue our higher education and accomplish our goals. My father is an engineer and oceanography aficionado, we often watched and read anything and everything science!
In my early teens, I saw the South Florida's meteorologist John Toohey-Morales on TV, warning about storms. Understanding the radar came natural, I admired cloud formations and since then I fell [in] love with this science right away. In high school I had a great teacher, Ms. Pitti, an FSU Alumni, [who] suggested FSU. To my luck, FSU has one of the top meteorology programs in the nation, so I applied, was accepted and the rest is history!
What would you say has been your proudest accomplishment on the job, or your favorite part of the job?
IS: In almost a decade of professionally working in this field, I have worked very hard to accomplish my goals, from becoming a chief meteorologist, being one of handful of Spanish-speaking female meteorologists (and one of about a dozen Spanish-speaking meteorologists in total) to obtain the AMS CBM [American Meteorological Society's Certified Broadcast Meteorologist certification] in the country; to finding a new challenge when a career becomes a bit monotone, or it's no longer challenging enough. These are all personal achievements and although I am proud of them, those are not as rewarding as the feedback from viewers. I feel most proud and moved when kids come up to me and tell me that I sparked their interest in meteorology or science. When you get a random email, message, or even call to say "Thank you for keeping me informed, your forecast and recommendations helped me make the right decisions for me and my family." This takes me to a full circle and reminds me about the great professionals that influenced me and guided me, and for that I am forever grateful and proud. 
Additional sources:
Topics