Story
Now more than ever, nature has valuable lessons to teach us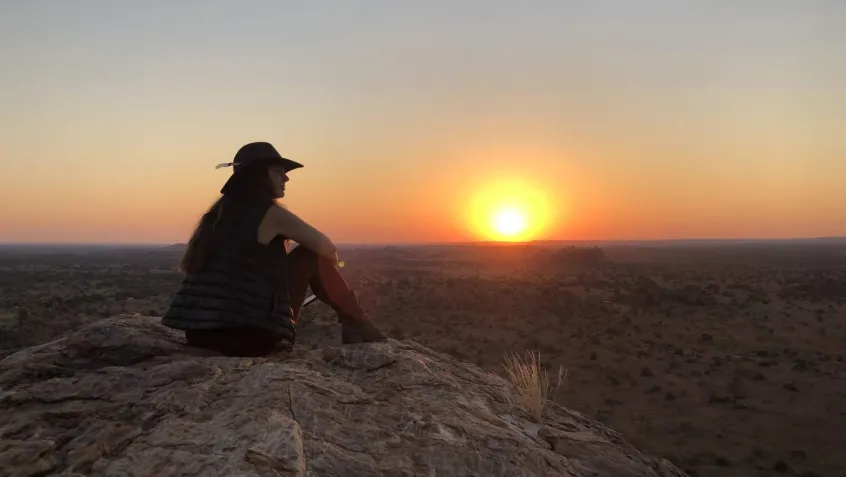 by Jennifer Palmer, founder of Women for Wildlife
In the middle of the South African bush, I am "eco-isolating" during a nationally mandated three-week lockdown due to the COVID-19 pandemic.
At a time when the rest of the world is consumed by stress and uncertainty, my days follow the natural ebb and flow of nature. I rise with the sun, and as the morning light begins to radiate its warm, amber glow, an entire orchestra of birds melodically come to life. In the not too far distance, a leopard's deep territorial pant can be heard as a massive troop of baboons raise a ruckus with alarm calls.
A family of nyala calmly wander the path as a few tiny frogs hop across the damp soil. The coolness of last night's light rain still lingers fresh in the air. There is an abundance of life that is threaded together by subtle nuances that ensures this complex system thrives in the same way it has for thousands of years.
Though lately it feels as if our lives have been turned upside down, nature shows us the way forward by continuing to do what it does best: living in the moment, one moment at a time.
Perhaps never before have we been offered an opportunity such as this one—to pause and reflect, not only on our connection to nature, but to those who first shared with us a glimpse of the magic of the wild. Maybe it was our parents who took us to the beach to explore and play, a neighbor who was an avid backyard birder, a teacher who planned field trips to the zoo or science museum, or a childhood friend who simply loved to get dirty in the nearby creek.
No matter who first planted those seeds of connection to the environment, now is the perfect time to think back on how much those seeds have blossomed over the years, and how many seeds you may have planted in the hearts and minds of those around you. What a gift it is to realize that we are all united in our passion for the environment, and what a unique opportunity we have now to pause and remember just how vital that connection truly is.
Throughout my career as a wildlife biologist, conservation scientist, youth mentor, and public speaker, I have taught thousands of students on everything from scientific process to animal behavior, species identification to physiology, communication to key conservation issues, and research methodology to wilderness safety. There can be no doubt that all this technical knowledge builds an important foundation for anyone who wants to venture into a scientific field or further a professional career.
However, what I have loved most about being a researcher and educator for the past three decades has been the opportunity to create space for people to absorb the quieter wisdom that comes when we stop and listen to what nature has to teach us. To return to a place that we intrinsically know we are a part of—a place where we all belong.
No question about it: we are navigating strange and unusual times. And yet, those seeds that were planted so long ago were planted for this exact moment. They remind us that we are all part of nature, and that nature is fiercely resilient, adaptable, and full of wonder.
The world has faced countless challenges throughout history, and still life soldiers on. Now is the time for us to listen, to learn, to grow, and to remember what it is like to live in the moment—one moment at a time. Thank you, nature.
Topics