Story
Take It Outside: Nature-Based Education During the Pandemic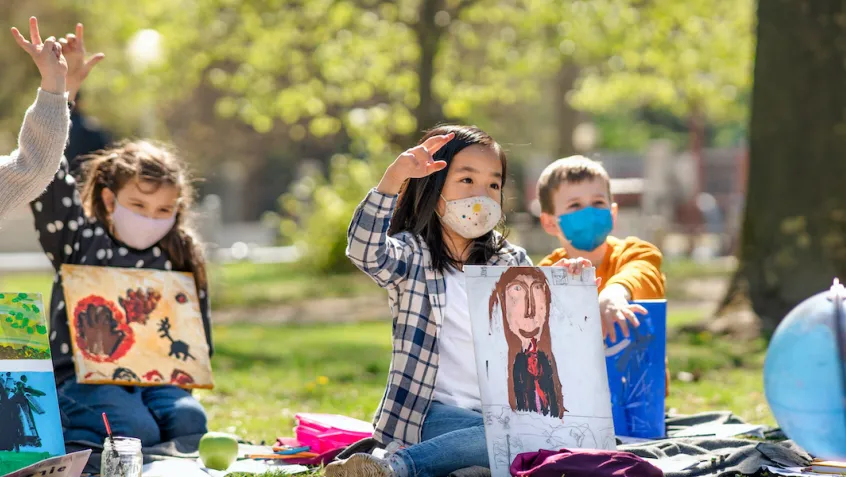 Return to the Outdoors 
As a new school year begins under the threat of COVID-19, teachers, students, and their parents are still adjusting to a socially distant learning environment that looks a bit different than the one they're used to. Mask requirements, plexiglass dividers, reduced class sizes, and remote learning days have become part of the "new normal." 
Though it may seem strange, this tinkering with the traditional learning environment is nothing new. During the tuberculosis epidemic of the early 1900s, the "open air" schooling movement became a popular option for classrooms to operate safely. 
Fast forward a century and the need for social distancing has again led to a renewed interest in outdoor learning. 
"Early on in the pandemic, we knew intuitively that being outside was the safest option. And in some ways, it gave teachers who have never taught outside the freedom to try something new," said Liza Lowe, Director of the Inside-Outside Network and Affiliate Faculty at Antioch University New England. 
In schools across the country, nature-based education has shifted—and thrived—during the COVID-19 pandemic, providing students with a much-needed connection to the outdoors and a new perspective on learning. 
Defining the Outdoor Education Movement 
There are several key terms used to define this growing movement:  
Environmental education is a process that helps individuals explore environmental issues, engage in problem-solving, and take action to help the environment.  
Place-based education is a teaching philosophy that uses "place"—lands, waters, people, history, and culture—as a starting point for learning.  
Nature-based early childhood education combines early childhood and environmental education to use the natural world to guide learning through time spent engaged with nature. 
Outdoor learning is simply the act of teaching and learning outside. 
No two outdoor classrooms are the same. Learning spaces can be created in schoolyards by incorporating stumps, hay bales, or other natural elements for socially distanced seating. Students can create nature journals or explore the local environment while on a hike. Teachers can simply move their current curriculum outdoors or infuse the natural world into their syllabus.
Image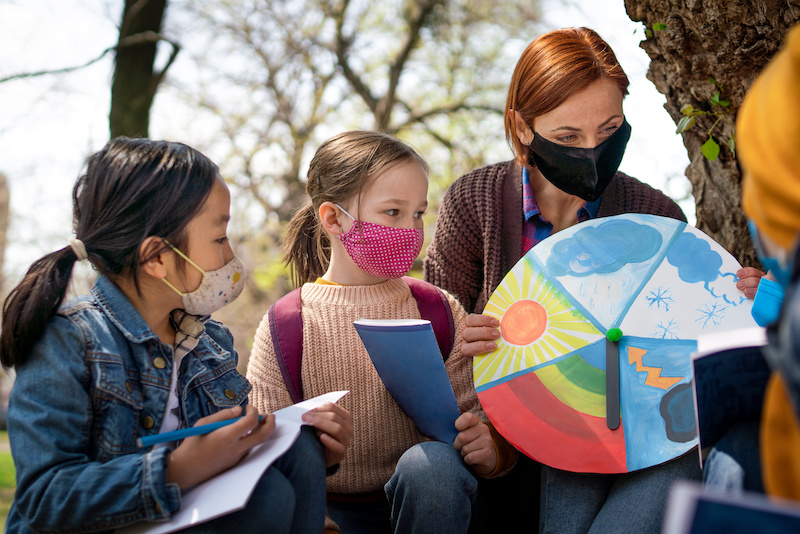 Benefits of Nature-Based Education 
Inside-Outside is a professional network that provides training and community for the growing number of teachers who have taken their classrooms outdoors during the pandemic. Aside from the fresh air that helps protect against the spread of COVID-19, nature-based education provides an array of positive academic outcomes along with physical and mental health benefits. 
If you or a loved one need access to free and confidential  mental health resources, the CDC has more information. 
Studies confirm what we intuitively know to be true—nature is good for kids. Incorporating nature improves academic achievement when compared with "traditional" instruction. Teachers report increased student engagement, critical thinking, and social skills. 
Research by the Place-based Education Evaluation Collaborative found that place-based education fosters students' connection to their community and boosts student achievement while helping them learn to take care of the world, starting in their own backyards. 
Equity in the Outdoors 
"Nature can be an equalizer for students. Children can shine outdoors in a way that they can't in a traditional classroom. It can help teachers reach a wider range of learners," Lowe said. 
Outdoor education can provide a more equitable learning environment for all students, helping to close the opportunity gap for students who lack access to nature. This is especially important considering how the pandemic emphasized the disparity between those who have the resources to participate in after-school programs or the technology available to join a virtual class. 
Outdoor classrooms can also help improve the focus and attention span of children and provide quieter, safer environments for children with histories of disruptive behavior. The students who might be the most likely to be excluded due to logistical challenges are often the ones who stand to benefit the most from time spent in nature. 
Making Moves Outside 
Inside-Outside started in the spring of 2018 as a way to connect teachers who had previously participated in Antioch University New England's Nature-Based Early Childhood Education Certificate program. The organization quickly grew to include all interested educators, and currently has 17 active chapters with a growing number of teachers who meet both in-person and virtually for support and to share lessons learned from their work in nature- and place-based education.  
One topic of discussion: what holds back educators from taking the leap into outdoor learning? 
"There are so many demands on teachers already, so the notion of doing something new can become just one more thing on their to-do list. We try to help teachers think of ways to weave nature-based education into what they are already doing, and over time it often becomes an anchor for the curriculum," said Lowe. 
While outdoor equipment can be expensive, there aren't necessarily any costs involved if teachers simply move their classroom outside. But creating an outdoor classroom space can require some out-of-the-box thinking, especially in an urban setting. 
Inside-Outside's New York City chapter recently explored how teachers can address this challenge in a simple and replicable way [click to download webinar recording]. Teachers at an urban school rolled out a green "grass" carpet over the concrete outside as a space for outdoor reading. Another creative approach: they set up an outdoor "construction site" where students worked on problem-solving skills with building blocks. 
Some aspects of outdoor education may look very different in a city park or playground than in a suburban schoolyard, yet there's common ground, and both can make a lasting positive impact.
Image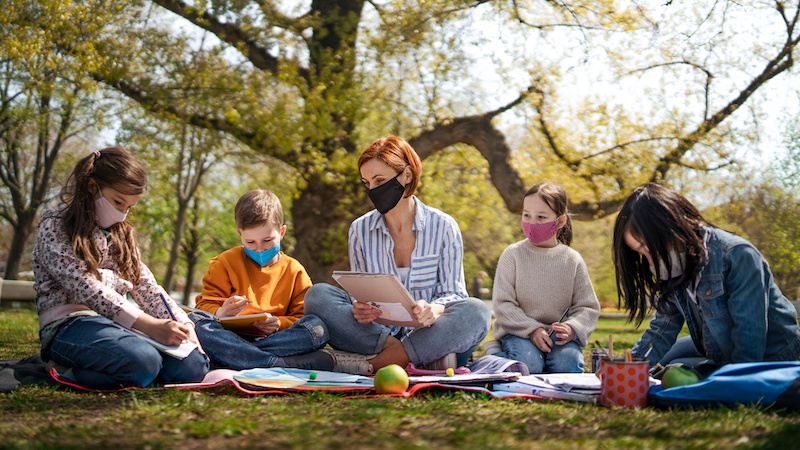 Thinking Beyond the Pandemic 
Back in 1918, about 130 American cities were operating open-air schools, with optimism that outdoor education would grow to become year-round in the country's warmer climates. Ultimately, the discovery of antibiotics and other public health breakthroughs eliminated the threat of tuberculosis, and within a decade, the open-air school movement came to an end. 
Inside-Outside, NEEF, and other like-minded organizations hope to prevent today's nature-based education from following a similar path. 
"I think all of us doing this work are hopeful and optimistic that outdoor learning will stick even beyond the pandemic," said Lowe. "Once teachers are outside with their students, they see the benefits." 
For many people new to place-based education, seeing is believing. Teachers who found hope during the pandemic through their outdoor classrooms are taking steps to make outdoor learning a permanent component of their teaching. 
Build Your Own Outdoor Classroom 
The good news is that teachers don't have to reinvent the wheel to get started in nature-based education. Many free resources are available to help educators create an outdoor classroom.  
Topics