Story
Get Outside, But Don't Get Bitten!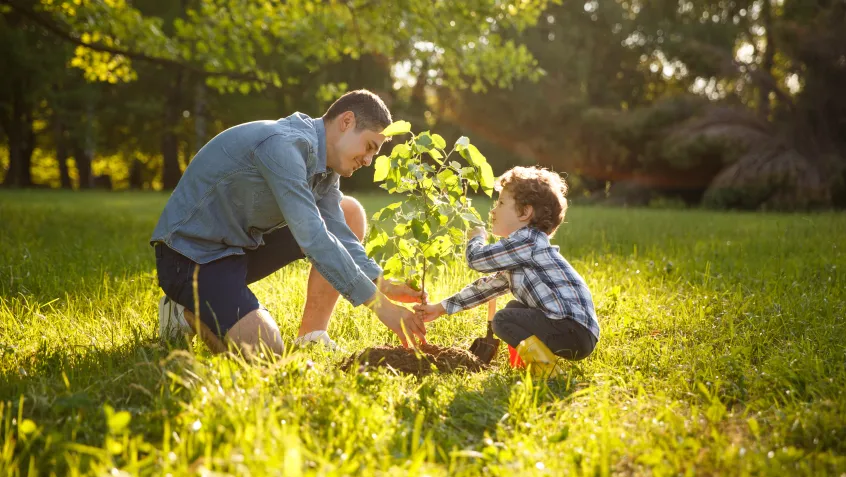 The health of the US population is at risk due to increasingly sedentary lifestyles and lack of physical activity. NEEF's Children and Nature Initiative: Rx for Outdoor Activity highlights the benefits of time in nature on health and works to increase children and family's time spent outdoors. Although time spent outdoors has a positive effect on many aspects of health, contact with nature can also involve contact with insects that can carry some potentially dangerous diseases. NEEF has the details on how to stay safe from mosquitoes, ticks, and fleas, and the diseases they carry, while getting active outdoors.
Current Health Status
As sedentary behavior and physical inactivity are on the rise, children are facing an increase in chronic conditions, such as obesity, asthma, attention-deficit disorder, and vitamin D deficiency. With the onset of these chronic conditions come future health problems, such as pulmonary, cardiovascular, and mental health problems in adulthood.
Adult populations also continue to face chronic disease that can lead to decreased quality of life, increased health care costs, and preventable morbidity and mortality. Specifically, more than one third of the population, or 149 million US adults over the age of 20, is overweight or obese. Obesity may lead to increases in mortality rates and the risk for widespread chronic illnesses such as type 2 diabetes, hypertension, cardiovascular disease, high cholesterol, heart disease, stroke, respiratory illnesses, and some cancers. People of color tend to be at a higher risk of developing these diseases. For instance, death rates are 37% higher among African Americans than whites, and American Indians and Alaska natives have the highest percentage of premature death associated with cardiovascular disease.
Benefits of Time in Nature on Health
Luckily, time in nature holds a host of wide-ranging benefits for both children and adults.
NEEF has compiled research on the effects of nature on child and adult health. Specifically, research shows that time in nature can:
reduce stress levels;
mitigate attention disorders;
reduce the prevalence rates for some cardiovascular, muskoskeletal, mental, respiratory, neurological, digestive, and other diseases;
lower the prevalence of asthma;
lower blood pressure;
positively affect mood and self-esteem;
play a vital role in reducing health inequities;
increase physical activity and prevent obesity; and
promote social interaction which acts as a buffer against stress, anxiety, and depression.
NEEF's Rx for Outdoor Activity
NEEF's Children and Nature Initiative: Rx for Outdoor Activity connects children and their families to nature in order to promote good health, enjoyment, and environmental stewardship. Specifically, NEEF uses the research above to educate pediatric health care providers about prescribing outdoor activity in order to prevent serious health conditions like obesity, diabetes, chronic stress, and other issues. NEEF has created materials in English and Spanish for health care providers to prescribe outdoor activity to their patients. In addition, the program connects health care providers with local nature sites, so they can refer families to safe and easily accessible outdoor areas such as parks and nature preserves.
The health benefits of nature are clear, but are there any risks associated with getting active outdoors?
Insect and Vector-Borne Illnesses
With outdoor activity comes the introduction of many animals and insects. Some are furry and friendly, but others may be harmful to your health. The three main insects to watch out for are mosquitoes, ticks, and fleas, which can all carry diseases harmful to humans. Mosquitoes can spread West Nile virus, dengue virus, chikungunya virus, and Zika virus, and ticks can spread Lyme disease and Rocky Mountain spotted fever.
There are many ways to reduce exposure to ticks and mosquitoes:
avoid wooded/brushy areas;
wear long socks and pants and long-sleeved shirts;
use insect repellent;
shower after being outdoors and complete a full-body tick check;
wash clothing in hot water and tumble dry on high heat; and
protect your home from mosquitoes—make sure windows and doors are screened and breeding grounds are reduced.
Check out these other NEEF articles for more information on protection from insects and vector-borne diseases:
Beyond the Bite: Mosquitoes, Ticks, and Disease
Increased Distributions of Mosquitoes and Ticks
For more information on the benefits of nature and outdoor activity on health, check out these NEEF resources:
Children and Nature Initiative: Rx for Outdoor Activity Training Presentation
Children and Nature Infographic
Get into Nature for Better Health Brochure
Rx for Outdoor Activity Prescription Pad
Children's Health and Nature Fact Sheet
Adult Health and Nature Fact Sheet
Sources:
Topics