Story
Start a Community Garden to Grow Healthy Food and New Neighborhood Connections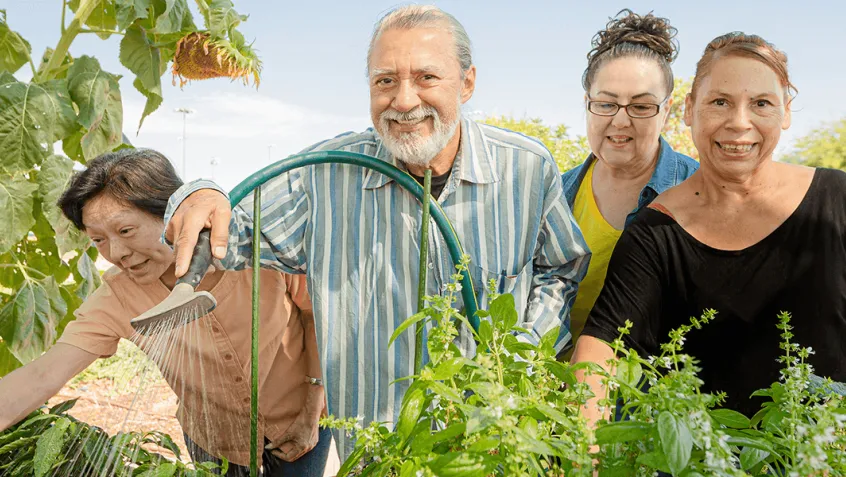 The Loomis Street Community Garden is a great place to see Chicago's city motto—Urbs in horto, Latin for "city in a garden"—in action. This community-driven gardening space gives West Loop residents a place where they can grow their own produce and share food with neighbors in need.
The volunteer-led Skinner Park Advisory Council (SPAC) works with the Chicago Park District and City of Chicago to maintain and improve the only public gardens in this rapidly gentrifying section of the city. The vegetable garden includes 30 rented plots, with approximately 25% of the total space dedicated to a communal garden that is harvested and shared with the local food pantry and seniors who live nearby.
Image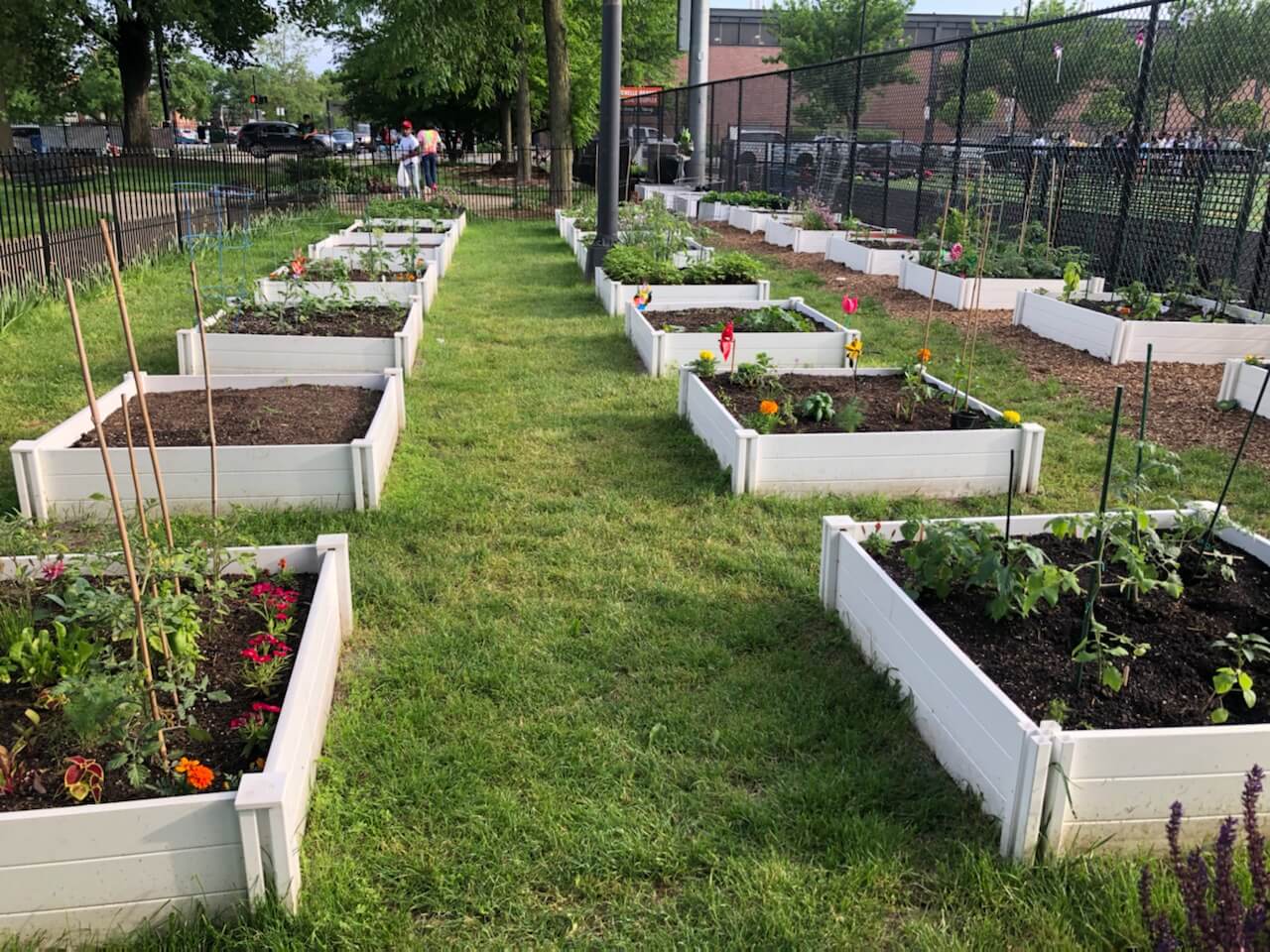 Photo: Raised garden beds in Chicago Loomis Street Community Garden
SPAC President May Toy has lived in the neighborhood for more than 20 years and says that the garden's focus on equitable access and inclusivity has fostered new connections. 
"It is not so much about what we are doing for our neighbors—it's what they do for us by being part of this community," said Toy.
Image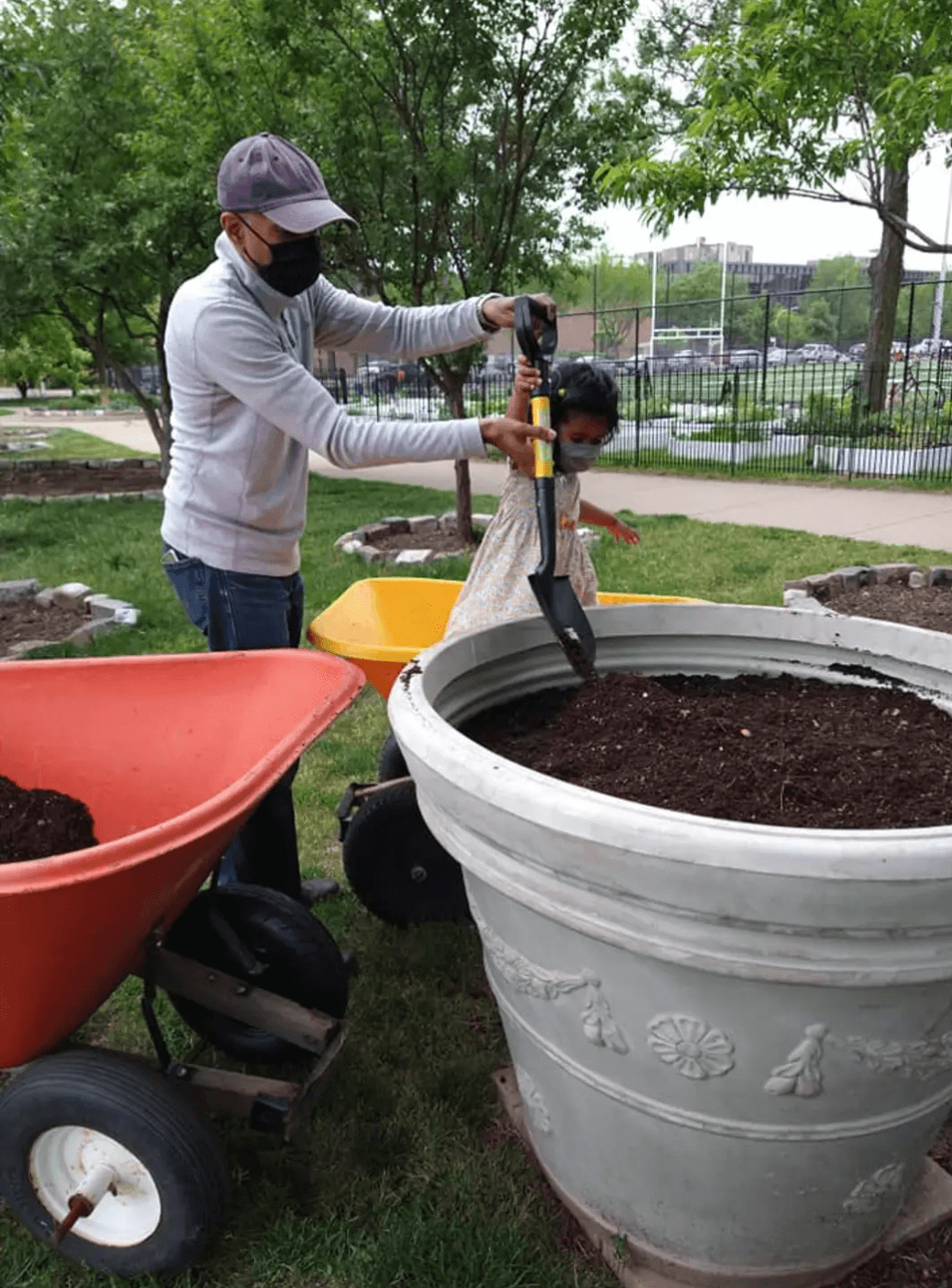 Photo: Volunteers preparing a large planter for the community garden.
What Is a Community Garden?
Community gardens are collaborative projects on shared open spaces where neighbors maintain and harvest the garden. They are an example of urban agriculture, and can help revitalize communities by bringing people together to beautify public spaces. 
Since the 1890s, Americans have turned to community gardens to confront problems such as recessions, war, urban decline, and environmental injustice. Today, these green spaces offer many physical and mental health benefits, providing places to exercise or simply sit in the shade of a tree and connect with nature.
This year, the US Department of Agriculture (USDA) announced plans to launch 17 flagship "People's Gardens" in urban communities. People's Gardens across the country aim to grow fresh, healthy food, teach people how to garden, nurture habitat for pollinators and wildlife, and create new green spaces.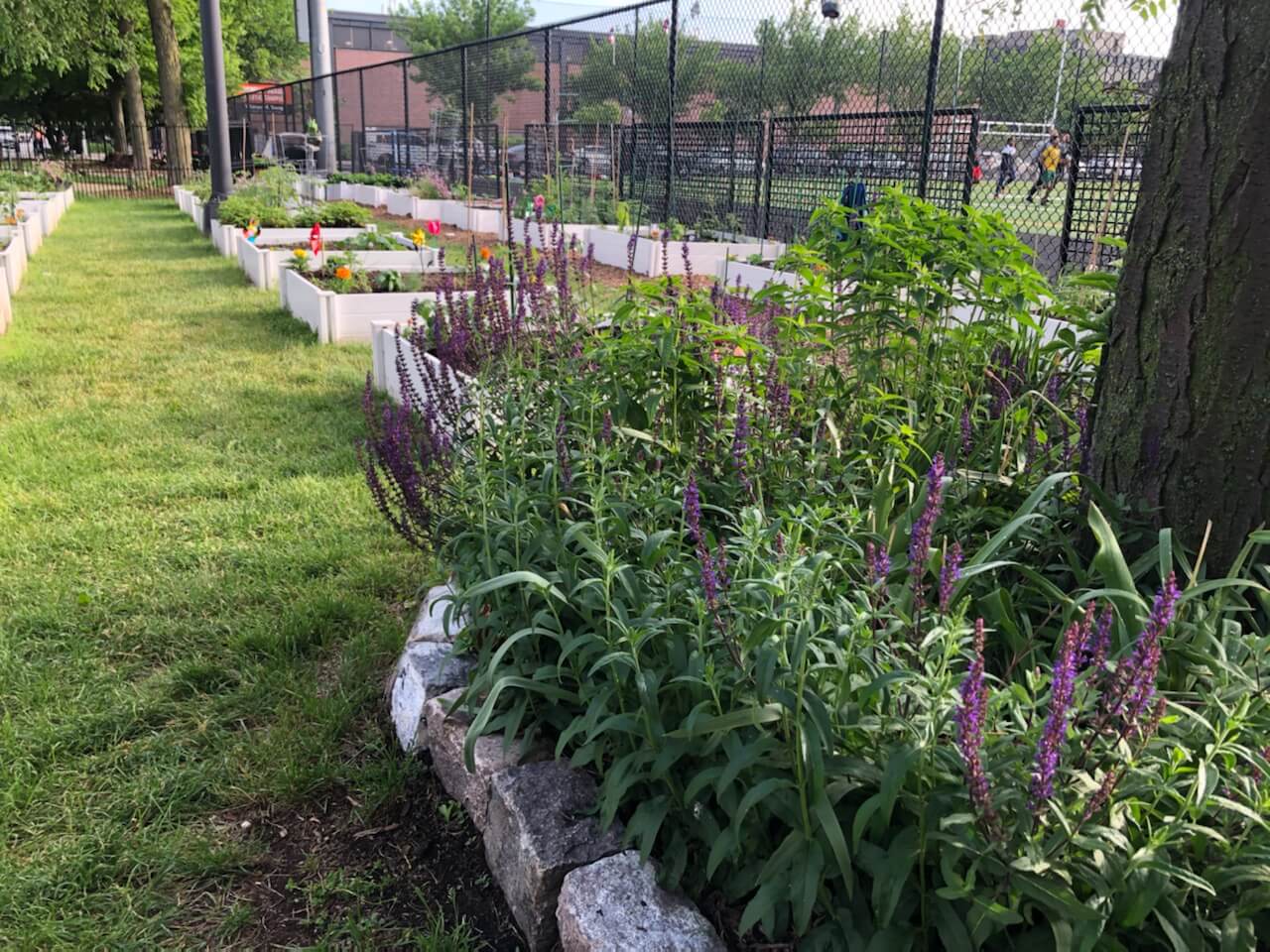 Photo: Pollinator garden next to row of allotment plots.
The Link Between Food Access and Health
Community gardens can help improve kids' access to good nutrition—and expand their palates. In addition to the standard garden fare, the Loomis Street Community Garden also incorporates kid-favorite fruits and vegetables like strawberries and sensory plants like lavender and lamb's ear.
"We grow things that kids might not usually try. We host tomato tastings to help kids get more adventurous with their eating," said Toy. "Our message is that when you grow your own food, it's extra tasty and healthy for you." 
Access to healthy foods helps prevent negative health outcomes in children. A 2016 study linked living in a food desert—an urban area where it is difficult to buy affordable or good-quality fresh food—with an increased risk for childhood asthma. Children who did not have access to fresh fruits and vegetables recorded higher rates of asthma. Another study suggested that eating plant-based foods like fresh fruits and vegetables might protect against asthma development and improve asthma symptoms.
Parks are also a way to combat community-wide violence. Appropriately designed and maintained green space has the potential to reduce violent crime and gun violence, making communities safer.
Image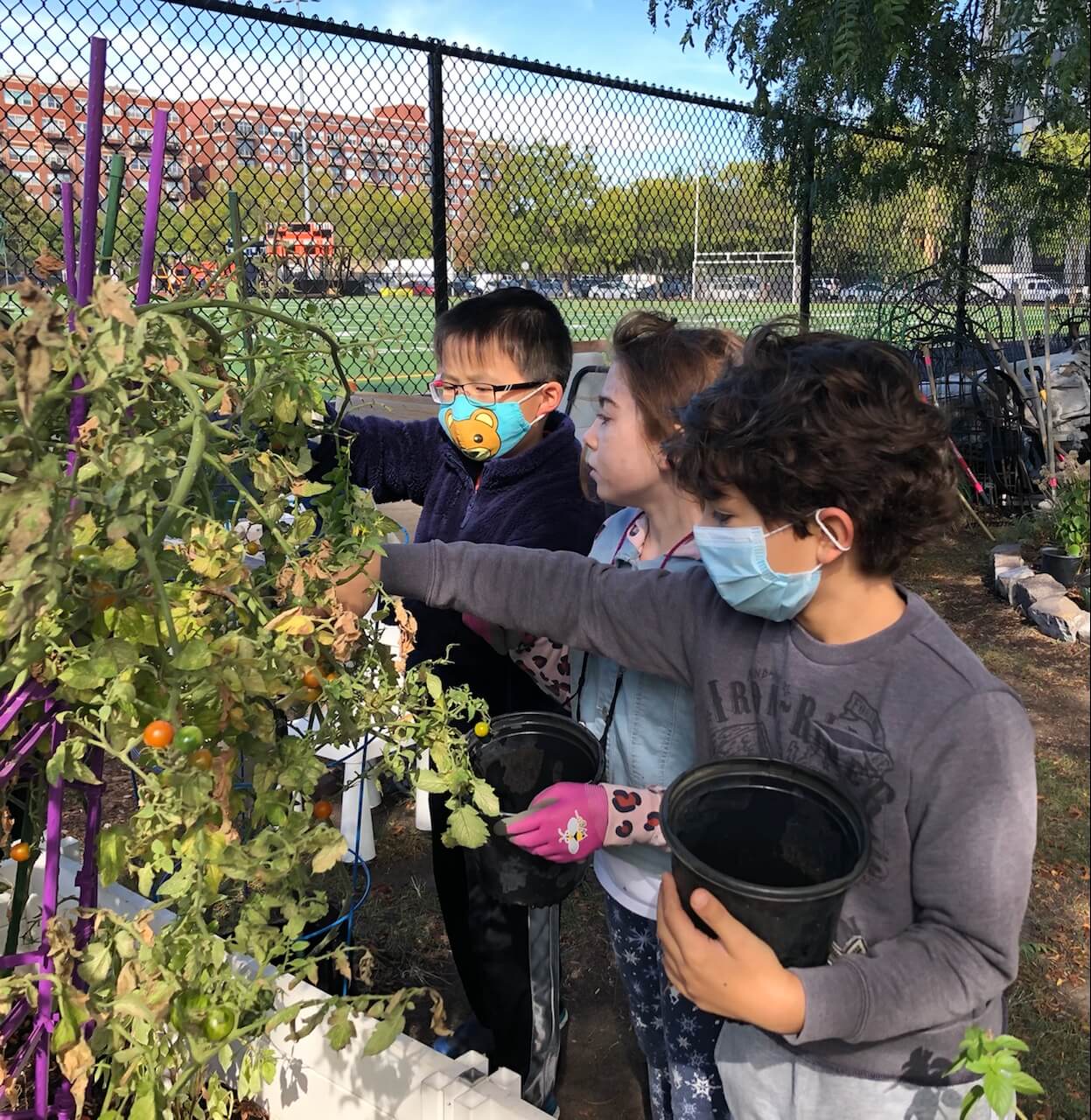 Photo: Young volunteers harvesting tomatoes for donation.
The Benefits of Community Gardens
Planting a garden can have a big ripple effect on a community, building a more resilient local food system and empowering neighbors to take ownership of their shared spaces through volunteering. SPAC celebrates National Public Lands Day by hosting annual park clean-ups, planting, harvesting, and environmental education events.
All gardeners who rent a plot at the Loomis Street Community Garden are asked to give back 2.5 hours per month during the summer for garden and park maintenance. Volunteers meet every Sunday to tend to the plants and make sure the park is clean. 
"Together, we are creating something better for the whole community," said Toy. "At the end of the day, this garden is really about people caring for each other."
While the demand for garden plots currently exceeds the available space, SPAC also gives away plants and vegetable seedlings for neighbors to grow at home to make sure the garden's bounty benefits as many people as possible. They also find ways to connect with the city's other initiatives, such as sharing plants with participants in the Chicago Police Explorers Program for high schoolers and young adults.
Image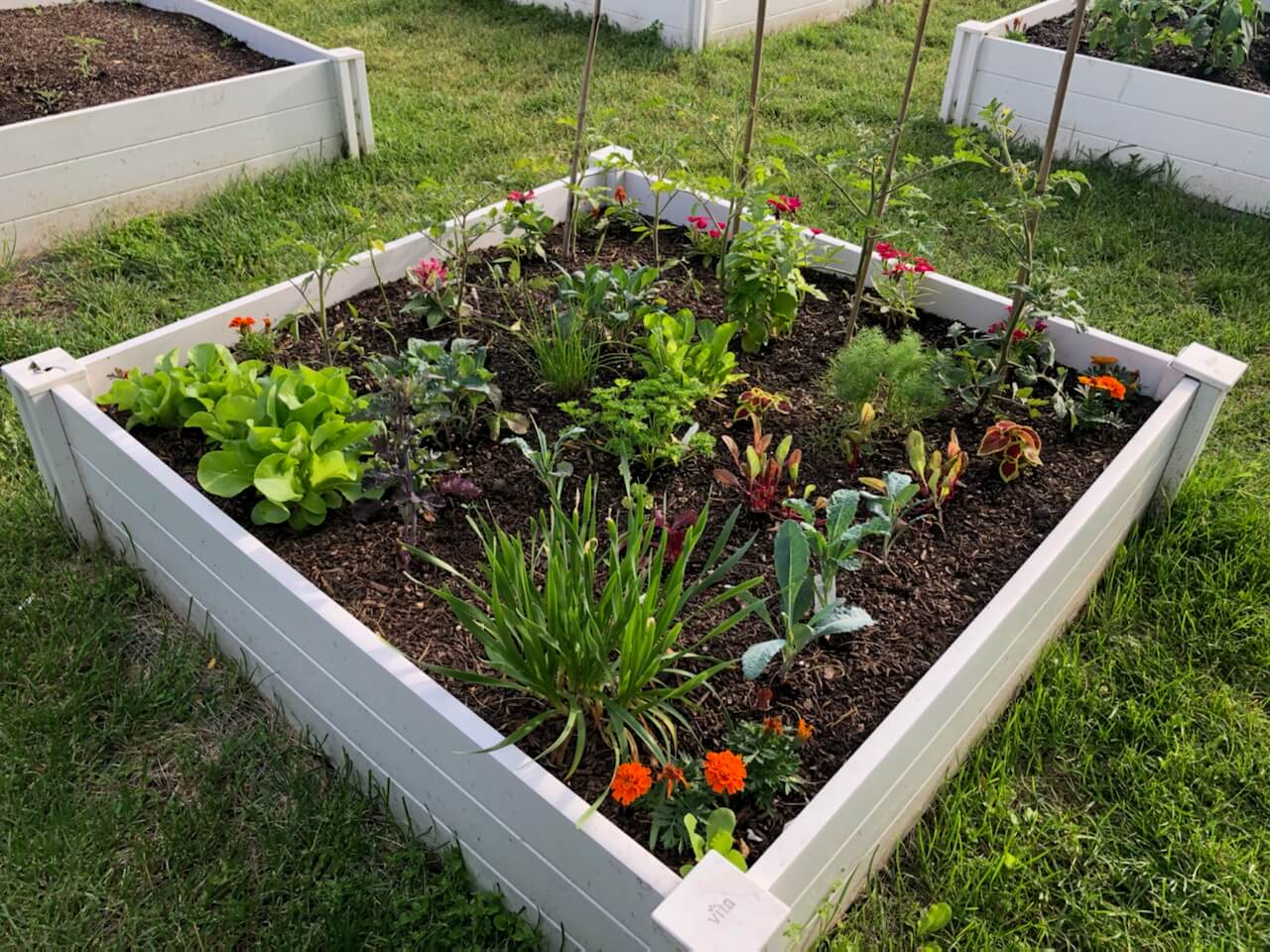 Photo: One of the allotment plots in the community garden.
Grow a Community Garden of Your Own
Feeling inspired to start a community garden of your own? Below are some helpful resources, as well as some tips from Toy.
"In the beginning, it can be hard for people to understand what a community garden is. The key is communicating that it isn't individual, it is about the community," she said.
Toy shared some additional lessons she has learned from her years of volunteer leadership for the garden: 
Theft of plants can be a challenge. Enlist the community to keep an eye on the garden so there is a collective sense of ownership. 
When it comes to financing the garden, a little frugality and creativity goes a long way. Look for opportunities for in-kind donations and invest plot fees right back into the garden. 
"Today, the [Loomis Street Community Garden] is one reason that people feel connected to this community. The garden is for everybody," said Toy.
Image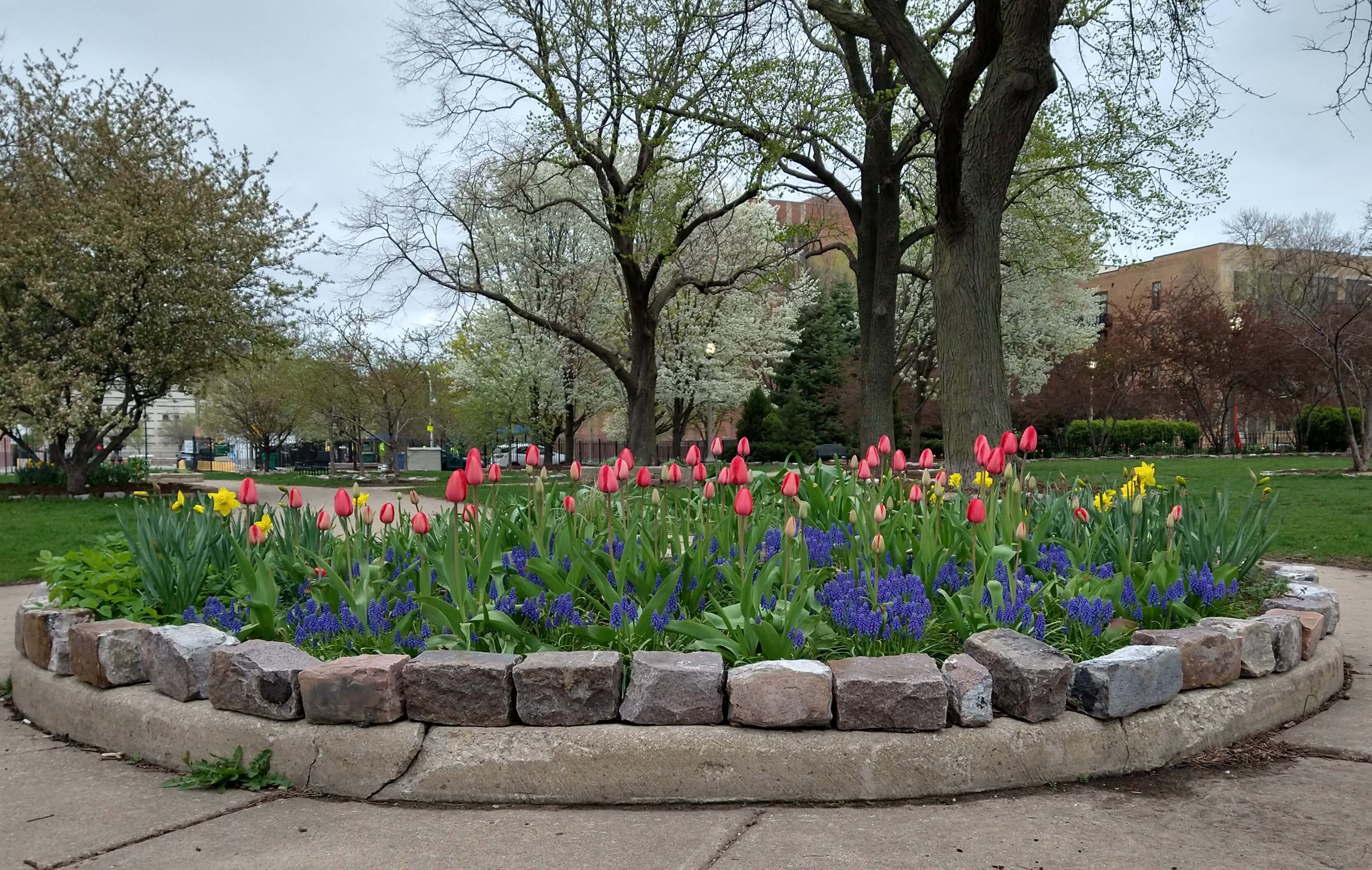 Photo: Flower Bed located in the ornamental flower garden of Loomis St. Community Garden.
Topics