Story
Wildfire Season Is Coming: Protect Yourself from Environmental Asthma Triggers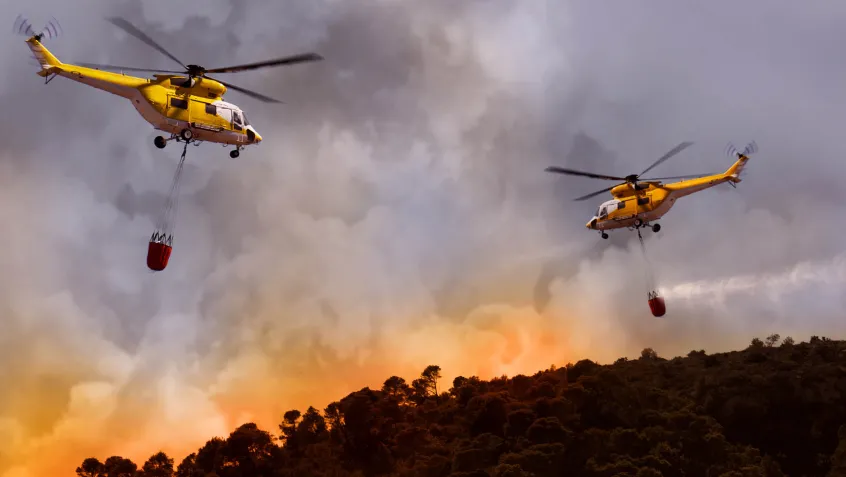 The West's Growing Wildfire Challenge
Good health starts with clean air—especially for people who are affected by asthma. But throughout the United States, wildfire smoke presents a growing health challenge.
In June of 2023, intense wildfires in Quebec, Canada, shrouded much of the upper Midwest, Ohio Valley, Northeast, and Mid-Atlantic in a thick cloud of smoke, elevating air pollution in these areas to dangerous levels.
Perhaps the worst wildfire season in recent memory occurred during the summer of 2020, when more than 10,000 lightning strikes over the course of just 72 hours caused hundreds of wildfires to erupt across California, burning hundreds of thousands of acres. The smoke from those fires spread across much of the western US, bringing with it eerie, post-apocalyptic orange skies and dangerous air quality.  At one point, the air quality in Northern California—specifically Santa Cruz County—was the worst it had been in 20 years.
Image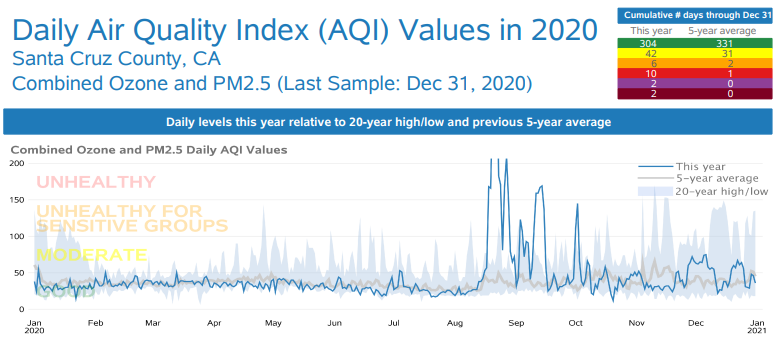 An Associated Press analysis of government air quality data found that at least 38 million people in California, Washington, Oregon, and Idaho were exposed to unhealthy levels of wildfire smoke for at least five days during 2020. Additional research points to wildfire smoke as now accounting for up to half of all air pollution in the western US, up from 20% just one decade ago.
This isn't good news for those who experience respiratory challenges, including the roughly 25 million Americans who have asthma. Smoke is a common trigger for asthma attacks.
As this year's wildfire season begins, learn how wildfire smoke impacts your health—and how you and your family can prepare.
What is Smoke?
Smoke is a complex mixture of gases and fine particles that can penetrate deep into your lungs when inhaled and cause a range of health problems, from itchy eyes to heart and lung disease. The smallest size of particulate matter is the biggest concern for public health because it can reach the bloodstream and affect the lungs, heart, and blood vessels.
Wildfire smoke is fueled by wood, grass, plastics, and other building materials that a fire burns through, which can result in a poisonous combination of chemicals including carbon monoxide, carbon dioxide, hydrocarbons, black carbon (soot), and other respiratory irritants and carcinogens.
Weather conditions such as wind, temperature, and humidity impact how far smoke travels and how much accumulates. Smoke can travel wide distances. The hotter the fire, the higher up the smoke can travel and the further it can spread. For example, smoke from the record-setting wildfires of 2020 even reached northern Europe.
The Health Impact of Wildfire Season
If you are healthy, you are usually not at a major risk from short-term exposure to wildfire smoke. However, it's still a good idea to avoid breathing it in if you can help it.
The US Environmental Protection Agency (EPA) recommends that people with heart or lung disease, diabetes, pregnant women, children, and the elderly should monitor smoke conditions especially carefully because they are at greater risk of experiencing negative health effects.
In the short-term, breathing in smoke can trigger a range of symptoms, including:
Coughing
Wheezing
Irritated sinuses
Headaches
Chest pain
So far, there is only limited research available about the potential health impacts of cumulative exposure to multiple days—or entire wildfire seasons—of smoky conditions.
Scientists are still learning about the health impacts of prolonged exposure to wildfire smoke. Researchers found increased numbers of asthma attacks, heart attacks, and strokes during recent wildfire seasons. The toxins associated with wildfire smoke can cause inflammation, blood clots, and muscle spasms that make it hard to breathe.
Prepare for Wildfire Season
May is National Asthma and Allergy Awareness Month, and May 3-7 is Air Quality Awareness Week. This month is also typically the start of fire season in California and across the West. In recent years, fire season has started earlier and ended later due to California's shifting seasons. In fact, researchers found the state's rainy season has now been pushed back a full month from November to December.
If you live near a wildfire-prone region, now is the time to prepare for air quality challenges from these natural disasters. Even if a fire is miles away, it can potentially lead to unhealthy air near you.
You can use these online tools to monitor wildfire and smoke conditions:
What to Do During Smoky Conditions
If your community is affected by wildfire smoke, the EPA recommends taking these steps:
First, ensure that the wildfire does not pose an immediate threat and you do not need to evacuate.
Reduce your exposure to smoke by avoiding physical activity outside.
Keep windows and doors closed to prevent smoky air from getting inside your home and reducing indoor air quality.
Avoid using anything that burns, such as cigarettes, candles, vacuums, or wood fireplaces.
If you have an air conditioner, set the air intake to "recirculate" and keep the filter clean.
Consider purchasing a portable air cleaner or high efficiency HVAC system filter to improve indoor air quality. Choose one that fits your room size and ensure that it does not produce ozone.
If you need to go outdoors, wear a well-fitting mask with a particulate respirator such as a N95 or P100 model. Dust masks do not offer protection from smoke.
Keep your inhaler and other quick-relief asthma medicine with you.
Asthma E-Learning Course
Wildfire season shows the direct health impact that the environment has on our lives. NEEF provides resources for healthcare professionals and those affected by asthma to help manage environmental triggers like smoke.
As part of our Pediatric Asthma Initiative, we recently partnered with the Centers for Disease Control and Prevention (CDC) to launch the "Environmental Management of Pediatric Asthma: Guidelines for Healthcare Providers" free online certification course. This accredited, 90-minute eLearning program aims to develop the skills healthcare providers need to identify environmental triggers, counsel patients and families, and implement evidence-based environmental interventions to improve health outcomes for children with asthma.
To learn more about this online program, including how you can earn continuing education units (CEUs) through the CDC's Continuing Education certificate program, you can register here using our online platform.
Topics