Story
Big Thicket National Preserve Named NPLD Signature Site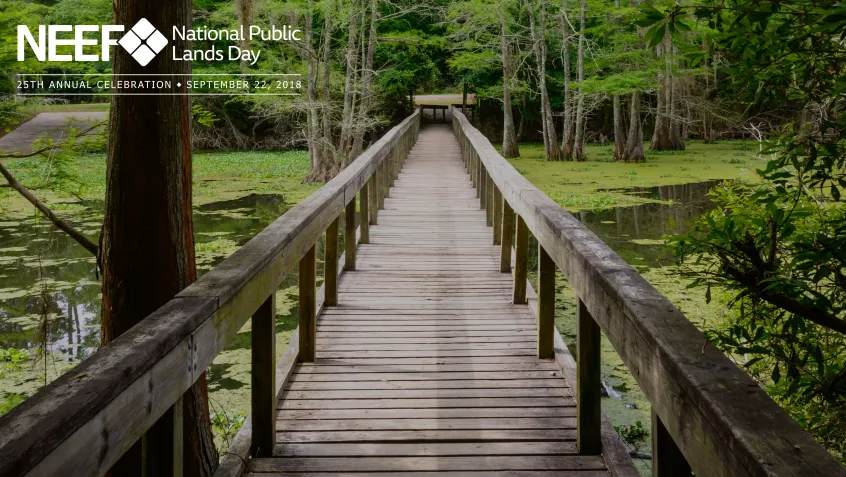 The Big Thicket National Preserve in Southeast Texas has been named the Signature Site for NPLD 2018. One of 47 sites in the United States to be included on UNESCO's list of International Biosphere Reserves, Big Thicket has been described as the "biological crossroads of North America." The park was significantly impacted by major storm events in 2017, and is an excellent example of this year's NPLD theme of restoration and resilience. The volunteer work that has been taking place at the park demonstrates the power of restoration projects during NPLD and beyond. As a Signature Site, Big Thicket will receive additional  support from NEEF for event planning and logistics, and potentially financial contributions through its currently active grants to support the purchase of material needed for the event.
NEEF's support of Big Thicket is not limited to National Public Lands Day. Big Thicket was also the recipient of one of NEEF's Centennial and Beyond Grants in 2016. NEEF's Centennial and Beyond Grants provided financial support to partnering "friends" groups of National Park Service units. Made possible by The Kendeda Fund, the funds support projects that build the capacity of these organizations to strengthen organizational infrastructure, leadership, and ties with the surrounding community.
Check out this fantastic video on Big Thicket that was developed as part of the Centennial and Beyond Grants.
Topics