Story
Local nonprofit helps Colorado community heal from wildfire devastation through environmental stewardship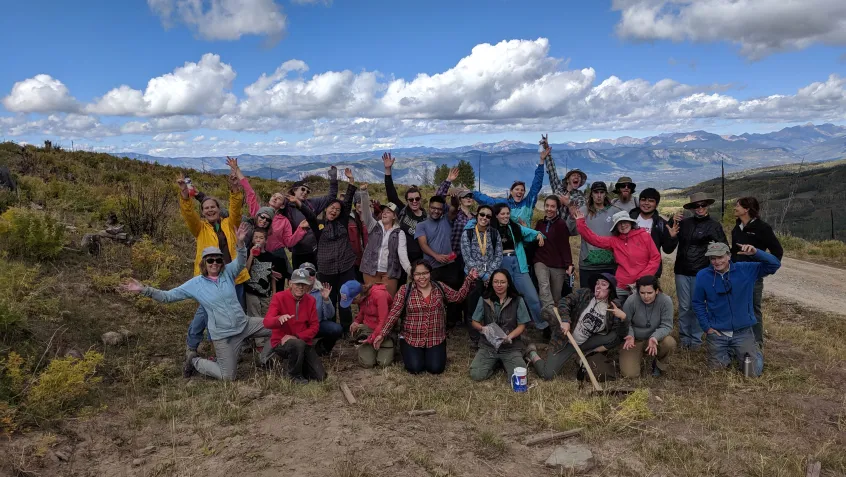 It was like something out of an old John Ford Western: on the morning of June 1, 2018, a coal-fired locomotive slowly chugged its way through the picturesque San Juan National Forest in southwestern Colorado. The train was part of the Durango & Silverton Narrow Gauge Railroad, a national historic landmark and local tourist attraction that has run continuously between the two towns since 1881. As the engine thundered up Shalona Hill, its iconic smokestack belching fiery ash and black smoke, a few smoldering embers managed to escape its exhaust screen and land in the dry brush next to the tracks.
Just like that, the sixth-largest wildfire in Colorado history had begun.
***
The 416 Fire burned for two months, consuming an estimated 54,000 acres before it was fully contained on July 31, 2018. Over 1,300 homes and businesses in nearby Durango, Hermosa, and Silverton were evacuated, and the San Juan National Forest was forced to close for the first time in its 113-year history as firefighters battled the blaze.
Image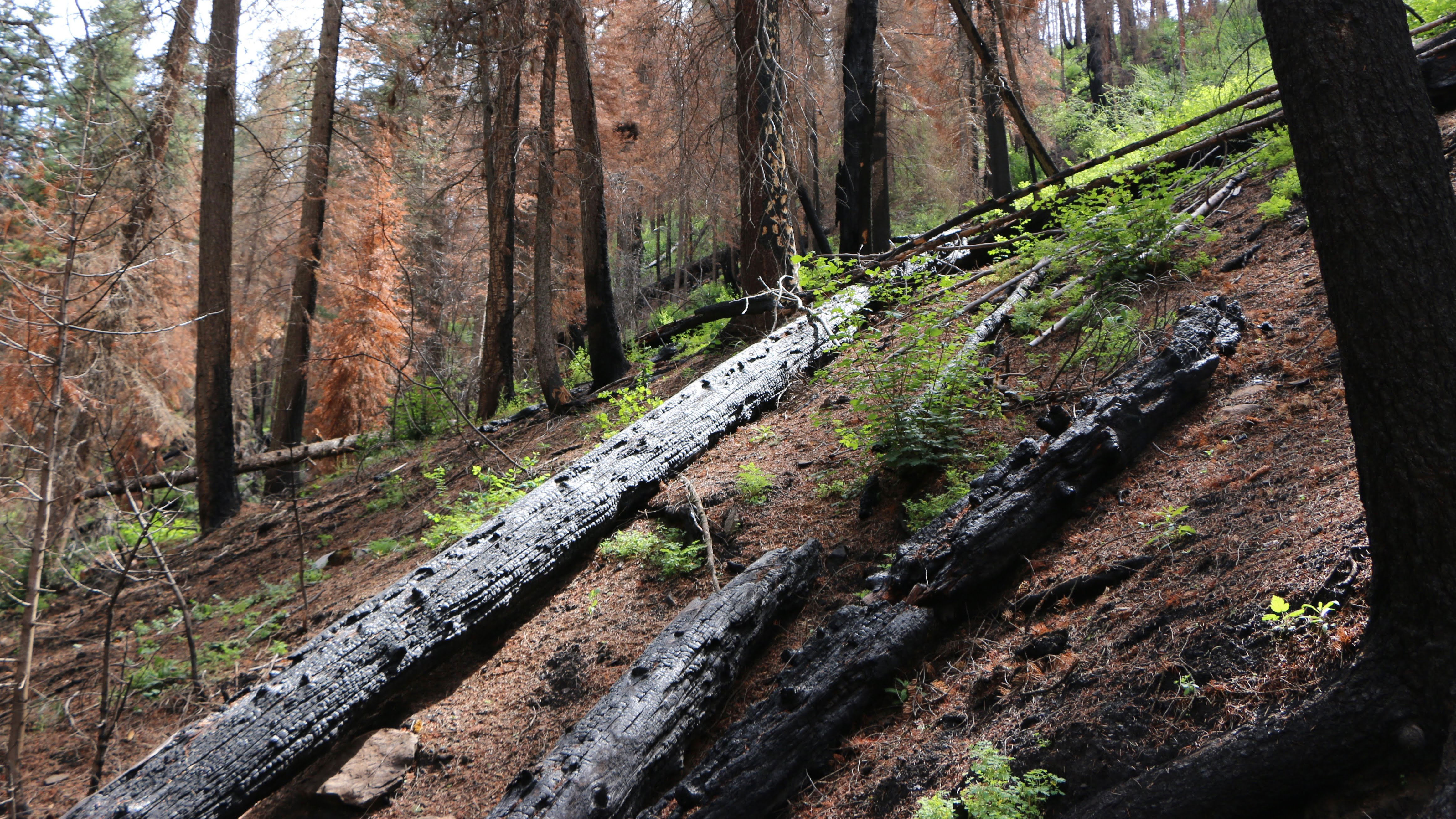 But the damage didn't end even after the flames were extinguished—heavy summer rains, arriving too late to calm the fire, caused mudslides that swept down the scorched hillsides and choked Hermosa Creek and the Animas River, decimating aquatic species and negatively impacting water quality.
"Following that kind of disaster, there was a need to help the community heal," said Marcie Bidwell, executive director at the Mountain Studies Institute (MSI), a local nonprofit dedicated to collaboration between researchers, educators, policy makers, and the wider community surrounding the San Juan Mountains.
In the months since the fire, MSI has worked hard to restore a sense of community through environmental education and stewardship. To support these efforts, the National Environmental Education Foundation (NEEF) partnered with Toyota Motor North America to award MSI with a $20,000 Restoration & Resilience grant in November 2018. MSI has used these funds to develop a collaborative community resilience plan, organize stewardship activities, and hold innovative outreach events such as the San Juan Resilience Youth Summit this past April.
On August 10, MSI partnered with local nonprofit organizations and the San Juan National Forest to host Hermosa Resilience, a community event held within the burn area. Participants learned how the fire affected local forests through interpretive hikes, workshops demonstrating water flow through charred soil, and weeding and replanting opportunities.
Amanda Kuenzi, project manager at MSI, said that the majority of the Durango community had not visited the area since the fire, so it was imperative they return to the burn scar to show them how the forest had already begun to recover.
Image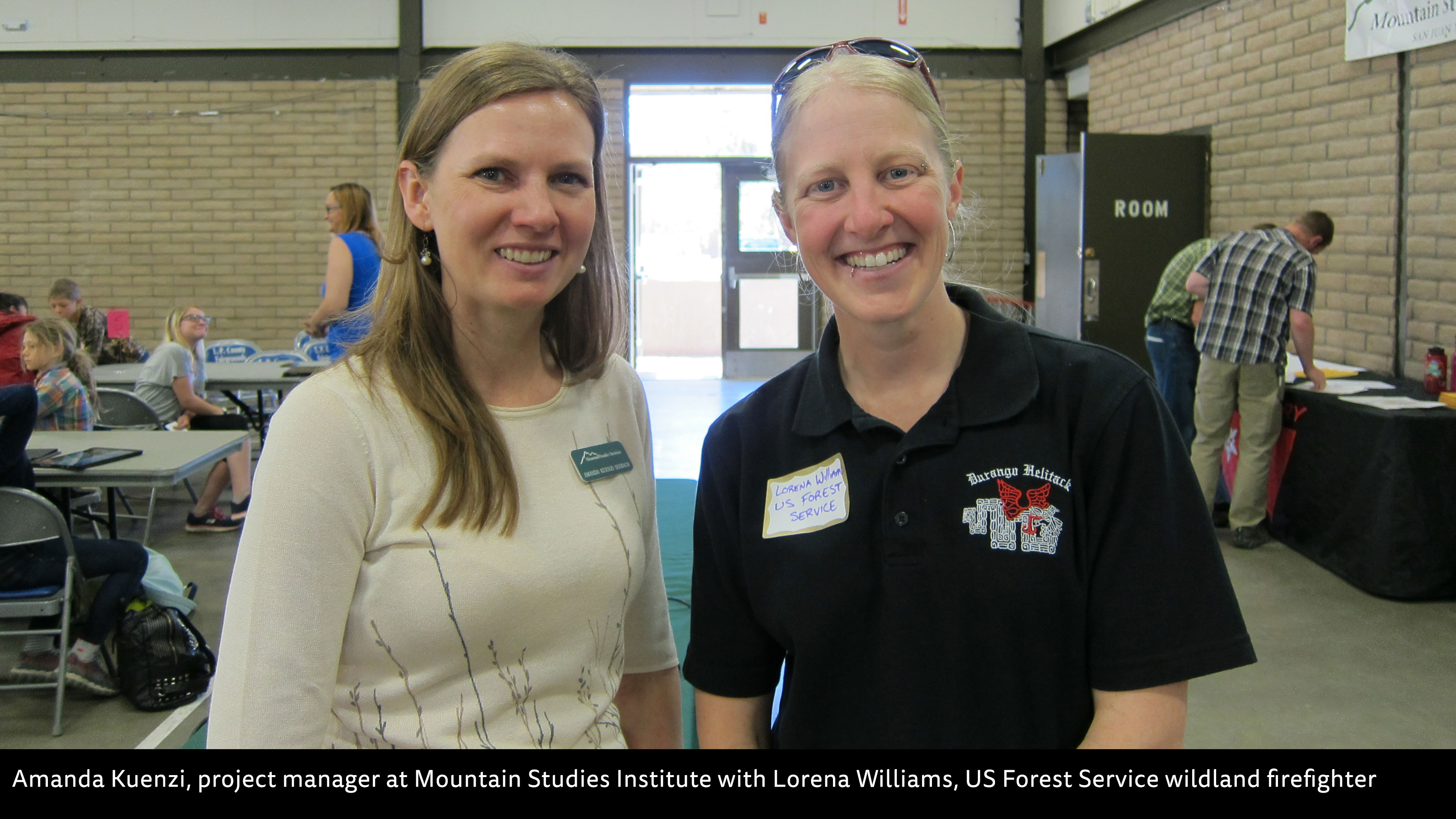 "This is a community of doers. They want to get out there, they want to help," said Kuenzi. "I think there's just this kind of feeling of an imperative to do something in our community right now. And so this was great timing to have the funding [for this event]."
***
Just over a month later, MSI organized another opportunity for community engagement to coincide with National Public Lands Day on September 28. Kuenzi led 38 volunteers, several of them returning participants from the Hermosa Resilience event, back out to the Animas River Valley to plant new spruce saplings.
"Unfortunately, we weren't able to plant trees in the recent fire scar yet, due to the [US] Forest Service still assessing the area," said Kuenzi. "However, we were able to do a tree planting in the 17-year old burn scar from a previous fire [at Missionary Ridge in 2002]."
That fire—which just so happened to take place across the river valley from the 416 Fire—consumed an estimated 71,000 acres over the course of 39 days. While the native spruce population is slowly recovering, a massive planting project conducted by the US Forest Service in 2010 has yielded positive results, with some saplings already measuring 3.5 feet tall.
"It actually made a really amazing teaching tool for talking about forest health because you can look at one side of the valley and see what's coming back from a fire that happened 17 years ago, and then this kind of more raw, recently burned area where people are still kind of reeling," said Kuenzi. "It was good for everyone to see what recovery looks like, understand how long it takes, and to have a hand in helping with that healing."
Image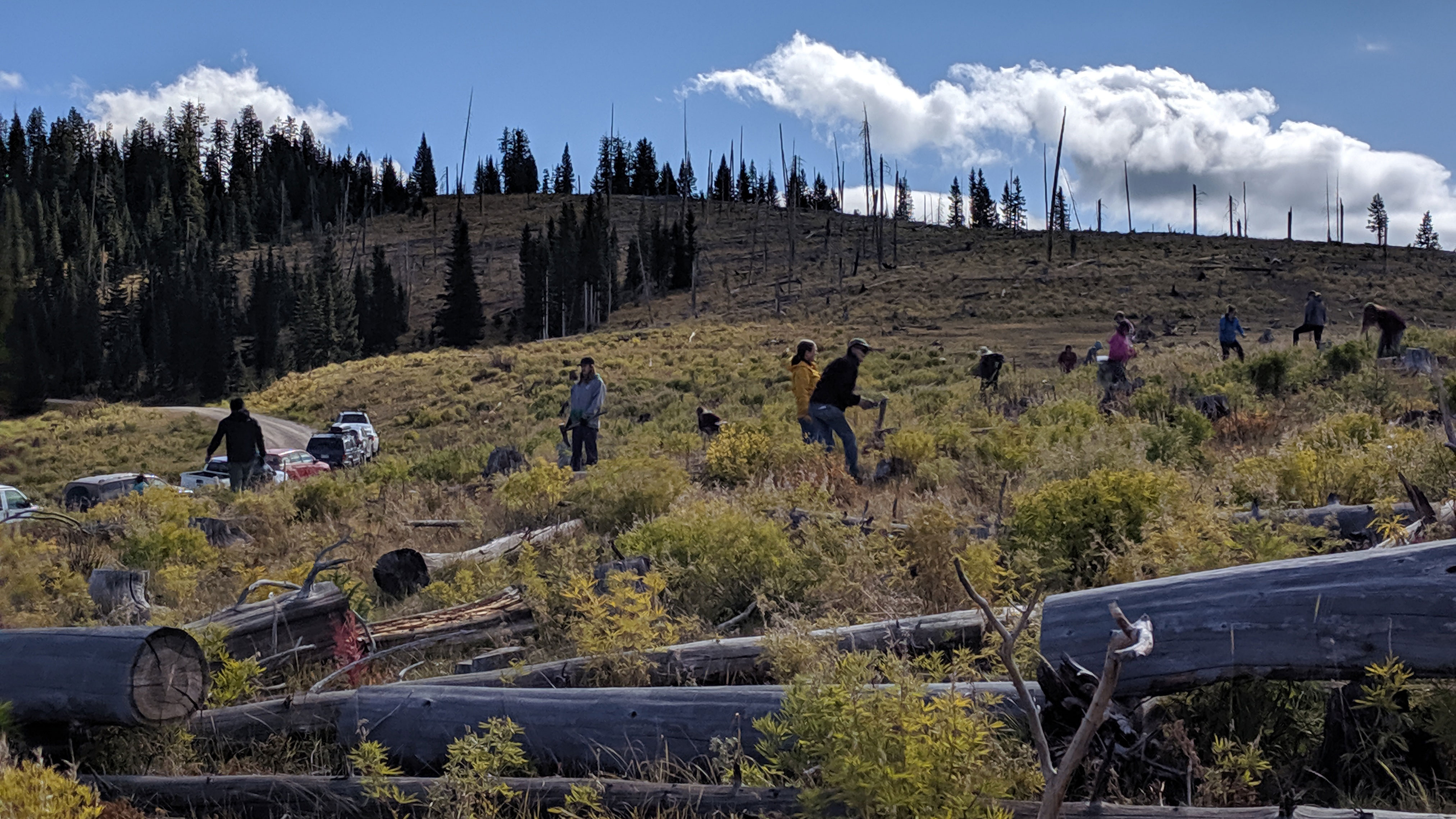 In an unexpected twist, the majority of volunteers for this NPLD event were students from nearby Fort Lewis College, a predominantly Native American school located high on a mesa above the town of Durango. The event happened to coincide with the college's annual Environmental Center fall retreat, and 28 students made the trip out to Missionary Ridge to help with planting.
"[Fort Lewis] is kind of geographically isolated from the town, so there is kind of this separation between the community and the college," said Kuenzi. "We did a round of introductions, and I asked everyone to state what their motivation was for showing up. And I was just floored by the answers that we got [from the college students] about being sad during the fire and wanting to help. It ended up being a really great exchange between the college students and the older members of the community that wouldn't have interacted otherwise.
"I felt that might have been the most important part of the day."
***
By the end of the event, this newly formed community of volunteers had managed to plant around 600 Engelmann spruce saplings at the 17-year-old burn site. As they all said their goodbyes, Kuenzi began handing out NPLD Fee-Free coupons as a token of appreciation for their hard work. It was an unexpected—but very much appreciated—surprise for those still trying to move on from last summer's tragedy.
Image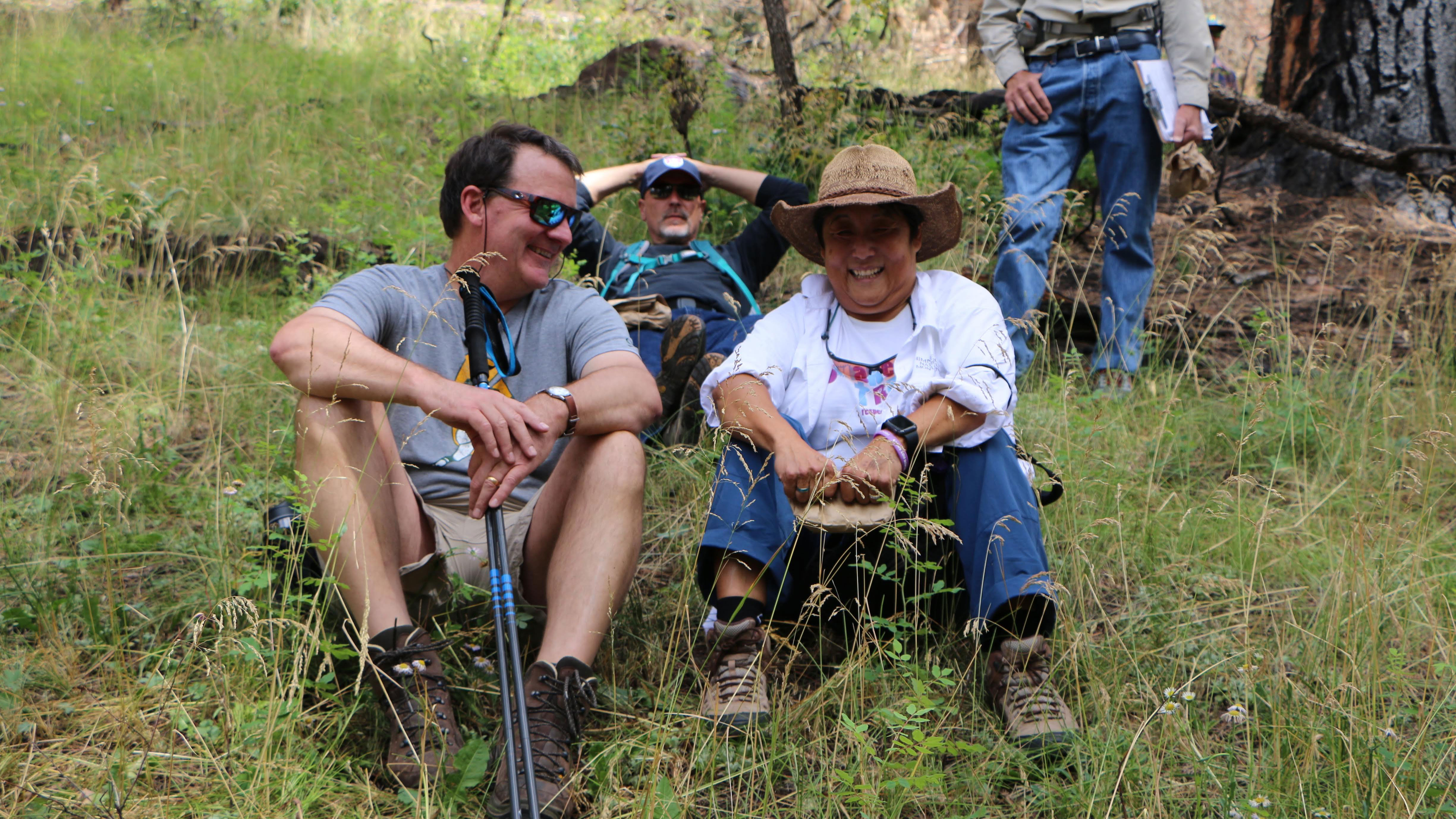 "I was really glad to have the public lands entry fee vouchers to provide to the volunteers, especially because so many of them are low-income college students," said Kuenzi. "Some of the national parks around here are $25 for a day, and those entry fees may pose an obstacle for experiencing the public lands of the region. I'm happy to have the opportunity to remove that obstacle for them."
Topics