Story
A Seattle-based nonprofit has conserved public lands for three decades. This year, Congress finally took notice.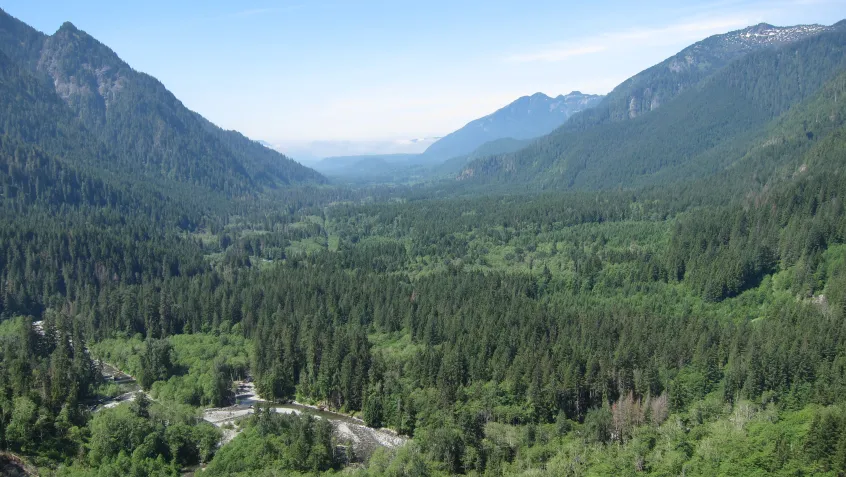 Seattle in 1990 was a much different place than it is now. Grunge music had yet to go mainstream, Starbucks was still a local gourmet coffee chain, and Amazon.com was just a twinkle in Jeff Bezos's eye. It was a rainy, moody city of lakes, rusty bridges, and a century-old logging industry along the Puget Sound.
Just a few years earlier, a mid-sized computer software company by the name of Microsoft had moved its headquarters to the suburbs of Redmond after successfully launching a new operating system they called "Windows." As talented programmers and software engineers began clogging Interstate 90 west towards Seattle looking for work, it became increasingly clear to locals that their slice of undisturbed Pacific Northwest wilderness would soon be irrevocably changed.
Image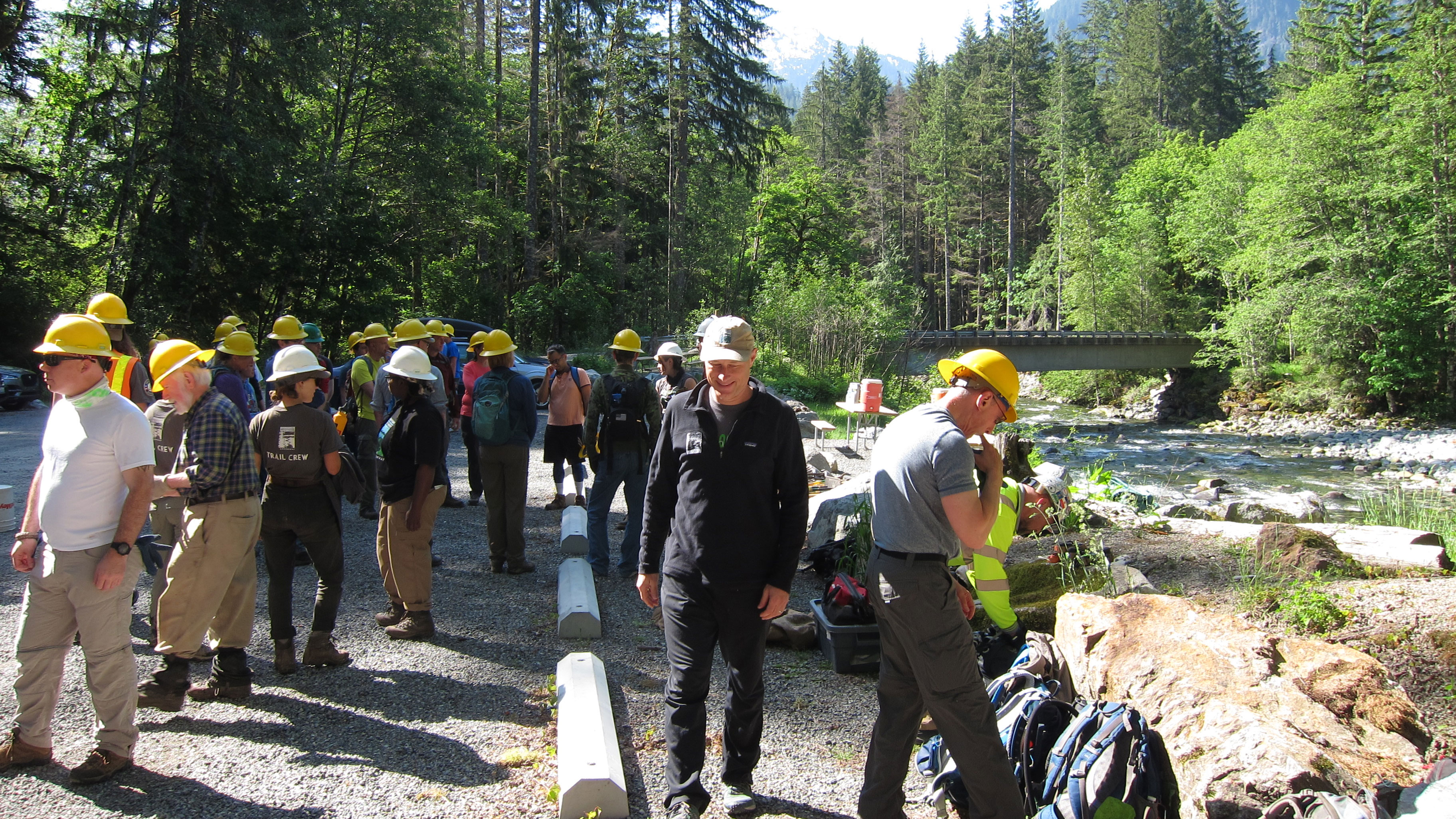 "People knew there was a lot of growth that was coming," said Tor Bell, field program director at the Mountains to Sound Greenway Trust. "And they saw that if we don't do something about this, we're going to lose a lot of the areas that we hold dear."
They needed to make a statement. Something that would show everyone in the city that the pristine beauty of the nearby Snoqualmie Valley was worth protecting from unfettered development and urban sprawl. And so, to help raise awareness for their cause, the local Issaquah Alps Trails Club mobilized almost 200 concerned nature-lovers for a five-day, 55-mile march along I-90 from Snoqualmie Pass to the Seattle waterfront.
This movement of people sparked another movement—one of ideas and action. In 1991, less than one year after the march, local leaders officially formed the Mountains to Sound Greenway Trust with a mission to preserve and enhance the landscape from Seattle across the Cascade Mountains to Central Washington. Fast-forward three decades later, and the Greenway Trust has grown to include 21 staff members, a 60-member board of directors, and over 5,000 volunteers dedicated to conserving 1.5 million acres of land across two counties along the I-90 corridor.
Bridging the Gap Between Nature and Industry
Just 45 minutes east of Seattle, the Middle Fork of the Snoqualmie River Valley is a popular recreation area within the Mt. Baker-Snoqualmie National Forest.
"It's one of the closest areas where you can access this beautiful wilderness—cascade falls, alpine lakes, big granite peaks like Garfield [Mountain]," said Joe Olbrych, Middle Fork Valley community coordinator for the Greenway Trust. "But it wasn't like what it is now with safe and sustainable access. It was a place where there were chop shops, meth labs. It was an unsavory place that people did not want to go to, even though it was primarily public land. There were some challenges to getting people out here."
"Challenges" may be a bit of an understatement. In addition to acting as an illegal dumping ground for rusting cars and broken washing machines, the area was difficult to traverse due to the swift current of the Middle Fork River as it snaked through the valley. Intrepid backpackers cobbled together ropes and wood planks when they needed a path across the water, but these temporary solutions were often washed away by heavy rainfall. Community members saw an opportunity to build a bridge—literally and figuratively—by uniting local volunteers and big industry to tackle this problem head-on.
Image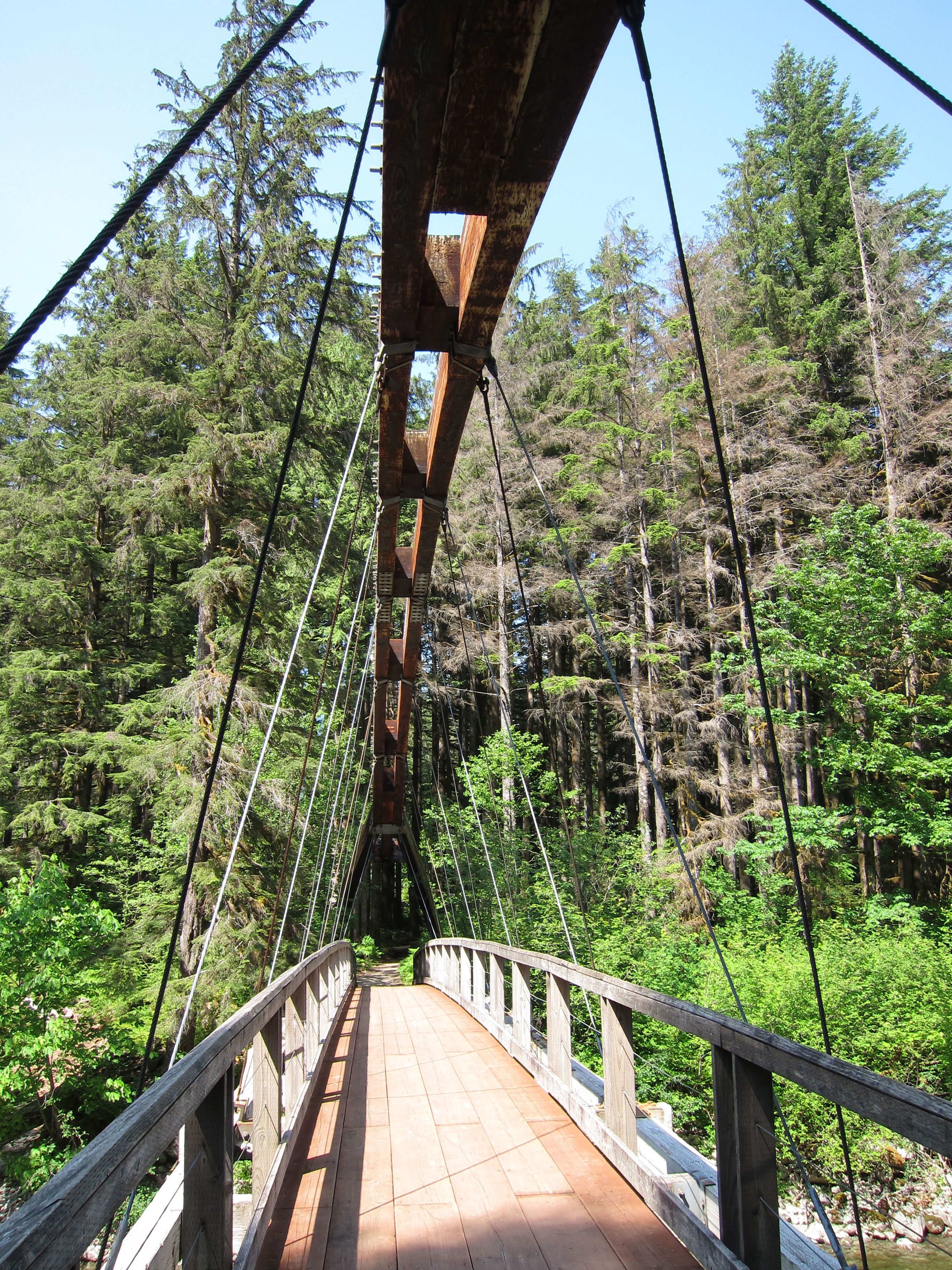 Through a partnership with area volunteers, the US Forest Service, and Weyerhaeuser Timber Company—which donated its iconic arched beams—the Middle Fork Gateway Bridge was erected in 1995.
"I think what kind of kicked off the stewardship out in this valley is the Gateway Bridge," said Olbrych. "It was a symbolic effort that brought together all these different groups to address the challenge of getting from this side of the river to that side of the river where there's an abundance of outdoor recreation opportunities."
To honor the 25th anniversary of the bridge's construction, the Greenway Trust organized a similar volunteer effort to resurface the decking this past April, making it safer for hikers, bikers, and equestrians alike.
"We know that recreation is very important to people in Seattle and the greater metro areas," said Olbrych. "And [the Gateway Bridge] is a very valuable asset that we need to protect."
NEEF Grants Supports Further Conservation Efforts
The National Environmental Education Foundation (NEEF), has supported the Greenway Trust's dedication to conserving public lands for some time. NEEF first partnered with the Trust in 2017, awarding them a Pollinator/Community Garden Grant for a proposed project in the Mt. Baker-Snoqualmie National Forest. The Greenway Trust worked in partnership with the Student Conservation Association and the City of Snoqualmie to create a beautiful pollinator garden at Snoqualmie Point Park.
"After a successful project and partnership with NEEF, the Greenway Trust was eager for the opportunity to request support from NEEF for a new project," said Caroline Villanova, the Trust's volunteer program coordinator.
That opportunity arose soon enough—the Greenway Trust applied for and was awarded an Every Day Event Grant from NEEF in December 2018. Thanks to financial support from Toyota Motor North America, this grant funded a series of conservation projects in the Middle Fork Snoqualmie Valley, including volunteer efforts for National Trails Day. The grant also contributed to the Greenway Trust's popular Women in the Woods program, which was first established in 2010 to address the gender gap in the trail community and provide a safe space for women-identified and non-binary outdoor enthusiasts to engage with the outdoors.
National Public Lands Day Attracts Record Crowds
The hard work and hundreds of volunteer hours put in by the Greenway Trust are beginning to pay dividends, as the Middle Fork Valley has experienced a dramatic rise in visitation in recent years. With a newly paved road completed in late 2017, this area is now easily accessible to the greater Seattle community for the first time. In May, the Rattlesnake Ledge Trail in the Snoqualmie Valley was named one of REI's Top 10 Hikes in Washington State.
To prepare for this increased visitation and ensure these public lands are not "loved to death," the Greenway Trust chose this year's National Public Lands Day to focus on creating new infrastructure including trails, sanitation, and signage, as well as maintaining existing recreational infrastructure through activities like trail maintenance and trash clean-up. When they put out the call for volunteers, the organizers knew it would be a popular event. But the response was bigger than they could have imagined—or planned for.
Image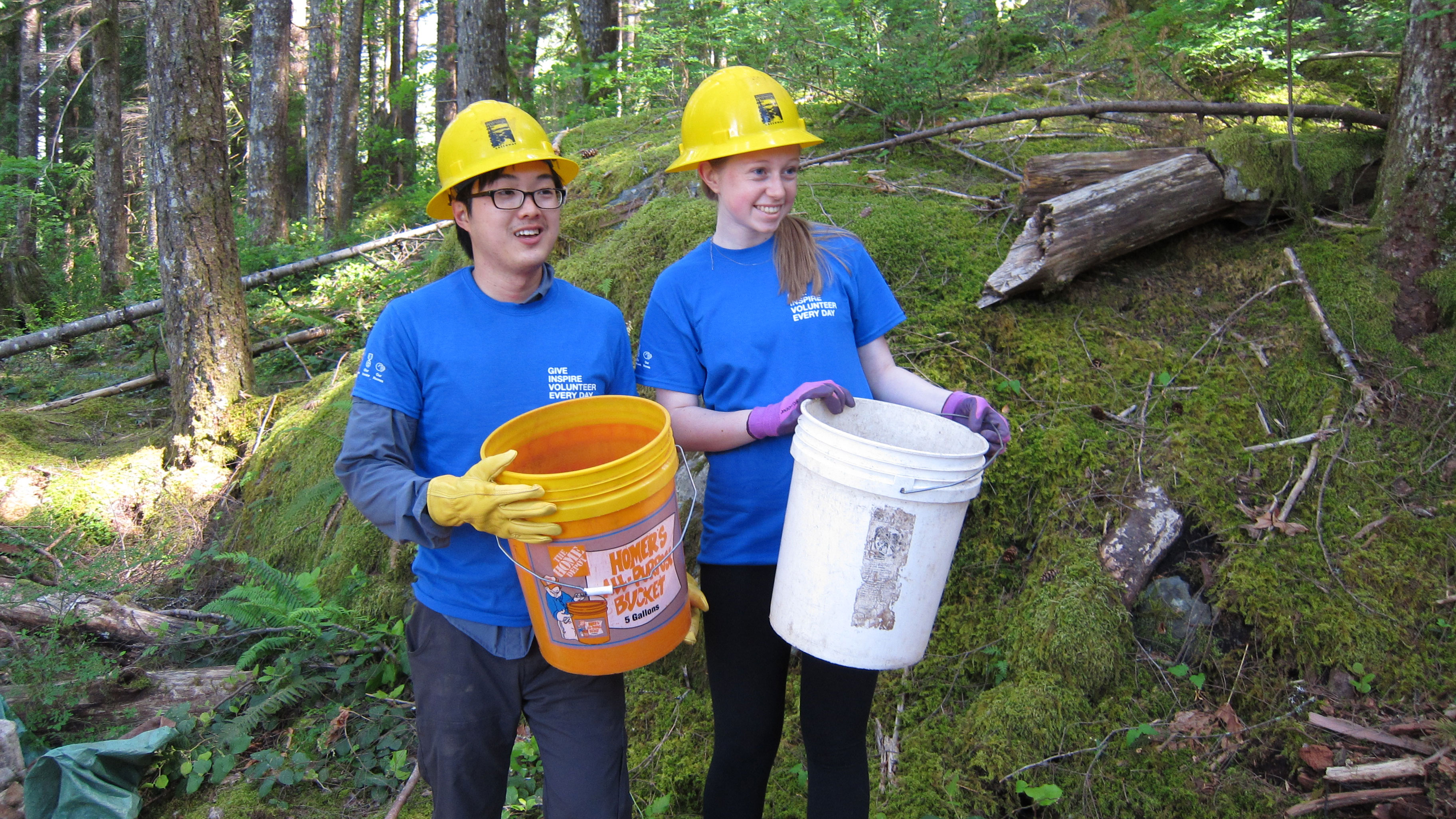 September 28, 2019 was a crisp, clear fall morning in the valley. It had snowed the night before, dusting the peak of Garfield Mountain with a picturesque white cap. As Villanova and the Greenway Trust staff finished setting up the staging area at the Middle Fork Trailhead, carloads of volunteers began to arrive and fill the newly paved parking lot.
By 8:45 a.m., the lot was completely full—and still the cars kept coming.
"It was quite impressive," said Villanova. "The trailhead was packed; we were parking people wherever we could find spots. We had to move our tents and registration tables so that we could have more parking for everyone."
Image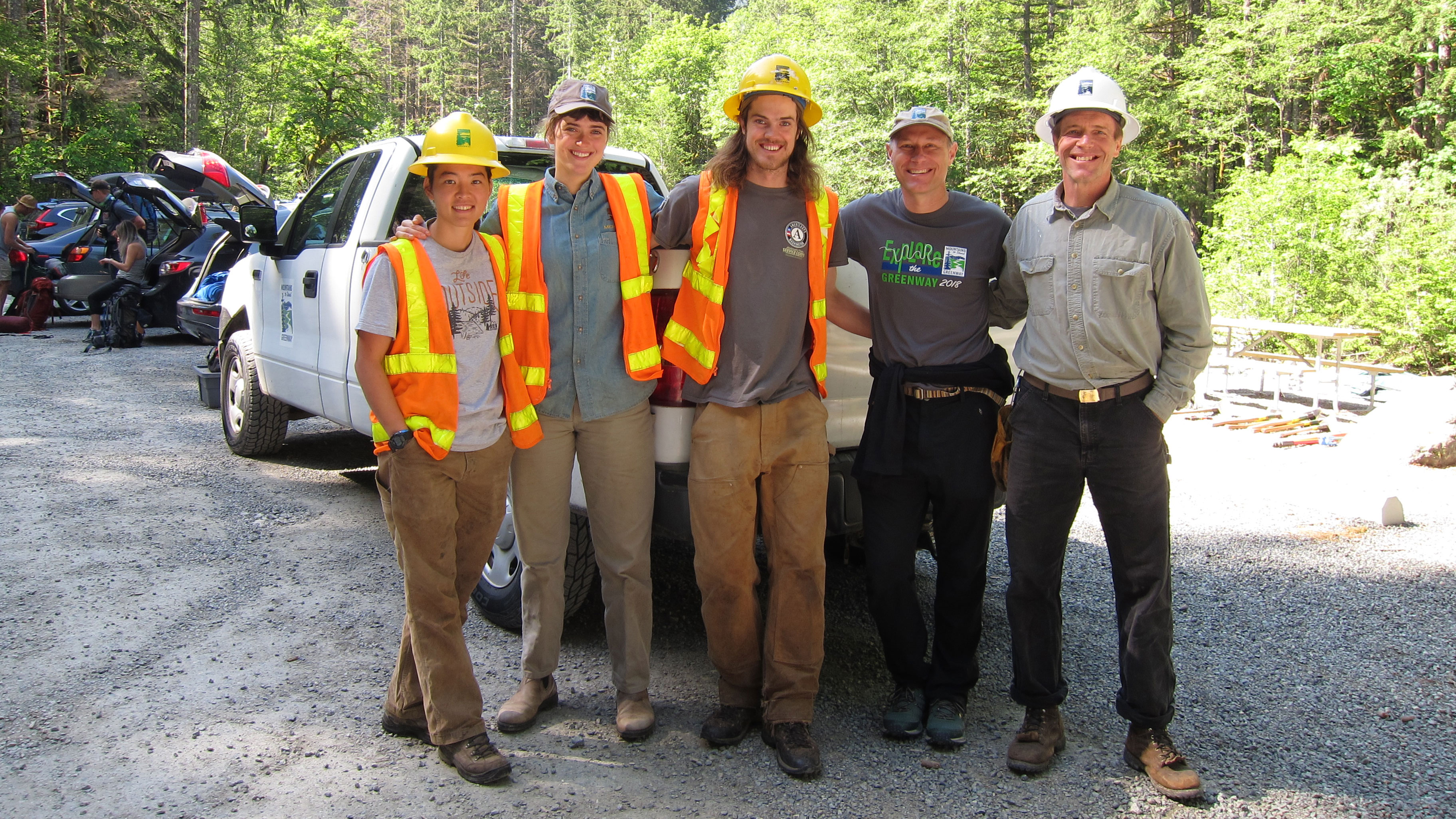 At final count, over 200 people turned out to lend a hand for their public lands. They came by car, on foot, and even via public transportation. When it comes to making a difference for the environment, it's all-hands-on-deck.
"Two years ago, King County Metro started a pilot project to kick off a trailhead direct bus service, so public transportation to trail. They were hugely successful at getting people to take public transit to visit our most popular trails in the Middle Fork Valley," said Villanova. "They actually donated their bus drivers and their shuttles [for NPLD]. The bus service said that our events have really reinvigorated their enthusiasm for people in general."
Greenway Trust staff helped the large number of volunteers break into 10 different project groups. One group hiked out to resume work on Garfield Ledges Trail; another group planted over 50 native plants at the Granite Creek Trailhead. A handful of volunteers removed 20 pounds of trash from several nearby trails. And a small team spent several hours building 11 picnic tables at the ADA-accessible day-use area. It's safe to say this community had been bitten by the volunteering bug.
"I was just so impressed by the overall level of engagement," Villanova said.
Greenway Earns Official Protected Status
There is no doubt that the Mountains to Sound Greenway Trust has made a huge impact on the people and public lands in the Middle Fork Valley. Over the past three decades, they have helped clear the area of rusting debris, developed infrastructure to support recreational activities, and made the valley more accessible for future generations to enjoy.
But the cherry on top of this conservation sundae came earlier this year, when the Mountains to Sound Greenway was officially designated a National Heritage Area through bipartisan legislation passed by Congress.
"At the end of the day, we're a small nonprofit, so support from our local partners and organizations like NEEF is crucial," said Villanova. "I think it really speaks to our ability to partner with different groups and help leverage resources where we can to make these things possible."
"Our mission has always been to bring everybody to the table," said Bell. "A third of our board is made up of the business community, a third is made up of community and conservation and recreation groups, and a third is made up of land management agencies. That methodology, that thinking, that belief that we're better working together has really informed how we've worked since the beginning."
Topics