News
NEEF Announces Winners of the Climate Superstars Challenge
The National Environmental Education Foundation (NEEF) is proud to announce the winners of the 2019 Climate Superstars Challenge, an annual online environmental education event presented by NEEF, Samsung, and the EPA's ENERGY STAR® program.
"The Climate Superstars Challenge is a great tool for educators to encourage student collaboration and convey the importance of environmental responsibility," said Meri-Margaret Deoudes, president and CEO of NEEF.
From October 21 to 31, 2019, middle school classrooms all over the United States completed daily tasks designed to raise awareness of energy consumption and provide strategies for being more energy-efficient and environmentally conscious. Classrooms that completed at least seven tasks, including taking the ENERGY STAR® Pledge, were automatically entered into a drawing to win five Samsung Galaxy Tablets with ENERGY STAR® Certification.
The contest drawing was held on November 4, with a total of 20 classrooms across the US selected to receive free tablets courtesy of Samsung. This year was the fifth annual Climate Superstars Challenge sponsored by Samsung and the first in collaboration with NEEF.
"Samsung is proud to expand its partnership with NEEF to advance 'Greening STEM' by creating and distributing teaching and learning resources year-round to educators and students," said Mark Newton, head of corporate sustainability for Samsung Electronics in North America. "By incorporating environmental problem solving into the middle school curriculum, we're supporting the next generation of eco-innovators."
Image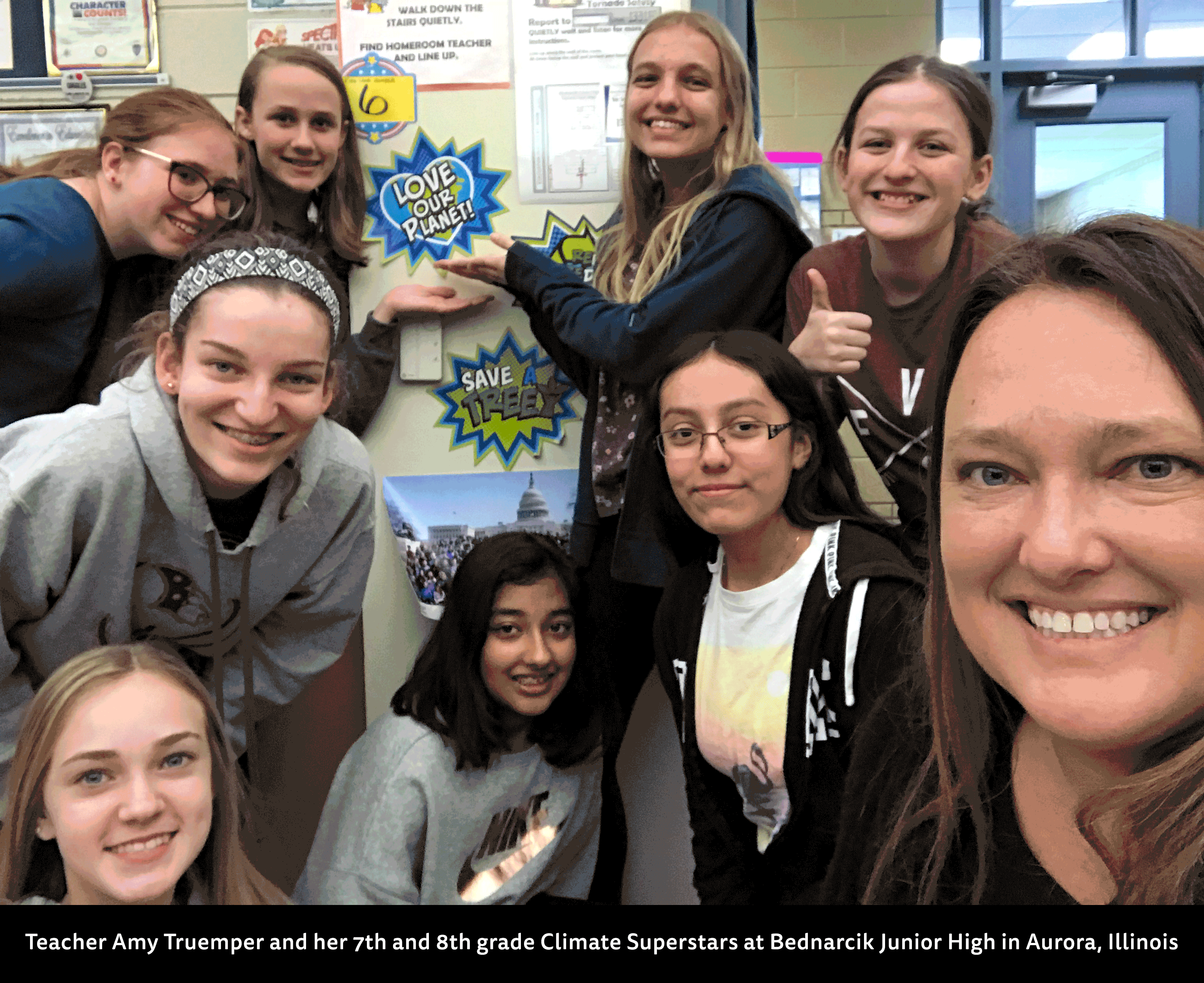 The participating educators had positive feedback about the program.  "The students' responses were overwhelmingly positive," said Patti Dugan-Henriksen, a science teacher at Groveton High School in Groveton, New Hampshire. "I was surprised that some of the students who normally aren't very engaged in class became very engaged and talked to other teachers, custodians, administration, and other students about energy. The discussions that ensued were incredibly valuable and meaningful."
Some classrooms even took what they learned and created solutions for their school.
"The most rewarding part of participating in the contest was to see my students' desire to extend what they were learning from the tasks," said Jim Maki, an Earth Sciences teacher at Aspen Ridge Middle School in Ishpeming, Michigan. "They identified paper towel waste in our restrooms, researched solutions to the problem, and presented a proposal to the school board to have energy-efficient hand dryers installed. The board agreed and has scheduled the installation of the hand dryers over the coming holiday break."
Here are the 2019 Climate Superstars Challenge winners:
Aspen Ridge Middle School, Ishpeming, MI
Bednarcik Junior High School, Aurora, IL
Canarelli Middle School, Las Vegas, NV
Clay County Middle School, Clay , WV
Crow Agency Public School, Crow Agency, MT
East Career & Tech Academy (ECTA), Las Vegas, NV
Eisenhower Science and Technology Leadership Academy, Norristown, PA (2)
Groveton High School, Groveton, NH
Hyde Park Middle School, Las Vegas, NV
Ionia Middle School, Ionia, MI
Julia Landon College Preparatory and Leadership Development School, Jacksonville, FL
Junction Avenue, K-8, Livermore, CA
Lakewood Middle School, Hebron, OH
Lakewood Middle School, Woodland, MI
Lyal Burkholder School, Henderson, NV
Oconto Middle School, Oconto, WI
Pinecrest Lakes Academy, Minneola, FL
Troy High School, Troy, MI
Topics