Story
More Than a Movement: Black Women Seek Diversity and Equality in the Outdoors
This year has been a challenging one for our country. Tragic events such as birder Christian Cooper's assault in Central Park and the nationwide Black Lives Matter protests in response to police brutality and systemic racial injustice and violence have forced many institutions, including the environmental movement, to confront their implicit biases and lack of diversity.
While this reckoning has been difficult, it has also produced some unexpected bright spots. Inclusive social media campaigns such as Black Birders Week, Black Hikers Week, and #BlackAFinSTEM have provided a platform for the underrepresented voices of Black, Indigenous, and People of Color (BIPOC) in the outdoors and challenged public perceptions of environmentalism by dismantling the stereotypes of what a biologist, botanist, or naturalist looks like.
With this in mind, we spoke with three Black women working in the natural sciences who have embraced these online movements as a way to amplify their environmental research and collaborate with other scientists of color. They represent the state of environmentalism as it is—enthusiastic about education, resolute in their stewardship, and committed to community action—as well as what it could be.
Environmental Science as Community Outreach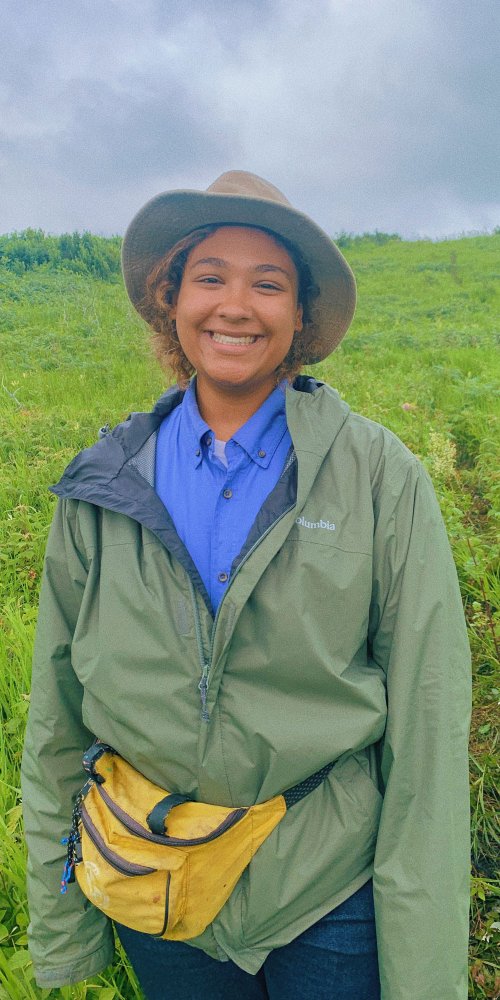 Miyauna Incarnato is a senior at the College of Wooster, about an hour south of Cleveland, Ohio. A native of nearby Akron, she is currently finishing her undergraduate degree in the school's new Environmental Studies program, which focuses on how conservation efforts affect the communities where she conducts her research on native bees and plants.
"I look at the social aspects of conservation, [as well as] the Indigenous places when we're talking about restoring certain land or using certain land for research," Incarnato said. "I'm looking at the land, but I'm also making sure I'm acknowledging if there is an Indigenous community that I can contact to get their opinion on what I'm doing. We can't just go in and plant a million flowers everywhere, because people live where we would like to plant."
A major part of Incarnato's research is dedicated to community outreach. In order to educate the public on the importance of pollinators and native plants on a local ecosystem, she must first understand what barriers exist for the average person when it comes to adopting more sustainable practices.
"As a scientist, I'm super biased. I feel like everyone should plant more flowers in their yard. That would be great!" Incarnato said. "But people aren't going to just move out of their homes so you can plant a prairie there. By better understanding what the community wants and what the community needs, we can also help the environment."
For Incarnato, that sense of community has always been tied to how she sees the outdoors. Growing up in Akron, she spent much of her youth hiking and playing in the metro area's parks with her family and friends.
"[The park] was a place where everybody had their outdoor birthday parties if they didn't have a yard. There were these big pavilions where everyone could gather—there were grills, kids could run around and play in the grass," said Incarnato. "It was like a community center without the building."
However, as she grew older and began to notice the growing incongruity in access to green spaces for economically disadvantaged families in America, those memories became bittersweet.
"I realized what seemed normal to me wasn't normal for everyone else. There are many, many people who grow up in an urban area or inner city who don't even have a concrete playground, let alone a park to hike in," said Incarnato. "I'm really grateful. I want everybody to be able to have that [access to the outdoors] because it helped me decide what I wanted to do with my life."
Hands-On with Horticulture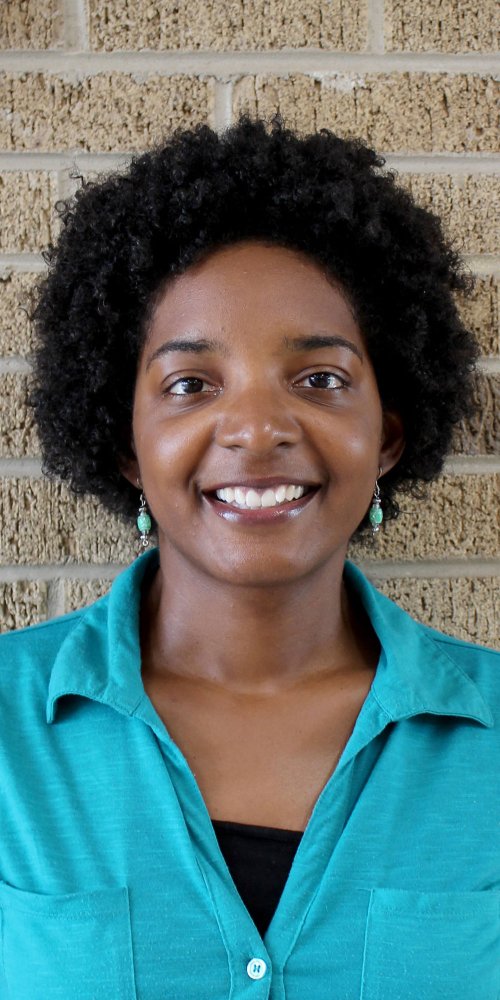 Like Incarnato, Daria McKelvey is also big into native plants.
"I like to call it my nerdiness about plants," said McKelvey. "If you get me on a topic, I'll just ramble on about plants and how great they are."
However, this wasn't always the case. Originally from Lubbock, Texas, McKelvey's fondness for flora didn't begin to bloom until high school. She attended the University of Texas at Austin to study plant biology, but her curiosity about native plants soon outgrew her coursework.
"There was this class I wanted to take on plant identification … but by the time I was eligible to take it as an elective, they had canceled the class," said McKelvey. This is unfortunately more common than you might think—the number of botany classes at universities is decreasing, and many are disappearing altogether.
"So I was like, 'OK, I'll do it myself.' I got books from the library on Texas wildflowers and would flip through them each night after I had done my homework. And I started learning how to identify plants on my own."
This hands-on approach to learning would go on to define McKelvey's life. After graduating from UT-Austin, she specifically chose the horticulture program at Texas A&M—in her hometown of Lubbock—because she wanted to work more directly with native plants.
"I respect lab work and everything, but it's not my forte," McKelvey said.
When searching for a career in horticulture, she knew she wanted to work somewhere she could help people see the beauty of native plants as she did.
"Plants tend to get left out quite a bit despite how important they are to our lives. I think everybody could easily identify 20 animals if they were given a test. But if they were given 20 plants, it's not going to go as well."
She decided to apply to the Missouri Botanical Garden in St. Louis on a whim. She had been aware of the Garden for a while—"I used their plant finder database all the time in grad school," McKelvey said—and sure enough, a position in their Kemper Center for Home Gardening was open.
Fast-forward to today, and McKelvey is now the supervisor of the Center for Home Gardening and manages 70 garden volunteers. She and her team conduct home gardening outreach to help other burgeoning plant-lovers care for their sick plants and inspire them to grow new ones. They also operate a horticulture hotline, an email service, and a website for gardeners all over the country to receive expert answers to their burning questions.
McKelvey also manages the Missouri Botanical Garden's Plant Finder Database—the same one she consulted in grad school—with over 8,000 detailed profiles on native plants all across North America.
"I tell people all the time: each plant has its own personality. They all have their own likes and needs. And if you don't cater to that, of course the plant's going to die. It's not that somebody has a 'green thumb,' they have just done their research and know how to care for their plants in the right way."
Bringing Outdoor Education to the People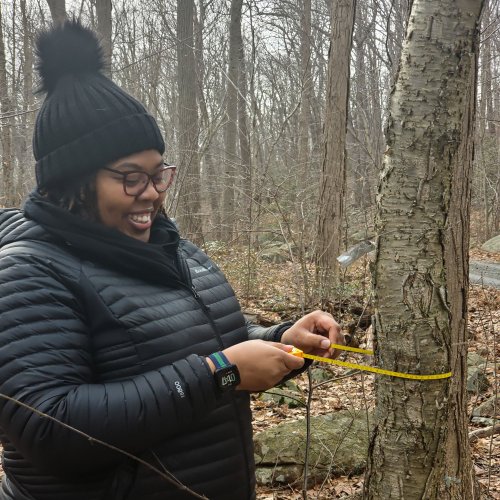 Angie Patterson knows a thing or two about educating the public on native plants. As a Master Science Educator at the Black Rock Forest Consortium in upstate New York, she serves as the primary liaison between the Forest and several groups, including public and independent K-12 schools, several colleges and universities, and institutions like the American Museum of Natural History.
"I work closely with teachers, researchers, and conservationists to develop and implement environmental science education and programming for a variety of age groups," said Patterson. "I connect forest research and conservation to educational programs, support citizen science activities based in the Forest for students and the public, and ensure that all programs promote cultural competence, diversity, equity, and inclusion."
Growing up in the Poconos in northeast Pennsylvania, Patterson was immersed in the outdoors at a young age. An avid animal lover, she enrolled in Cornell University's animal science program with dreams of working for National Geographic.
"Unfortunately, as a first-generation college student, I really struggled in the academic environment that pre-vet majors experienced. I didn't really have proper support and advising in my first year," said Patterson.
Shifting gears, she began to take more classes in environmental science, eventually switching to a natural resources major.
"The concepts presented to me about how the natural world works, the systems that interact to create a balanced and healthy ecosystem, was so intriguing," said Patterson. "I then decided to pursue graduate study and learn more about how plants work and how they respond physiologically to our changing climate. It has been an interesting and ever-evolving journey that I am grateful to have experienced."
Patterson's favorite part of being a Master Science Educator is engaging with other educators and researchers to brainstorm and create new curriculum and programming for students.
"The COVID-19 pandemic really challenged me and many educators to think about how to adapt forest ecology lessons and activities to an online or virtual experience, which are typically place-based and immersed in our 3,914 acre forest." said Patterson. "The recent anti-racism movement has also prompted all of us to think about how we can promote a welcoming, safe space and enriched experience for groups from diverse backgrounds—something that I have always supported and am passionate about."
Inequality in the Outdoors
When speaking with these three environmentalists, their passion for their work and for the well-being of the planet is clear. What is also clear is the adversity they continue to face as women of color in an industry that is overwhelmingly white and predominantly male.
"The environmental/green movement has historically been a white movement with very little representation from women, let alone men and women of color, being allowed to sit at the table," said Patterson.
"I didn't really have any role models growing up because it's rare to find someone who's Black in horticulture, or even just botany," said McKelvey. "[At the Missouri Botanical Garden] there's only three other Black horticulturists on the grounds. When I first got here, that was the first time I had ever met another Black horticulturist. And in the same way that I was amazed to see them, they had the same reaction, because they had also never met another Black female in horticulture."
Even outside of work, this feeling of inequity and "otherness" in the outdoors persisted.
"I'm part of a Black hiking group. If any of us want to go hiking, we have to ask 'Has anyone been on this trail before? If you're by yourself and you're Black, are you going to be OK? Is anybody going to bother you?'" said McKelvey. "We have to think about these things whenever we go out hiking anywhere, which is unfortunate."
"I have been fortunate to have had very positive experiences during my time conducting research in the outdoors," said Patterson. "However, as I've grown older, there is this inhibition in myself to totally let my guard down and experience the outdoors in the way that perhaps a white person may experience. The early naiveté that I once had quickly gets checked every time I see negative encounters of Black and brown people outside, whether they are going for a run, a bike ride, or a stroll in the park."
Incarnato believes the disparity of experiences on public lands is divided not just along racial and gender lines, but socioeconomic ones as well.
"I think the outdoors is a place of equality, but the way we present it to people is inherently unequal," she said. "I was lucky enough to have parents who didn't have to work all day and could take me to the park, but it's a different situation for many people, even in my own neighborhood."
In addition, Incarnato notes that many public parks are located in more affluent communities, and are generally better cared for or have more free programming available when compared to similar spaces in a different neighborhood.
"As a kid, it never occurred to me that you might have to pay to go to a park," she said.
How to Fix a Fractured Environmental Movement
When it came to addressing inequality in the outdoors, the group had plenty of ideas to share. Patterson noted that the first step to fixing this issue is to confront the legacy of racism and oppression that spawned it.
"The barriers that exist for all groups to enjoy the outdoors as intended have been manifested and, in some cases, historically constructed as a result of environmental policies that have allowed for the degradation of natural spaces and prohibited movement through a lack of safe transit routes, as exemplified by the existence of the Negro Motorist Green Book," she said.
Incarnato stressed the importance of investing in communities and providing more equitable access to nature to help foster a sense of stewardship.
"By investing in communities and teaching children to love nature, they will pay that back in volunteering and caring for the environment," she said. "I want to invest my time and energy into preserving and caring for national parks and other public lands. Why? Because I was able to enjoy those places as a child. You get back from the community what you put into it."
All three women agreed that increased representation in the outdoors, as evidenced by recent social media campaigns such as Black People Who Hike and #BlackAFinSTEM, were an encouraging sign that things may be trending in a more positive, inclusive direction.
"I am absolutely elated. It's about time that we show the world that Black people do science, enjoy science, are brilliant at it, and have and still are contributing so much to it," said Patterson.
"I started my 'Science Twitter' about a year ago as a way to connect with professors and other students and programs when I was beginning to think about grad school," said Incarnato. "It's nice to see so many people supporting each other. It's giving me the chance to amplify voices, to meet more people in different communities, and to diversify my feed so I can hear other people's experiences as well."
"I actually found a couple people in my area that I didn't even know were doing research nearby, so I'm hoping to connect with them soon," said McKelvey. "There's not that many Black people in horticulture or doing related research, so it was eye-opening for me to see how many people are actually out there."
Painting a Vivid Portrait of the Future of STEM
As women of color in STEM (Science, Technology, Engineering and Math), Incarnato, McKelvey, and Patterson believe they each have their own role to play in shaping the future of the outdoors, and that includes mentoring the next generation to pursue their dreams of a career in STEM.
"I think younger people are seeing this [inequality in the outdoors] and they are reinvigorating and revamping the environmental movement and field of study to be more inclusive," said Patterson. "I am inspired by it every day and I remain optimistic that representation in this movement will no longer be a question."
"I still feel like I have a lot to work on, but as a Black female horticulturist, I see myself as a role model in a way," said McKelvey. "Even just walking the grounds, if a little Black kid walks by, their eyes are going to be opened. It's very important for young people to see someone who looks like them and say, 'I see myself doing that.'"
"My own personal motto is 'Give more to the world than it gave to you,'" said Incarnato. "So if you only had three feet of grass when you were a kid, when you grow up, make sure some other kid has a whole yard."
Topics