Story
The YMCA Keeps the Learning Rolling in Summer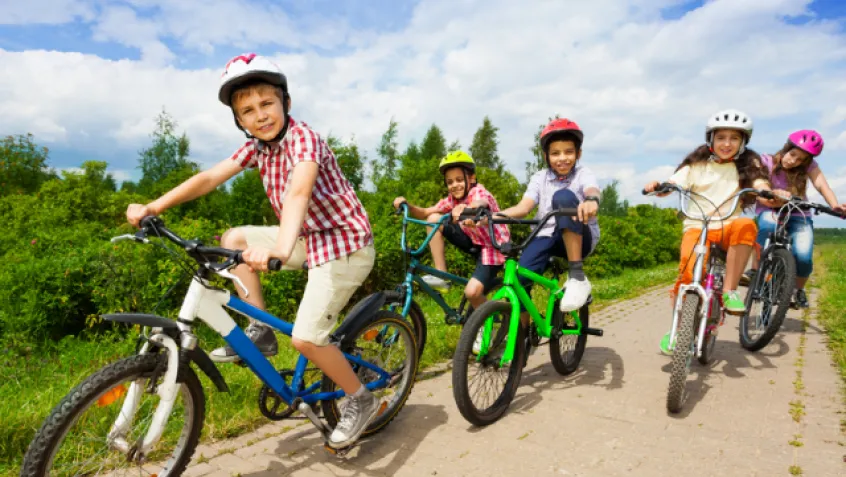 Though the summer slide sounds like an exciting new piece of equipment at the local park, it really describes the decline in students' achievement scores over summer vacation. But what if learning could be an adventure that stretched into vacation time? The Greater Philadelphia YMCA offers a creative program that gives local students a chance to enjoy the summer weather, set out on new adventures all while learning about science and their community.
Image

The Watershed Education by Bike program, or WEB, was launched in 2013 by the Rails to Trails Conservancy (RTC) and passed to the YMCA of Burlington and Camden Counties (now the Greater Philadelphia YMCA) in 2014. This grant-funded program offers free after-school activities and a free summer camp experience for youth, ages 5-14, to participate in bike riding and learning events designed to teach them how different factors affect the watershed and ecosystem.
 "Our program is very community-oriented," said Senior Director, Community Youth Programs at the YMCA, Justin Spencer-Linzie. The community he is referring to is Camden, New Jersey. Located just across the Delaware River from Philadelphia, Camden is a former industrial boom-town where the median household income is roughly $26,000.  One of the key components of the program is supplying middle school-aged students with bikes and helmets during their after-school setting.  "By bringing bikes, our staff was able to take kids to different locations and get them in touch with the community," said Spencer-Linzie. During the summer camp, students ride about five miles a day to different locations.
If You Pitch It, They Will Come 
But the program team at the Camden office of the YMCA couldn't just sit back and recruit kids from their YMCA facility—they didn't have one.  According to Spencer-Linzie, their organization's initiative of, "Y without walls model", gave them the chance to actively work with teachers and recruit students from local schools to be part of the program.
"You have to really work in partnership with the schools and make them see the benefit for why something like this is important," he said.
Jaimee Cliver, director of community youth programs, agrees. "We would attend parent open houses and back-to-school nights to be present in the community and get to know them."
The YMCA team was able to provide curriculum, materials, and staffing as well as handling partners and logistics to secure supplies, such as bicycles, for the program at no cost to the schools. "Our staff was providing curriculum and activities that closely align with the topics teachers were already implementing during the school day," said Cliver. "If the kids didn't like Phys. Ed or were struggling with STEM classes, our program was an additional path for the Y during after-school time to connect and engage these students."
Partners Help Extend the Program
By reaching out to school champions and working with community partners the YMCA team was able to provide free programming to about 300 students in underserved communities during the spring and summer of 2018. Local business provided bikes and busses for transportation.
Through NEEF's Greening STEM grant, the YMCA was able to add an additional week and longer days to the 2018 Cycle and Science Camp experience, extending it to five weeks with 6 hour days, to include trips to distant locations of the Circuit Trails, including the Schuylkill River Trail in Philadelphia and the Delaware & Raritan Canal State Park Trail in Trenton, NJ. Over the course of the camp, middle school-aged students collected water samples and used water quality test kits to evaluate the samples to determine storm runoff. Guest speakers visited from Cedar Run Wildlife Refuge and the Philadelphia Zoo to enhance lessons with live animals. Students also visited a rain garden supported by the Camden SMART (Storm Water Management and Resource Training) initiative, saw green infrastructure in action, and learned how to safely navigate the city by bike. The YMCA also purchased a high-powered compound microscope for older students to use and compare various water samples. Even more importantly, they got to know their community.
Cliver recounts one student, named Charles from Palmyra, New Jersey, who had a change of heart after the camp:
When Charles found out our last bike trip would be to Camden, he was very apprehensive and said he didn't want to go.  After spending time in a few community gardens, meeting local police officers, and riding the Circuit Trails in Camden, Charles had changed his mind. He said, "I was scared to come to Camden at first…but I like it here. You can feel the love!"
NEEF, with funding support from Samsung, has distributed nearly $30,000 in funding to programming that provides place-based, hands-on learning experiences on a public land or waterway. For more information about NEEF's grant programs, visit NEEFusa.org/grants.
Check out the Watershed Education by Bike Resource Guide.
Topics