Story
How Olmsted Parks Conservancy Protects Biodiversity by Tackling Invasive Species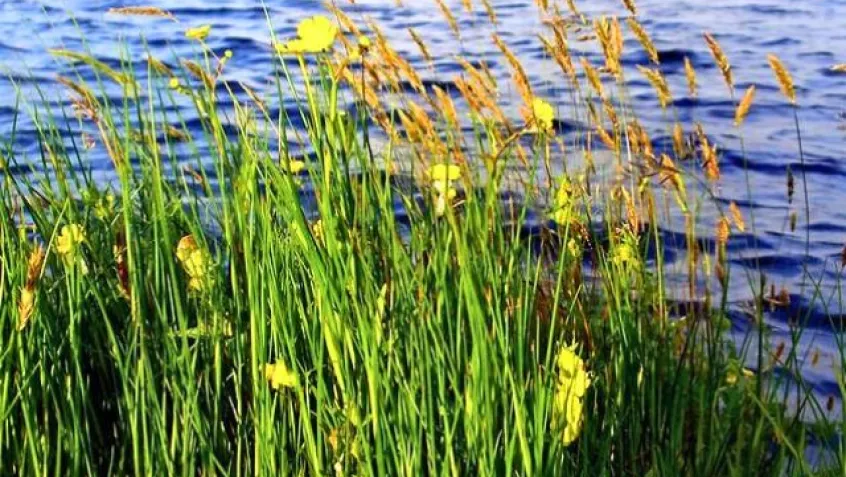 Invasive species are one of today's biggest environmental challenges. 
Often spread unintentionally by human actions, non-native organisms can quickly become a nuisance because natural "checks and balances" do not exist for them outside of their native ranges. More than 6,500 invasive plant and animal species can now be found in ecosystems across the United States, causing billions of dollars in damages per year.
In Louisville, Kentucky, Olmsted Parks Conservancy works to protect 17 interconnected parks and parkways within the city. A stewardship team of staff and volunteers is focused on protecting, restoring, and enhancing the park system, including through the management of invasive species.
"A lot of our parks are very small and fragmented. Every park edge or trail into a prairie or wooded landscape is a place where invasive species can enter," said Liz Mortenson Winlock, Olmsted Parks Conservancy Project Manager.
Supporting Pollinators at Chickasaw Park
Controlling invasive species is critical to preserving Kentucky's biodiversity and maintaining the mutualistic relationship between native plants and pollinators. 
Olmsted Parks Conservancy received a $75,000 Biodiversity Conservation Grant from NEEF and Toyota Motor North America in 2023 to install a pollinator meadow at Chickasaw Park. This culturally and historically significant park was one of the few designed specifically for Louisville's Black community during segregation. It is also known for being Louisville native Muhammad Ali's favorite park.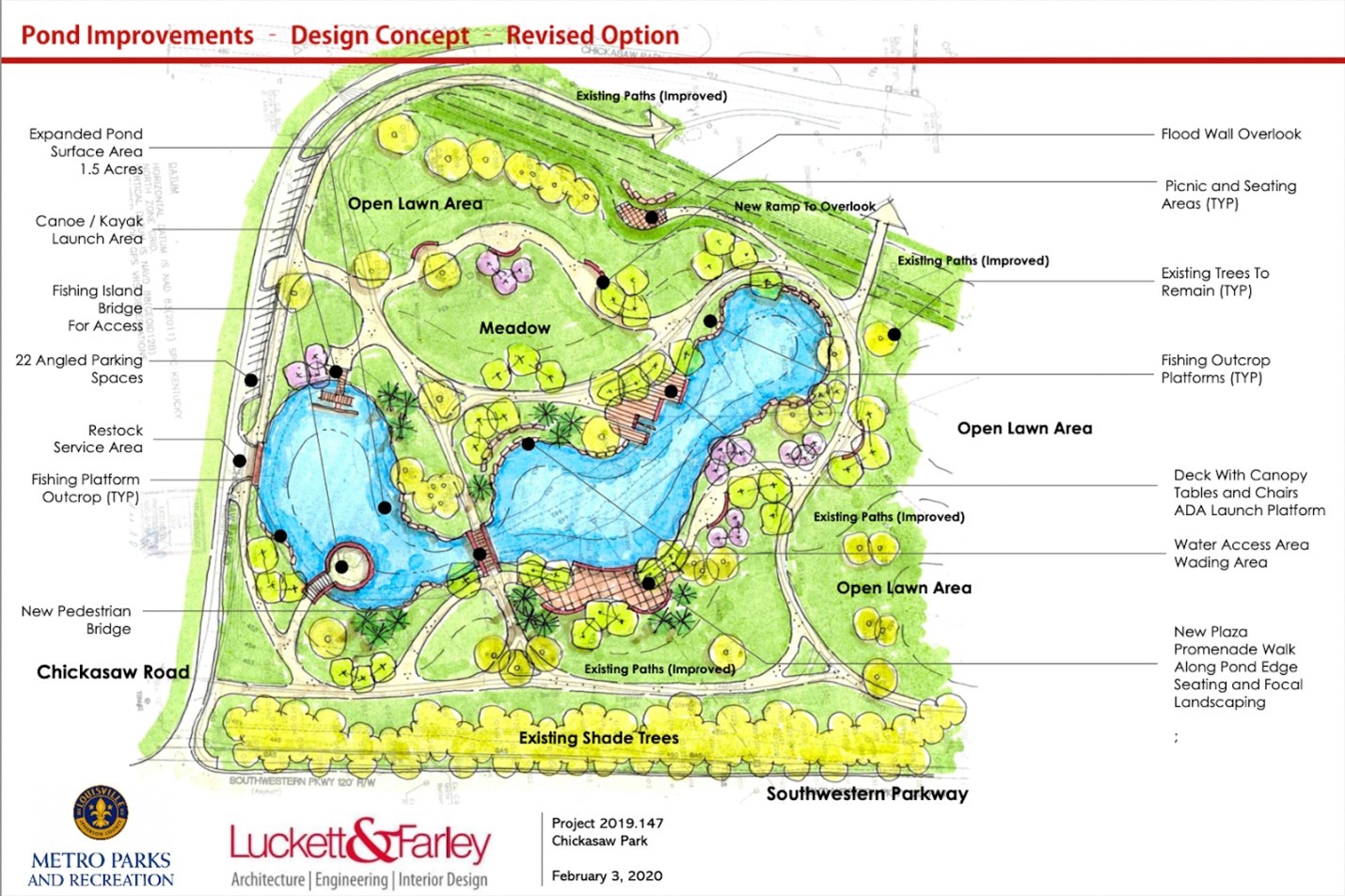 Named the "Butterfly and Bee" pollinator meadow in homage to Ali, Olmsted Parks Conservancy will replace an area currently covered in turf grass with a variety of native plants that provide food and habitat for pollinators, which play a critical role in the ecosystem because a wide variety of native plants rely on them to reproduce. In the coming years, the conservancy's team will closely monitor the site for invasive plants, protecting pollinators throughout their life cycles and the future of native plants in the region.
The conservancy also aims to keep the community engaged throughout the process, working with volunteers such as the neighboring West Louisville Tennis Club. 
"To preserve the connectedness of our urban park system and ensure the parks remain accessible, we work with neighborhood groups to help keep the focus on our local park neighbors and elevate their voices," Winlock said. "Every park has slightly different needs."
What Are Invasive Species?
Invasive species often bring a variety of negative biological, economic, and aesthetic impacts. They are a threat to biodiversity because native species are not adapted to compete with them and they do not have natural predators. About 42% of all threatened or endangered species are at risk primarily due to the impacts of invasive species.
Winlock noted that not every non-native species is a nuisance. "A non-native plant is not necessarily scary unless it begins overtaking an ecosystem. If it reproduces so aggressively that it holds back other species, that is what we want to target," she said.
A few of the most concerning invasive species in the Olmsted Park system include the spotted lanternfly, as well as plants that reproduce very quickly such as ailanthus ("tree of heaven"), johnsongrass, and Japanese knotweed. Ailanthus, one of the fastest growing trees in North America, is a compounding problem because it is the primary host plant for the spotted lanternfly, an insect that can also quickly spread to wreak havoc on many types of native trees.
Winlock points to the rivet hypothesis as an illustration of why protecting biodiversity is so important. The same way that rivets hold together a plane or ship, so do native species. If one species fails, the ecosystem can only continue to function if enough other native species are preserved. 
"Invasive species can quickly disrupt the balance of the system as a whole," she said.
Building Biodiversity Through Teamwork 
Olmsted Parks Conservancy enlists a team of park stewards including five full-time staff and a strong roster of trained volunteers to help the park system stay vigilant against the threat of invasive species, along with a wide range of other important park maintenance projects.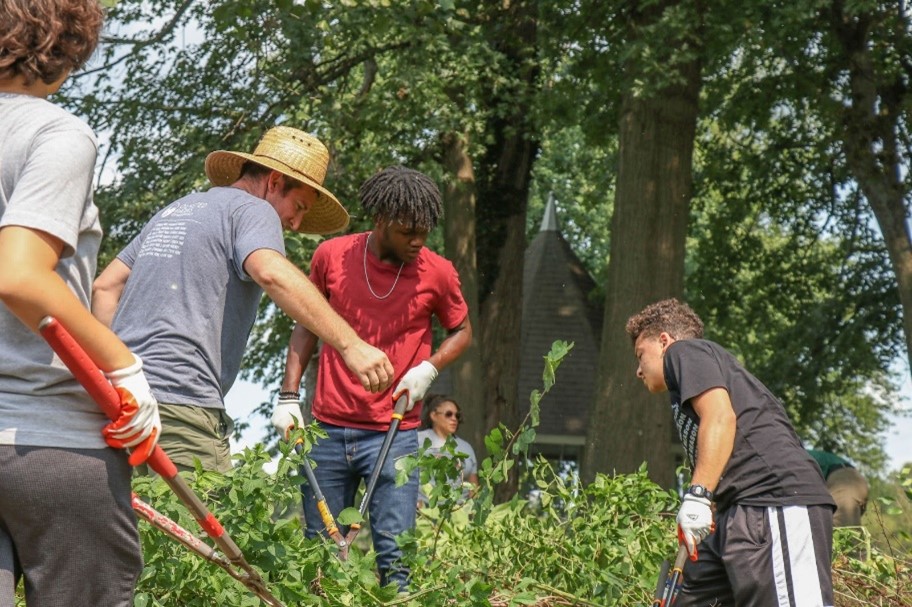 Park stewards go through training for herbicide application and plant identification before assisting with year-round invasive plant species removal. They also take time to learn about the "why" behind a specific task.
"For example, if a team is working to remove invasive porcelain-berry, we explain why the plant is an issue and how to cut high and low during removal to protect the underlying tree. We discuss the target, the method, and the reason behind it," Winlock said.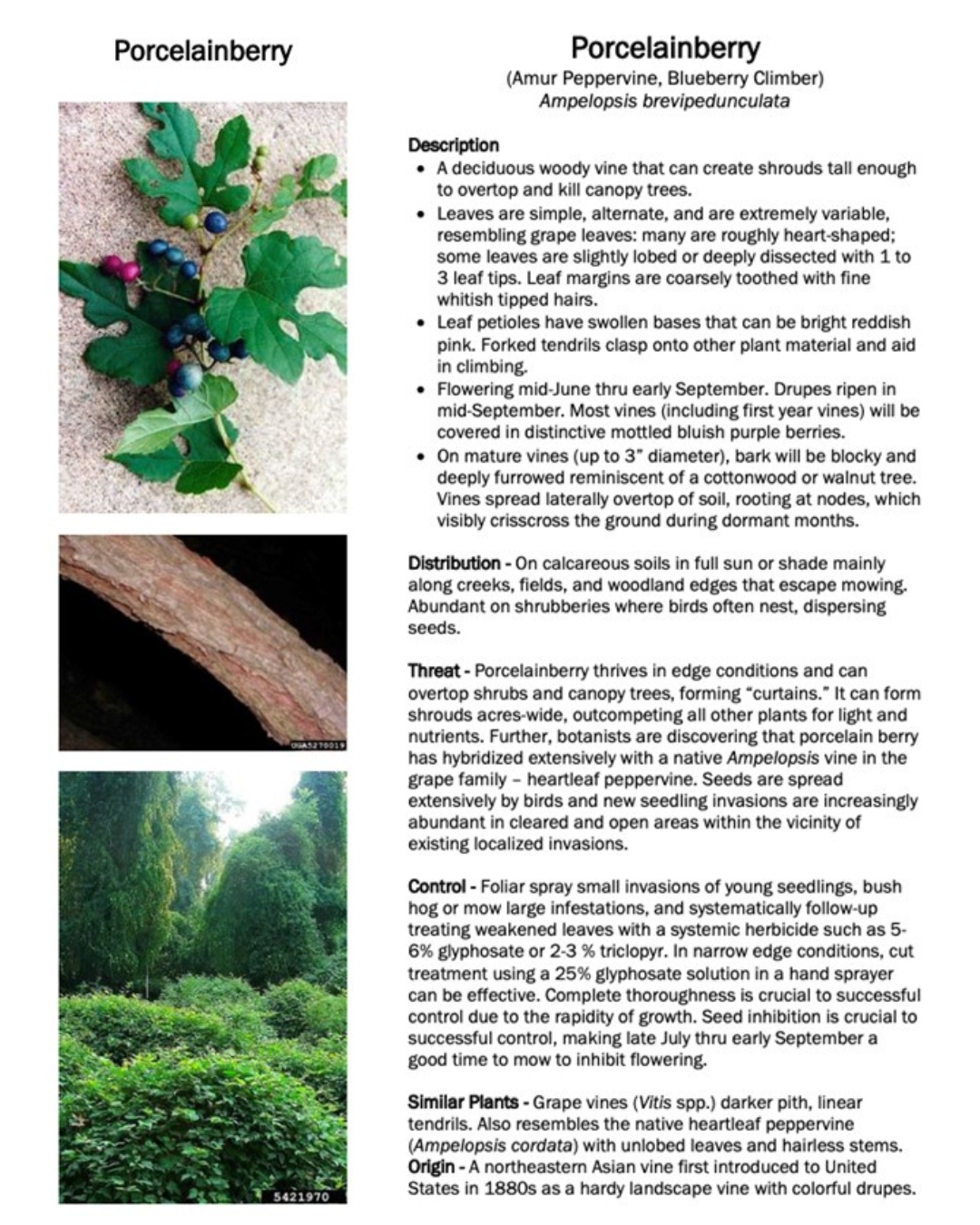 Their hard work is paying off. One example of recovery can be seen at Cherokee Park, where the hardwood canopy was devastated by a tornado in 1974. The newly-opened forest floor was first taken over by invasive bush honeysuckle. Later, existing trees were killed by the invasive emerald ash borer. A strategic stewardship effort by the conservancy began in 2006 to survey the forest, install prairies, and plant additional tree species. 
"Today, the trail system is more widely used. The addition of a variety of plants of different ages and types instead of a "wall" of a single type of plant has added a perceived safety benefit to the park, and we've seen less antisocial behavior," Winlock said.
Image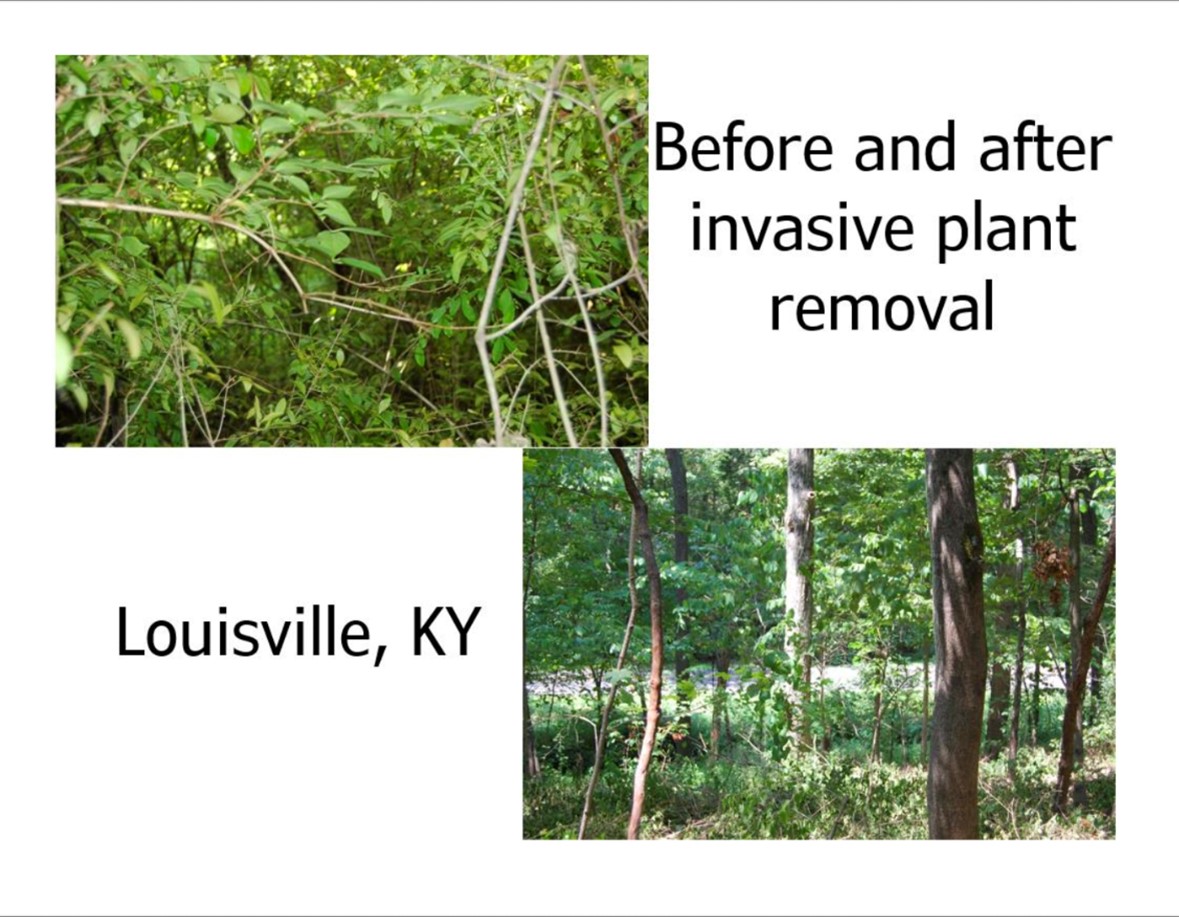 You Can Help Prevent the Spread of Invasive Species
No matter where you live, you can take action to protect your local park ecosystems from the threat of invasive species. Follow these tips to be mindful when moving in outdoor spaces.
Do your research. Visit a park's website or visitor center to learn about any invasive species that are top of mind in the region.
Clean your boots. Use boot brushing stations to clean off your boots before and after you go hiking.
Don't pack a pest. Do not unintentionally transport pests and diseases by carrying agricultural and food items in your luggage when you travel.
Don't move firewood. Use local firewood when building a campfire. Don't bring firewood in from another area because it can harbor invasive insects.
Don't let pets loose. Do not release turtles or other pets into the wild or dump aquariums into waterways.
Because early identification of invasive species is critical, Winlock also recommends using a citizen scientist app on your phone like iNaturalist to identify and log any unusual or new-to-you plants or animals that you see when out in nature.
"We can't expect land managers to be everywhere, all the time. If you see something interesting, take a photo and add it to the app. You can have a huge impact," she said.
Learn More About Invasive Species
Educators and students can access free resources from NEEF to learn more about invasive species and get involved in volunteer events near you. 
Topics