Story
NEEF's "Asthma-friendly Environments" Program Sets 2019 Record for Views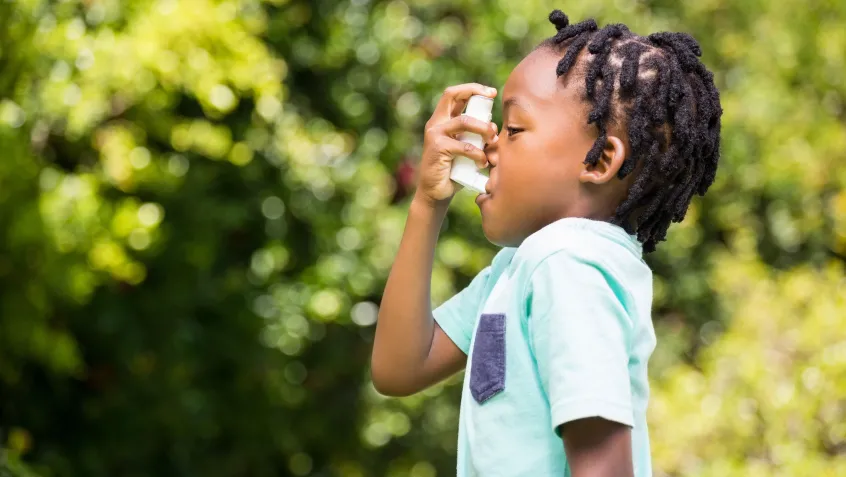 For over 15 years, the National Environmental Education Foundation (NEEF) has worked closely with the Centers for Disease Control and Prevention (CDC) to develop guidelines for healthcare professionals regarding chronic conditions such as pediatric asthma. The main goal of this partnership is to integrate environmental management of asthma into pediatric healthcare in order to improve health outcomes for children with asthma.
To reach this goal, the Health & Wellness program at NEEF provides a wealth of online resources for healthcare professionals, including white papers, intervention guidelines, patient handouts, and e-learning courses.
According to viewership numbers provided by the National Association of School Nurses (NASN), "Creating Asthma-friendly Environments and Promoting Access to Guidelines-based Care for Children with Asthma," a learning activity developed in partnership with NASN and NEEF, has been viewed almost 14,000 times this year. To put this in perspective, NASN has around 17,000 registered members, with an estimated total reach of about 50,000 when including affiliate organizations and prospective and former members.
This makes it not only the most-accessed course for 2019, but also one of the highest-viewed programs of all time on NASN's online learning center.
Partnership with National Association of School Nurses (NASN)
The National Association of School Nurses (NASN), a nonprofit professional association based in Silver Spring, Maryland, focuses on expanding the knowledge and influence of school nurses in order to build a culture of health in communities where students live, learn, work, and play.
"We first partnered with NASN in 2018," said Vernessa Perry, Health & Wellness program director at NEEF. "We wanted to determine what gaps exist in meeting the needs of students diagnosed with asthma and identify how we could better prepare school nurses to fill those gaps."
NEEF's original Pediatric Asthma Initiative, "Environmental Management of Pediatric Asthma: Guidelines for Healthcare Providers," was geared more towards educating and training physicians on identifying and eliminating environmental triggers for asthma. This program helped train tens of thousands of healthcare providers through a "train the trainer" format. Upon completing the course, physicians would be qualified to pass on this knowledge to their colleagues, medical students, and other medical professionals.
However, as a result of their research, Perry and her team discovered that the benefits of this established asthma program were not reaching children where they spend a large part of their day—at school.
"Many kids are in school over 8 hours a day, and the likelihood of an asthma attack during that time is high," said Perry.
Her team noticed that school nurses have different standards of practice than the physicians they had been focusing on. By partnering with NASN, they were able to revamp the program to better align with established practices and peer review standards for school nurses.
"Children are encountering healthcare professionals differently," said Perry. "For many families, the school nurse is the first healthcare professional kids will seek out. We needed to think about access."
Developing an Environmental-based Pediatric Asthma Program
Perry presented her findings at the NASN2018 Annual Conference in Baltimore as part of a four-person panel of medical faculty. She addressed the urgent need for school nurses to identify environmental triggers and implement evidence-based environmental interventions that help manage and improve health outcomes for students with asthma. This was part of a larger conversation on improving the "indoor environment" of homes and schools, which includes things like air and water quality, as well as the presence of pets, mold, and pests.
Using NASN and NEEF's combined resources, the presentation was then adapted into an online course and uploaded to NASN's online learning center in November 2018 as part of their continuing education program. Registered nurses who complete the course receive 3 contact hours towards completing the National League of Nursing's Certification for Nurse Educators (CNE). To date, almost 1,200 school nurses have completed the course.
"Each year, students enter schools with chronic health conditions, including asthma," said Donna Mazyck, executive director at NASN. "Partnerships such as this one with NASN and NEEF provide school nurses evidence-based actionable strategies for keeping students with asthma healthy, safe, and ready to learn."
Feedback for the "Creating Asthma-friendly Environments" program has been generally positive.
One nurse commented, "This could not have come at a better time for me as a school nurse currently dealing with out-of-control asthma students as well as service animals in classrooms." Another said they intended to educate school staff and families regarding asthma triggers and management, and "will also add increase follow-ups to make sure parents and staff follow through management procedures to prevent asthma attacks to reoccur."
Increasing Accessibility for Asthma Education and Training
Why is this pediatric asthma program so popular with school nurses? Perry believes it's because her team's partnership with NASN helped them develop guidelines-based care that specifically targets school nurses.
"It provides relevant info that aligns with their daily responsibilities," Perry said. "It also offers focused training on dealing with a chronic issue that impacts so many children."
Perry and the Health & Wellness team at NEEF are currently in the process of adapting the original "Environmental Management of Pediatric Asthma" guidelines into a more-accessible e-learning format. This will allow physicians, nurse practitioners, health professionals, parents/caregivers, and other childcare professionals to benefit from the same level of education and training to identify environmental triggers for asthma.
"We want to continue to develop programs that positively impact children's health," said Perry. "Asthma can be controlled, but you have to be educated on self-management. Follow your asthma action plan, recognize and avoid triggers, take medication as prescribed, use inhalers properly, and protect yourself from cold and flu. You can control your asthma!"
Topics