Story
The Right Mix of Screen Time, Nature Time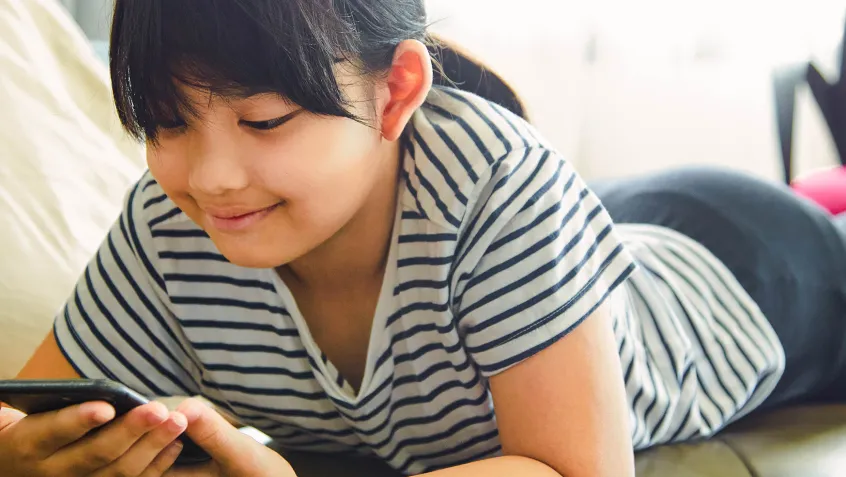 Many of us had a love-hate relationship with "screen time" over the past year. More hours spent in front of television, computer, and gaming screens have been an unsurprising side effect of the COVID-109 pandemic. This has been true for kids, too
Kids and Screen Time 
Before COVID-19, 60% of parents said that their kids spent no more than three hours on devices each day. Six months into the pandemic, 70% estimated that their kids spent at least four hours a day in front of a screen. Additionally, Nielsen data shows that ages 6-17 recorded a 300% increase in mid-day TV viewing.
Another survey of parents found that, during the pandemic, there was a 500% increase in the number of children that spent more than six hours a day online. In 2020, kids spent most of their screen time watching online videos. More than a third of children ages eight or younger watched videos online every day.
Screen Quality Matters
Some screen time can be a good thing. The key is seeking out quality screen time that is interactive, educational, and age appropriate.
For example, the World Health Organization (WHO) suggests active video games and online exercise classes as a way to stay healthy at home. Rather than focusing on the number of hours, UNICEF recommends that parents pay more attention to what kids do online and the type of digital content they experience.
However, too much or poor quality screen time has been linked to negative side effects for children including obesity, sleep disruptions, and lower grades in school. And some researchers have connected screen time with obesity and depression in teenagers.
Screen Time Recommendations by Age
The American Academy of Pediatrics (AAP) makes the following screen time recommendations for kids:
18 months and younger – Screen time is discouraged, unless video-chatting with family and friends..
18 to 24 months – Parents can introduce high-quality digital media to their children and watch it together rather than letting children use media by themselves.
Ages 2 to 5– Limit screen time to only one hour a day of high quality programming on weekdays and three hours on weekend days.
Ages 6 and up – Encourage healthy habits and limit activities that include screens.
Tips to Set Reasonable Screen Time Limits
The WHO recommends that children younger than age five need to spend less time sitting watching screens—and more time dedicated to active play—to grow up healthy. Unstructured playtime is important for a young child's developing brain.
Physical activity has many health benefits for all ages, from reducing the risk of cardiovascular disease to improving mental health. But most US adults and kids are not active enough. In 2017, less than a quarter of all kids ages 6-17 participated in 60 minutes of physical activity a day, the level recommended by the U.S. Department of Health and Human Services.
 
Here are some tips from the Mayo Clinic to help kids develop healthier screen time habits:
Prioritize unstructured playtime.
Create tech-free zones, such as during meals.
Set and enforce daily or weekly screen time limits and curfews.
Eliminate background TV during meals or homework time.
Keep screens out of your child's bedroom.
You can also develop a Family Media Use Plan to find the balance between screen time and other activities.
Recommended Apps for Outdoor Activity
Spring is the perfect time to balance out screen time with physical activity in nature. Get outside with these free apps that provide families with ideas about where to go and what to do outdoors.
Topics