Story
Celebrate a Summer of Stewardship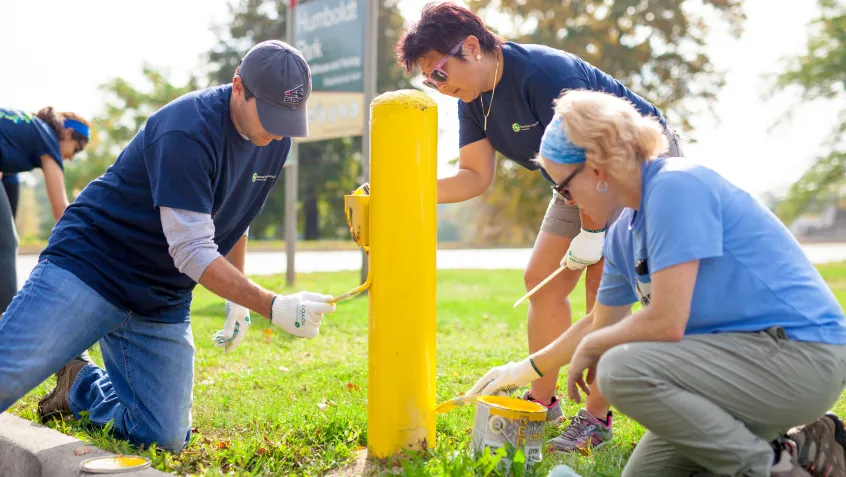 With Memorial Day in the rearview mirror, summer is officially upon us—and this year, we're celebrating the Summer of Stewardship!
From now through National Public Lands Day in September, there are many opportunities to get involved with stewardship on our nation's public lands, both large and small. Whether you're clearing debris from the creek in your neighborhood or taking part in this year's Yosemite Facelift, you can help take care of our natural resources, protecting them for your benefit today and making sure that they're still thriving for tomorrow's generations. Here are some upcoming events to mark on your summer calendar!
National Fishing and Boating Week
Ease into the summer during National Fishing and Boating Week, celebrated from June 3 to June 11 across the country. This event focuses on the importance of recreational boating and fishing in our nation's lakes, rivers, estuaries, and coasts. To encourage people to get outdoors and onto the waters, many states offer free fishing days, a time you don't need a license to fish on a public body of water. Look for your state on this list, and then if you need ideas for places to go, Take Me Fishing has a nationwide map of waterbodies, boat ramps, marinas, and more. Need a refresher on how to bait a line, or the best techniques to nab a salmon? Tips and guides on fishing can be found here.
Be a good steward: You might be thinking, "that all sounds great—but where does the stewardship come in?" This week is a great time to employ practices that will discourage the spread of invasive aquatic species—non-native plants and animals that can take over your favorite watering hole, making fishing and boating more difficult, expensive, or even impossible. Check out our infographic on how to make sure you don't have any stowaways on your boat or gear.
Outdoor Stewardship Week
Coming up next is Outdoor Stewardship Week, an initiative of The Corps Network. Celebrated from June 10 to June 14, this week is dedicated to reminding everyone that we can all help to maintain our shared outdoor spaces, thus giving back to the places that mean so much to us, whatever those may be! Public land agencies can't perform all of the maintenance themselves—at the federal level, there are billions of dollars of backlogged maintenance, which can not only put a damper on outdoor pastimes in these areas, but can also pose a threat to local economies that depend on the outdoor recreation economy. Many of our favorite activities—hiking, biking, camping, and more—wouldn't be possible without proper stewardship.
Be a good steward: Tell a friend about the importance of outdoor stewardship, and join the movement by taking that friend with you to a volunteer activity! You can find volunteer opportunities at the federal, state, and local levels across the country at volunteer.gov. Once you're there, snap a picture of yourself volunteering and enter the Outdoor Stewardship Week photo contest by sharing it on social media according to the contest rules, and you could be eligible to win a cool prize from The Corps Network!
Park and Recreation Month
The whole month of July is Park and Recreation Month, a celebration led by the National Recreation and Park Association. Since 1985, Park and Recreation Month has highlighted the role that parks and recreation play in conservation, health and wellness, and social equity efforts. Take part in the celebration online by using the hashtag #GameOnJuly to share with your friends why you think parks and rec are important. Looking for ideas? Chances are, you live near a local park or other recreational facility—three out of every four Americans are within a 10 minute walk of one of these facilities, and on average, visit them twice a month. A park with just one acre of trees—that's less than the size of a football field!—can absorb the same amount of carbon dioxide (a greenhouse gas) as a car driving around 10,000 miles. Parks don't just improve the air—when large storms arrive, the plants and permeable surfaces available in parks can act as a sponge, absorbing some of the incoming water and reducing the impact of flooding in the community. They're also moneymakers—in 2015, America's local park agencies supported more than 1 million jobs and generated more than $154 billion in economic activity. Maybe money does grow on trees!
Be a good steward: You can help take care of these vital resources by participating in stewardship activities near you! Contact your city or county park agency to learn more about opportunities to volunteer in a nearby park or waterway. There may be a local friends group or environmental club that you can join for an afternoon of service, giving you a chance to meet fellow stewards!
The National Park Service's Birthday
August brings us to the 103rd birthday of the National Park Service, which is also a fee-free day, meaning entrance fees are waived at all NPS sites. This celebration commemorates the day in 1916 when President Woodrow Wilson signed the act that created the National Park Service, which was charged with overseeing the 35 already established national parks and monuments. Since then, more than 380 units have been added across the country, and NPS now oversees more than 85 million acres of national parks, national historical parks, national monuments, national recreation areas, national battlefields, and national seashores. There's at least one NPS unit in each of the United States! Want to find one near you? Visit Find Your Park to locate a site you're keen on, and then click the link to visit that unit's page.
Be a good steward: Once you're on the webpage of the park that caught your eye, click "Get Involved" in the navigation strip at the top of the page, and then go to "Volunteer" to learn more about how to help in stewardship activities at that site. You can also find opportunities at volunteer.gov, which can be filtered to just show National Park Service opportunities.
National Public Lands Day
Finally, wrap up the summer of stewardship with the nation's largest single day of service—National Public Lands Day! Join hundreds of thousands of volunteers across America's public lands, from federal, to state, regional, and local sites in volunteering, recreational, educational, and health and wellness focused activities. National Public Lands Day (NPLD) is another fee-free day at many federal land sites, so kick back and enjoy these natural gems after you've finished your project for the day. Check out the NPLD event map to find a site near you, or contact your favorite park (we're sure you'll have at least one after this summer!) to find out if they're planning to participate if you don't see them on the map.
Be a good steward: Come out to NPLD!
With that, we hope you enjoy a fun Summer of Stewardship—giving back to the shared spaces and places that mean so much to all of us!
Topics