Story
Love Your Local Park? Set Up an NPLD Event to Take Care of It!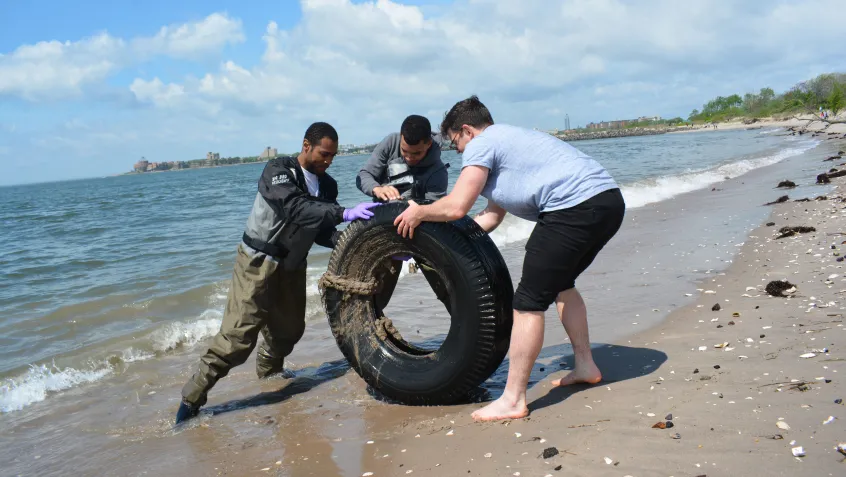 Whether you're a park employee who loves preserving public lands or simply someone who has fond memories of camping in a local park with your friends and family, why not give back to the spaces that inspired you or created those memories?
On September 28, 2019, join with thousands of others to celebrate National Public Lands Day (NPLD), the largest single-day volunteer effort for America's public lands. By coordinating NPLD, NEEF works to connect people to public lands, and encourage their use for education, recreation, and general health. This year's NPLD comes on the heels of celebrating the 25th annual event last year, when it racked up impressive results. With 1,776 sites across the nation, more than 110,000 volunteers visited US public lands to contribute an estimated $11.2 million in improvement projects in all 50 states, the District of Columbia, and US territories.
At the helm of each event is an NPLD site manager who is responsible for pulling it all together. And it starts with registering your site at neefusa.org for an NPLD event.
Most times, park employees register the NPLD event and serve as the site manager because they are intimately familiar with the park, its needs, how many volunteers the park can accommodate, what the projects of the day are going to be, any permitting required, etc. Plus, they have the authority to give project approval. But sometimes, a civilian really wants to jump in and take ownership of a project, so they can register an NPLD event by working with the on-the-ground staff at the park, such as the park ranger. And, for those who want to be involved, but not serve as site managers, they can work closely with the park employee and serve as an outreach coordinator to help publicize the event and recruit volunteers.
According to Tony Richardson, NEEF's program director of public lands engagement, "Site managers are the heart and soul of NLPD because they're the boots on the ground, providing support before and after the event and handling day-of logistics."
Why should you consider hosting a NPLD event? "It's a great way to engage new audiences and bring them onto your public lands," said Richardson. Volunteers can help pick up trash, build trails, clean shorelines, plant trees, remove invasive plants, and more.
Richardson offers these tips for first-time site managers:
Leverage the excitement. The interest in NPLD is huge, so tap into the buzz it generates, especially on social media.
Use free resources. The comprehensive NPLD Site Manager Manual (available May 15th) guides you through every step of the process. Plus, it includes tools for success, including planning calendars, worksheets, volunteer recruitment resources, and event checklists. The NPLD Site Manager Promotional Toolkit gives you ready-made social media and PR/news release templates.
Reach management goals. The work NPLD volunteers complete is very valuable, something that park rangers can't do on their own. Be strategic and leverage that volunteer force.
Tap into this zero-cost event. Because NPLD is one of only five fee-free entrance days, it eliminates the financial barriers to visiting these public lands for many people. It's the perfect opportunity to bring visitors to the park.
Thomas Pietruszka, an employee with Toyota Motor North America (national NPLD sponsor), first got introduced to NPLD though his sons' Scouting trip to West Hill Dam Park in Uxbridge, Massachusetts. There, he met park ranger and site manager, Viola Bramel, whom Pietruszka calls a "jewel."
"I saw what NPLD was all about—simple acts of cleaning up and planting over a couple of hours," says Pietruszka. Wanting to make an impact in his community, Pietruszka volunteered to be the Toyota site leader at West Hill, now working side-by-side with Bramel for the past 12 years. His advice for first-timers? "Be open to the experience," he said. "It was transformative for me."
Ready to engage your community in being a catalyst for change? Register here to become an NPLD site manager.
Topics