Story
Make an Activity Date with Your National Parks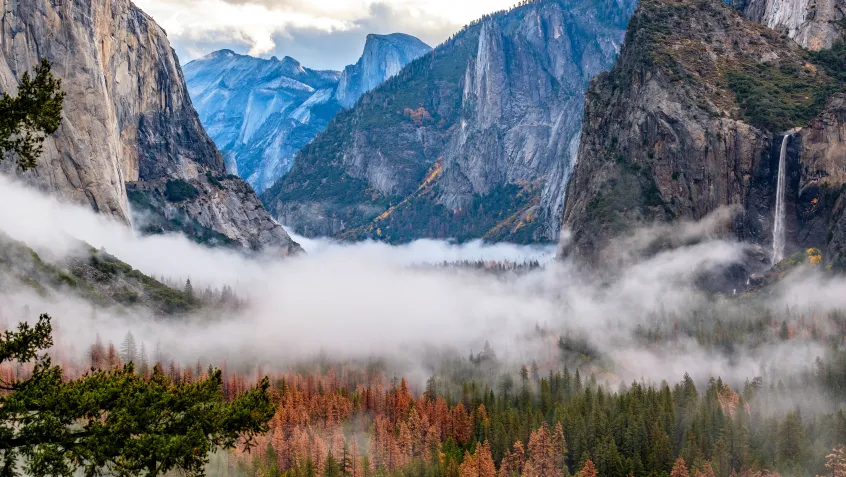 Back in September, over 150,000 volunteers participated in National Public Lands Day to help protect and preserve America's public lands while getting a taste of the changing weather.
If you've been waiting for the temperatures to drop before you head outside for a nature walk, it's time to lace up those hiking boots. Set against the backdrop of a stunningly beautiful autumn blaze of foliage, fall offers the perfect opportunity to go for hike (or bike ride or birding adventure) in one of the dozens of national parks spread throughout the country.
Thanks to the careful conservation efforts of the National Park Service (NPS), 330 million visitors enjoy the scenic natural wonders of America's national parks every year. The national park system includes 419 sites covering more than 85 million acres in every state, plus the District of Columbia, American Samoa, Guam, Puerto Rico, and the Virgin Islands. While only 61 of these areas hold the national parks designation, other NPS sites include monuments, battlefields, military parks, historical parks, historic sites, lakeshores, seashores, recreation areas, scenic rivers and trails, and the White House.
Ready to explore a national park? Let these ideas jump-start your outdoor autumn adventures.
What can I do at a national park?
Each site is different, representing the flora and fauna native to the area, and the amenities and activities vary, too. Sprinkled throughout these sites, you'll find hiking and biking trails, nature programs, birdwatching opportunities, kids' programs, fishing piers, boating, canoeing, kayaking, campgrounds, picnic areas, tours, scenic drives, and more. Nature's playground provides plenty of opportunities to get connected with the local environment.
How can I engage my kids at a national park?
For younger kids, start with shorter trails (such as a mile or less) and increase the length of your walk as children build their endurance. Also, choose parks that will appeal to kids' curiosity and activity level. Waterfalls, streams, and lakes provide opportunities for a splashing good time, while parks with fitness stations encourage pull-ups, crunches, and other exercises. Encourage tech-savvy kids to snap photos of flowers, birds, and landscapes, while budding artists can bring along a sketchpad to capture the natural beauty.
How can I get more involved at my nearest national park?
Sign up for a special event or park program. Teach your kids about the importance of protecting the environment. Participate in park cleanup projects, such as National Public Lands Day every September. Expand your horizons and try new nature-based activities, such as foraging or geocaching.
Whether you're interested in exploring a variety of national parks or you want to frequently visit one closest to your home, consider buying an America the Beautiful Pass. This gives you access to more than 2,000 federal recreation sites, including national parks, national wildlife refuges, national forests, and grasslands, and at lands managed by the Bureau of Land Management, Bureau of Reclamation, and US Army Corps of Engineers.
Topics